Blind and diabetic in a cold little shack
Gugulethu woman tries to get by on R350 a month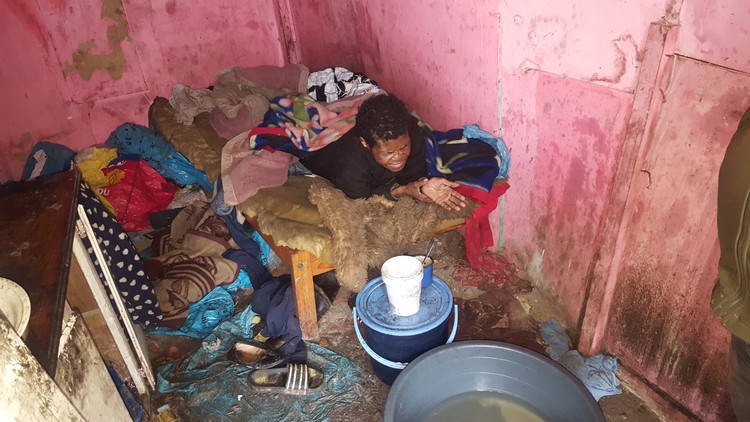 A cold, smelly and mouldy shack, with clothes scattered on the wet floor and a loose door. This is the daily reality of a disabled woman struggling to make ends meet in Europe informal settlement in Gugulethu.
Fifty-two year old Cynthia Ntunje moved to Europe from Siqalo in December last year. During her move she lost all her documents, including her ID. She says she does not clearly remember how and why she ended up in Europe. She suffers from diabetes and is partially blind.
"It is hard, very hard. I don't know what I am going to do. I can hardly see and I try to get by using the R350 child grant I get for my seven-year-old son", said Ntunje.
When GroundUp visited Ntunje on Tuesday, it was raining. One push and the door opened. Inside the shack smells of damp. There is no electricity, no flooring, just cement and sand, wet from the rain, with blue plastic bags and clothes scattered all over the floor. Next to the untidy bed, where Ntunje lies, is a blue bucket and a small bath with dirty water. On top of the bucket is Ntunje's breakfast, lunch and supper: unfinished cold tea and burnt leftover porridge crust, scraped from the bottom of a pot, inside a yoghurt container.
Her seven-year-old is currently in the care of a friend, who also helps Ntunje sometimes with food. Ntunje complains that her feet hurt, blaming the cold.
Community youth leader Sindisile Mbhashe, who has been trying to get help for Ntunje, says he is worried about her. "Mama's situation is extremely sad. Not only are her living conditions bad, but it is not safe either. Her door does not close properly, anyone can walk in. I and other youth members not so long ago put in some electricity and a light, but as you can see, that is gone. Someone must have walked in and taken it.
"Mama can't even go and get medication for her diabetes because she has no documentation. She has no family except for her three children who are not in her care, so she has nowhere to go, no one to take care of her," said Mbhashe.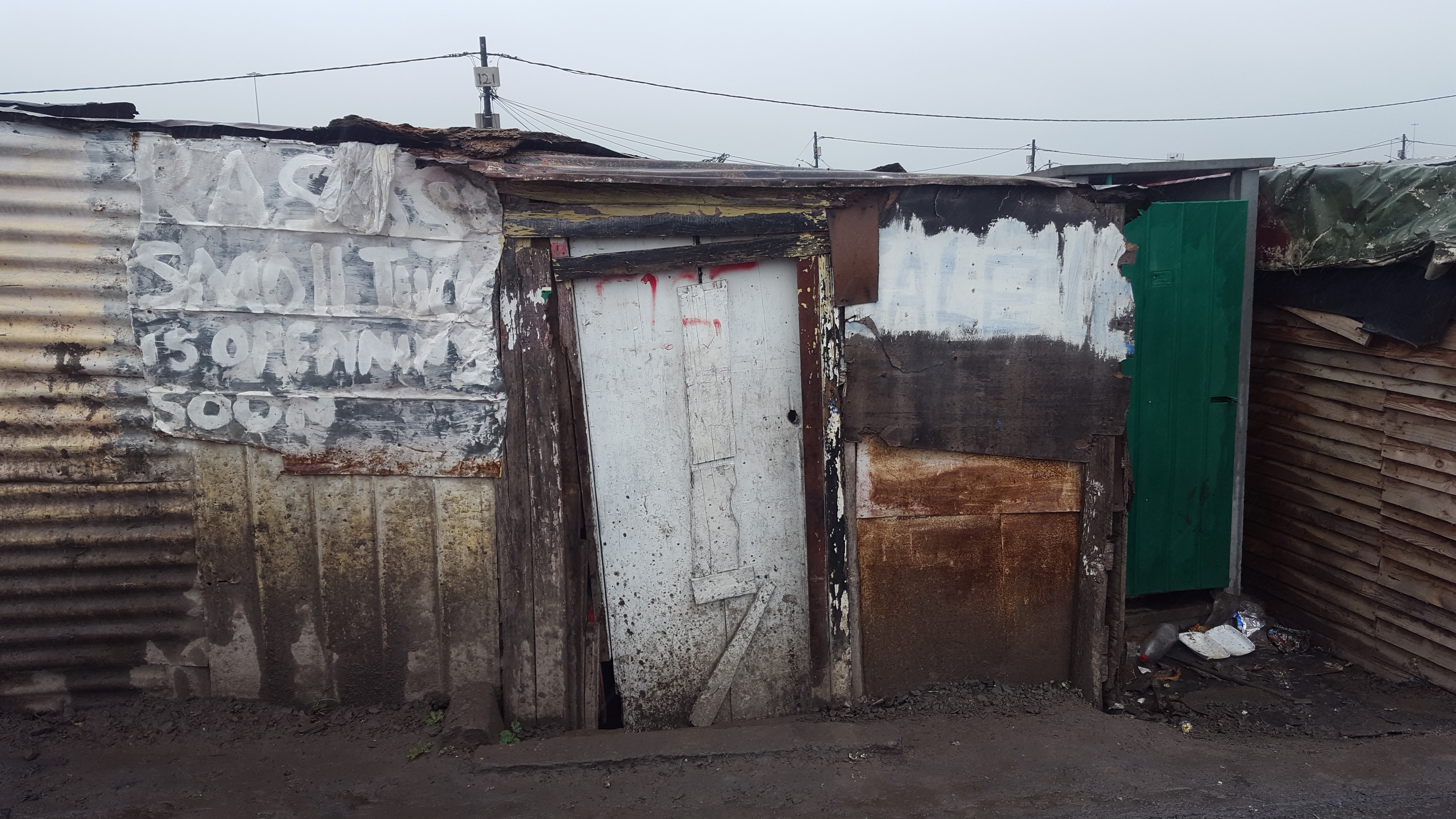 Bongani Ngcombolo, ward 40 councillor who also lives in Europe, told GroundUp he was well aware of Ntunje's circumstances. "I live here and I am exposed to our people's struggles. I get people constantly knocking on my door, asking for help. I report these issues to council on a regular basis, but little is being done." He said government was slow to help people. "Do you know how many people in Europe alone are living with disabilities? How difficult it is for them to go about their daily life in this overcrowded informal settlement? It is bad."
Spokesperson for the provincial department of social development, Sihle Ngobese, said social workers would be sent to Ntunje, to conduct an assessment and possibly assist her with a social security application. He urged people who were in need to make contact with the department for help with shelter, employment and linkages to social security.
Letters
Dear Editor
I find this R350.00 story hard to believe. In South Africa, the maximum disability grant amount is R1600 per month, which is 4 times more than R350. I'm not saying it's enough but the facts here makes me doubt the veracity of this article in its entirety.
GroundUp Editor's Response
Cynthia lived in Siqalo and then moved. She lost her ID documents in the move. At that time she still had her sight and wasn't eligible for a disability grant (though her son was already getting a R350 child grant). Over time because she is diabetic she lost her eyesight, had no source of income and no means to apply for a disability grant.
We are following up with social services to monitor her progress towards getting a disability grant and will write a follow-up story.
© 2017 GroundUp.

This article is licensed under a Creative Commons Attribution-NoDerivatives 4.0 International License.
You may republish this article, so long as you credit the authors and GroundUp, and do not change the text. Please include a link back to the original article.