Councillor boasts about forced removal on Facebook
Nine-month pregnant woman delivers baby day after her shack is demolished
City councillor Brian Watkyns wrote on Facebook last week that at his request 31 structures - mostly shacks in which people were living - had been removed from the Thornton and Epping sides of Viking Way.
There was a mostly positive response from people in the comments on the Facebook post. "Thank you thank you thank you" wrote one person. Another wrote "Well done Brian Watkyns, some may complain but you always give more than 100%". And "Hopefully the displaced don't migrate to Pinelands," wrote another.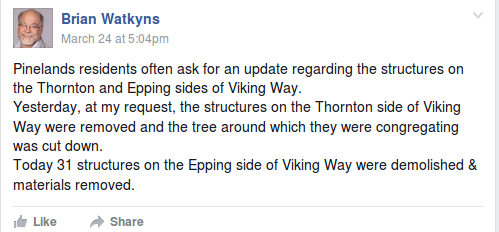 The demolished structures were at the back of the fruit sellers stands on Viking Way in Epping (see photos below). GroundUp spoke to people whose shacks were demolished, some of whom have returned. Some are sleeping out in the open, while some have managed to rebuild their homes in what is a constant battle between residents, the owners of the fruit stands and law enforcement.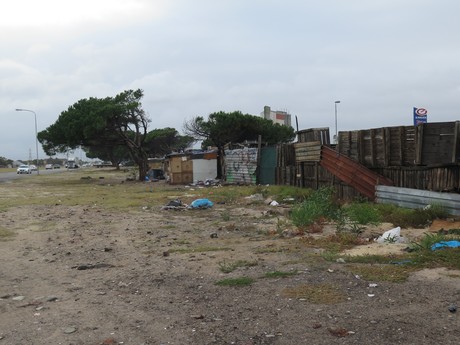 Lori-Lee Mitchell was one of the people whose homes was removed last week. 
Mitchell was cradling her five day old baby, Malachi, who was born last Friday, the day after the eviction when she spoke to us. She, her husband and her four children are living in a structure that her husband hastily rebuilt after it was torn down and they have managed to insulate it to such an extent that it is comfortably warm inside, despite the cold and rainy weather.
Mitchell said that she and her family have been living by the fruit sellers intermittently for 11 years but for the last three years they have been living there permanently.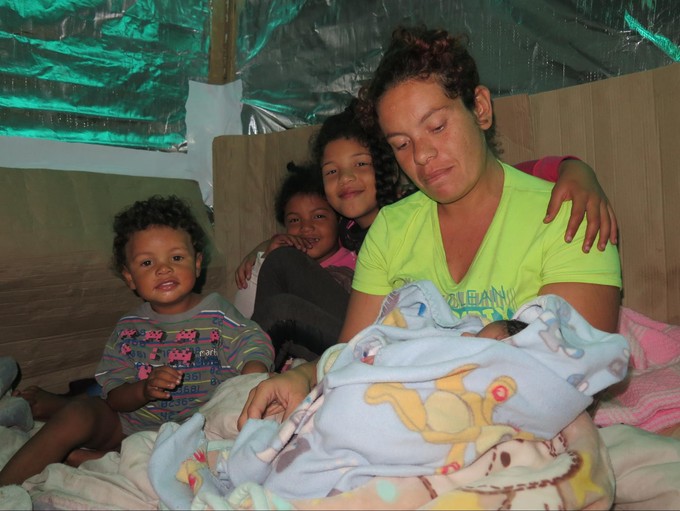 She explained that her family used to live "inside", meaning underneath the fruit sellers' structures, but that her family, along with many other families, were kicked out of their structures inside by the fruit sellers at the beginning of last year after a man living in one of them was accused of stealing.
Describing the removal of the structures on Thursday, Mitchell, who was nine months pregnant at the time of the demolition, said that her children were sleeping in her structure when the law enforcement arrived.
"Everybody's structures were broken down and the material loaded onto the trucks," she said.
The day after the demolition Mitchell gave birth and her children went to stay with her mother in Eerste Rivier. The eldest, who is school going, lives with Mitchell's mother permanently, but has been staying with Mitchell during the school holidays.
On Monday the family returned to Epping as the landlady who owns the property where Mitchell's mother stays wouldn't allow them to continue to live there.
Mitchell said that since last week June "every week they [law enforcement] would come and take down the structure". She said that her family has already lost three beds, a couch, clothes as well as other belongings.
"They leave us with all the mess. They throw your stuff around. They don't give you enough time [to take stuff out of the house]. They just come here and then they start breaking down."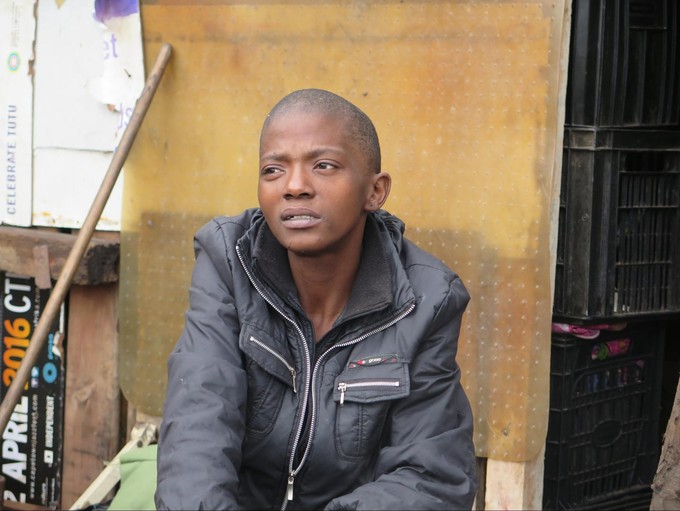 Brenda Sinkerman who lives nearby Mitchell explained what happened the morning their homes were torn down: "I wake up in the morning and my boyfriend come inside and he said, 'Come, come stand up. Law enforcement is on top [an area further up the road]. They are busy breaking down there.'"
She said that by the time she woke up, law enforcement were outside her structure and she and her boyfriend had to grab their clothes and wait on the side of the road.
Yesterday, Sinkerman rebuilt her home from scratch as law enforcement "didn't even leave one plank".
Everyone that GroundUp spoke to said that there was no forewarning and no court order was presented.
"They didn't even have papers and you know how long we [have] stayed here?" asked Sinkerman rhetorically. Besides receiving no warning, she said the law enforcement people were rude to the evictees.
"If they [law enforcement] break down your hokkie they just take stuff that is good still. They leave us with all the mess."
"Why can't they [the City] have a meeting in the court with the laanies [owners of the fruit stands] and with us? They [the City] can't just listen to what they [the owners] have to say. They must listen to our side of the story," said Sinkerman.
Sinkerman said that she had been staying by the fruit sellers for 12 years and worked as a casual on the fruit stands. She said that her structure that was demolished had been there for about three months. She added that every couple of months, law enforcement would come and pull down the structures.
She said that since the eviction on Thursday some people have been living across the road, alongside a river. "Some of the people down there by the river, they just take a sail [plastic covering that they use to over their structures] and they go lie like that. If you go in front [by the fruit seller's stands] in the night you will see how they lie like fish. You know how a fish looks when it's dead? They look like that. Just with a blanket."
Sinkerman said that previously she, like Mitchell, lived "inside", in what she describes as a semi-formal arrangement where each structure was marked with a number. Sinkerman said that the owners of the fruit stands kicked many of these people out as the owners believed they were using drugs.
"We work for them [the fruit stand owners]. I don't know what the problem is," she said.
She said that if you wear fancy clothes "the bosses [of the fruit stands] say you are a merchant". Sinkerman said that some of the people living in the structures do smoke drugs but that it's their money and that they can do what they want with their earnings, adding that just because they may be able to buy items considered expensive doesn't mean that they are dealing drugs.
"Some of us are clever, we put our money away," she said.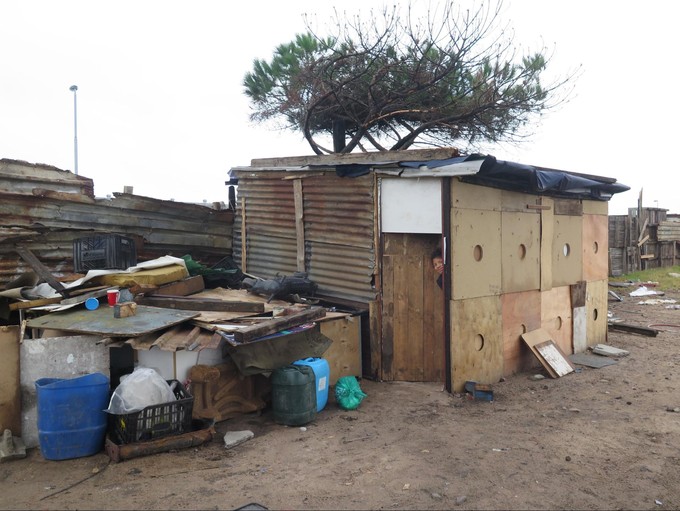 Cindy Mdidimba who lives further up the road from Mitchell and Sinkerman said that she has been living in the area for 15 years and that her structure had been up for months when law enforcement came to remove it last week.
She said that law enforcement didn't present a court order and took her handbag from her. When her husband told law enforcement not to harass his wife as she is sick (Mdidimba is HIV positive and says that she has both lung failure and asthma), law enforcement allegedly beat him.
"In that bag [I had] my ID and my medication [antiretorvirals]," said Mdidimba. She said that she has phoned Groote Schuur to make an appointment to replenish the medication but believes that it will be difficult as antiretrovirals can be sold, and the hospital may believe that she sold her antiretrovirals. She hasn't taken her antiretrovirals since Thursday.
"If they [law enforcement] take down the hokkies [structures] they mess everything. They take everything. They don't care," said Mdidimba.
She said that law enforcement told her that it was the owners of the fruit stands who sent the law enforcement to remove the structures, despite many of the evicted residents working on the stands.
She said that yesterday officials came back and told the residents that if the structures are taken down and the residents rebuild them again, they will be arrested. 
"They [law enforcement] are rude. They are harassing us, insulting us, beating us. We are scared, if we try to fight they spray us [with the pepper spray]," she said adding that her husband's eyes were still sore from being pepper sprayed last week.
They take everything even the stove…They leave nothing. And they don't wear their nametags. We don't know their names," she said.
"They even call us names [such as] 'dogs'," said Mdidimba.
"We are scared of them [law enforcement]. They come anytime."
Responding to whether a court order was granted for the eviction last week Councillor Benedicta van Minnen Mayoral Committee Member for Human Settlements said that a "joint operation between the City's Anti-Land Invasion Unit and the Law Enforcement Services was conducted at the Epping Buitemark, Gunners Circle, to remove only newly erected vacant structures in terms of counter spoliation. This operation is held on a weekly basis".
According to the Socio-Economic Rights Institute of South Africa (SERI) counter spoliation "is a legal remedy which allows a person to forcibly re-take possession of property unlawfully taken from them".
"It is only allowed if the property was in the process of being taken from a person at the time that they re-took it. Counter-spoliation is an instantaneous 'snatching back' of property unlawfully taken," writes SERI.
Van Minnen said that "any structures which appeared to be occupied were referred to Social Development Department for further investigation". This does not appear to correspond to residents' reports of the events of the day.
Mdidimba said that in December residents tried to write a letter to the City asking them to look for a place for them to stay as they were worried they would be evicted again.
"Every time they [law enforcement] come [we ask]. We need a place to stay. We don't say we are not going. If they are saying we take you from here to there – we can go anytime. They just leave us like that, lost. We are lost," she said.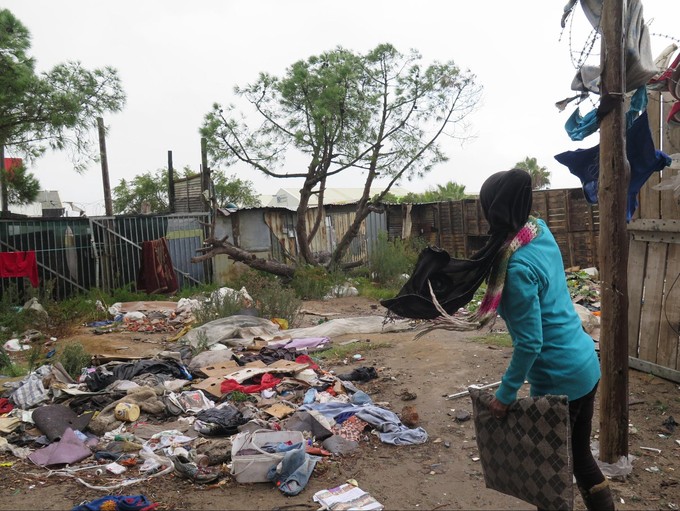 GroundUp approached two people who were running fruit stands. One of them, Johannes Knoetze, whose brother owns the fruit stand that he was working at said that the evicted people "can't live here". "You see they smoggle [smuggle] there with drugs and drinking." He denied that the residents living in the structures work on the fruit stands.
Another women, Gadja Williams, whose brother also owns the fruit stand that she was running, said that the evicted people do indeed work on the stands but said that "they are selling drugs".
"[They] steal our stuff. They break in. [They are] selling drugs and alcohol," she said.
Responding to these claims Mdidimba said: "We are not selling drugs. They [the fruit stand owners] are selling drugs. They want us to sell for them."
Watkyns, the ward councillor for the area, said that he had requested on numerous occasion that the "illegal structures" should be demolished.
"Similar requests have been made by the Community Policing Forum and the Thornton Neighbourhood Watch, following complaints from Thornton residents. The issue of moving the illegal squatters and traders from the area has been the subject of discussions on numerous occasions. During February 2016, nearly all of the 18 drug-related arrests by Pinelands SAPS were connected to people living along Viking Way. On Tuesday 29 March 2016, during a compliance operation by the City's Law Enforcement Department in the area, a woman was arrested for possession of mandrax tablets," said Watkyns in an emailed response.
In response to the allegations of law enforcement verbally and physically abusing the evictees and removing personal belongings van Minnen said that they can report their allegations to SAPS for their investigation.
© 2016 GroundUp.

This article is licensed under a Creative Commons Attribution-NoDerivatives 4.0 International License.
You may republish this article, so long as you credit the authors and GroundUp, and do not change the text. Please include a link back to the original article.