Immigrant children denied access to school
Dozens of children in Diepsloot turned away over documentation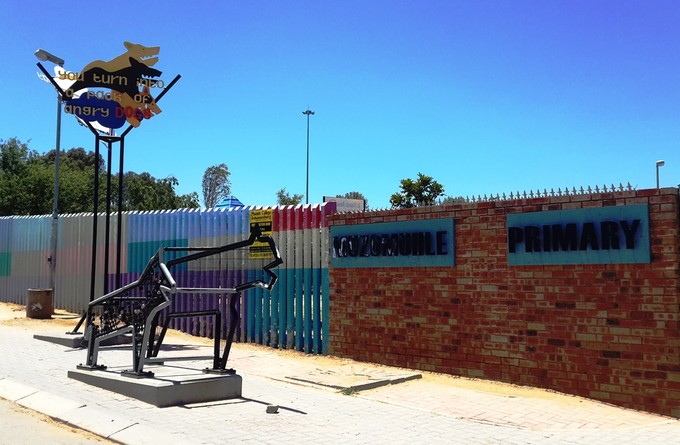 On 13 January, irate parents in Diepsloot West accused Muzomuhle Primary School and the education department of discriminating against their children because of their foreign national status.
A month later, a district school official spoke to GroundUp on condition of anonymity. The official, who fears reprisals for talking to the media, said between 30 and 40 children were turned away because they were not South African.
"Their documentation was not in order," said the official. "You'll find that because parents are illegally in this country, they forge documents just to be able to get their children into a school. You'll get applications where there are two children with the same birth certificate and ID numbers."
The official said such desperate measures were taken by parents when their asylum status lapsed or they had not been granted new work permits. "In Diepsloot, there are many undocumented [people] and they bring their children with them to this country while they are trying to survive."
Muzomuhle Primary is used as the central point through which all school admissions for the area are processed. According to the school official, the school asks for the child's birth certificate, the parents proof of residence and proof of asylum or work permit.
In January, News24 quoted Zimbabwean national Donias Tshuma. He said that his asylum status expired in October 2015 and that attempts to live in South Africa legally were hampered by officials at Home Affairs demanding bribes.
Acting spokesperson for the Gauteng Department of Education, Oupa Bodibe, said district officials had confirmed with the department that each rejected student was asked to get proper paperwork in place, and to reapply when admissions opened again for 2017. Admissions for 2016 are now closed.
Bodibe could not immediately provide figures for how many children were turned away from the schooling system because of documentation problems. Nor did the department know how many of the rejected students had managed to find school placement elsewhere this year or if their parents were successful in gaining the proper documentation for school next year.
"Remember, if you are here illegally, as a department, we can't do anything to assist you as that perpetuates the problem," he said.
But an attorney in the Strategic Litigation Unit at Lawyers for Human Rights, Wayne Ncube, said the Constitution was clear that children have a right, regardless of documentation or legal status in the country, to gain admission in a school.
"The policy applies equally to nationals and non-nationals," he said. "Not following the precepts of the department of education is not a basis on which the child should be expelled from the school."
Ncube encouraged the parents to contact a suitable aid organisation to assist them with challenging the school district decision. He said the decision appears to be unconstitutional.
"This is not to say that the issue of the legal status of the parents in South Africa should not be addressed. It should be, but perhaps from the efforts of another department in government."
Ncube said, "What has become very clear is that such decisions should not be taking place particularly in dealing with children. Children should always come first. I am sure that this issue is something that can be resolved if they (the parents) get the right assistance from an equipped organisation or law firm."
© 2016 GroundUp.

This article is licensed under a Creative Commons Attribution-NoDerivatives 4.0 International License.