Derelict Atlantis youth centre a haven for gangs, say residents
Centre has never been used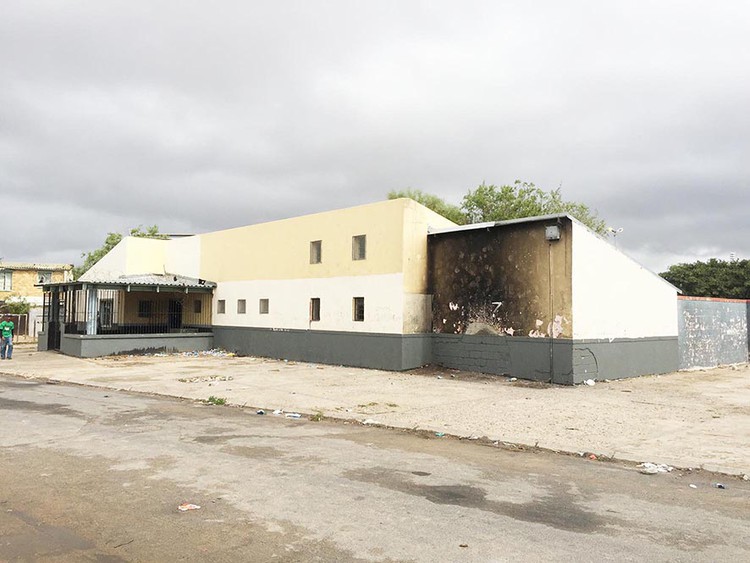 Outside derelict flats gaping with broken window panes, two elderly women chat next to a clothes line. A few metres away a man, shirtless and covered in scars and tattoos, stands next to a spaza shop. Two children on a horse clop past. These are the Dura flats in Atlantis.
Next to the flats is a youth centre, with a fire-blackened wall and peeling paint. Built probably in the 1990s, the centre has never been used. The City of Cape Town spent R300,000 in 2014 to repair damages from vandalism. No money has been spent on it since then.
Residents say it is from this centre that gang-affiliated youth attack and rob residents and delivery vehicles.
At a Subcouncil sitting in March, DA councillor Gregchan Barnardo submitted a motion calling for the Dura youth centre to be rehabilitated and upgraded.
He said the youth centre was completely neglected and vandalised. There was no management or maintenance, and, water had started to overflow from the sewage cover in front of the building, causing a health risk to those living near by, he said.
When GroundUp visited the centre on Wednesday, April 5, the area looked like the set of a horror film.
The tattooed man at Dura flats, who did not want to give his name for fear of being targeted by gangs, said there were regular attacks on passing residents and drivers delivering stock to nearby spaza shops. He identified several passing youths as gang members known for committing crime.
He said they used the youth centre as a hiding place from which they would pounce on people who were on their way to or from work in the morning or evening.
He said these youths were addicted to drugs and stole to sustain their addiction.
"The robberies are rife on weekends, on pay days like Friday and on month end," said the man.
He said the community would be better off without the youth centre.
"If they demolish it, our environment and community would be a little safer. The centre has never been put into use. We need a youth centre but this one is not working. The location is just so bad."
An elderly woman who also asked not to be named, agreed. She said the youth centre was "a white elephant".
"The youth hide at the centre and target people passing by," she said.
A security guard at the centre who also preferred not to be named said the youngsters often climbed onto the roof, and he locked himself inside his small office for safety.
Some of those committing crime were as young as 12, he said.
He said a water pipe near the building had burst and fresh water had been running down the street for for over two years. The problem had been reported to the authorities but no repairs had been done and he had to close the centre's main water valve to stop the leak.
Mayoral Committee Member Social Development Suzette Little said the City was in the process of disposing of the property. She did not say how the City planned to do so.
"The plan to dispose of the property is in progress," she said.
She said the sewage outflow would be investigated as the building was supposed to be vacant.
The founder of X-Treme Youth organisation in Atlantis, Mitchell Fortuin, said she was "sad" that the City planned to dispose of the youth centre and hoped a better centre would be build in a more user-friendly area in Atlantis.
"The youth are in desperate need of a workable youth centre that is properly managed. It is so sad to see that place broken down, but if it is not serving a constructive purpose then what is the use in keeping it? Our plea is that the City really looks at a multipurpose youth centre in the very near future," said Fortuin. WestCape News for GroundUp.
© 2017 GroundUp.

This article is licensed under a Creative Commons Attribution-NoDerivatives 4.0 International License.
You may republish this article, so long as you credit the authors and GroundUp, and do not change the text. Please include a link back to the original article.