Armed attack on occupiers of Helen Bowden Nurses Home
Activists believe it was politically motivated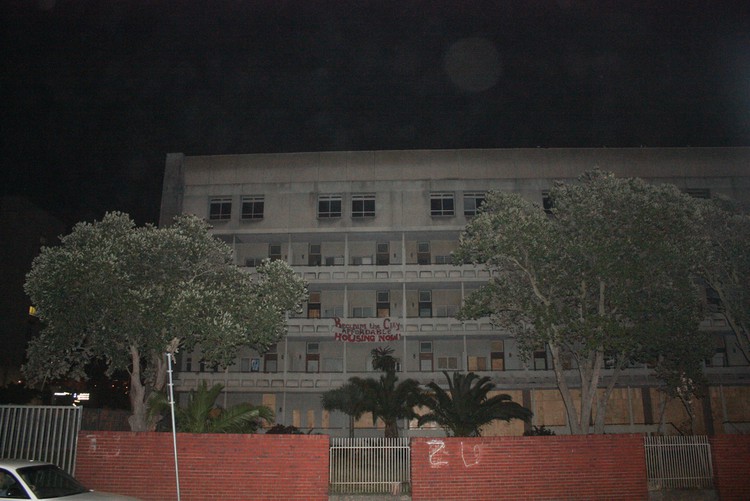 Eight armed and masked people forced their way into Helen Bowden Nurses Home in Green Point at about 8:30pm on 19 July, while about 40 members of Reclaim the City who have been occupying the property since 24 March were having a meeting. The attackers apparently forced their way through security and entered the building. They were allegedly armed with pangas, knives and guns.
Activists occupying the building have renamed it Ahmed Kathrada House.
According to a statement by Ndifuna Ukwazi, once the attackers were inside the communal room, they broke windows, ransacked rooms and pulled out their weapons, shouting, "Leave this building. You cannot stay here." One of the occupying residents managed to call the South African Police Service (SAPS) who arrived on the scene a few minutes later. Nothing was taken and no one was injured.
Nkosikhona Swartbooi, an organiser at Ndifuna Ukwazi, said that the police arrested five suspects near the scene. They were questioned and released "without taking fingerprints" as there was not enough evidence to convict them, said Swartbooi. Later, a gun was found at the scene and was admitted as evidence.
Swartbooi told GroundUp that Ndifuna Ukwazi was unable to confirm who was behind the attack but members of the organisation believe it was politically motivated. "It was intended to send a chilling message to people who are standing up for their rights against powerful forces who are intent on maintaining the status quo in this city," said Swartbooi in a statement released on 21 July.
Police confirmed the incident. "An unidentified group of men with balaclavas and a fire-arm, approached and threatened them [the Reclaim the City occupiers]. A 'pointing of fire-arm' was registered for investigation. A pellet gun was also handed in," said Captain FC van Wyk of the SAPS Western Cape Media Centre.
Members of Reclaim the City occupied Woodstock Hospital and Helen Bowden Nurses Home after the City of Cape Town decided to sell the Tafelberg School site to a private school instead of building social housing. A decision was taken by the Western Cape government to sell 17,000m2 of land for R135 million to the private Phyllis Jowell Jewish Day School. At the time Bonginkosi Madikizela, MEC for Human Settlements, explained that the province's decision to sell the land to the school was made to generate income for a city whose population is growing faster than its fiscus.
© 2017 GroundUp.

This article is licensed under a Creative Commons Attribution-NoDerivatives 4.0 International License.
You may republish this article, so long as you credit the authors and GroundUp, and do not change the text. Please include a link back to the original article.