The alternative Grahamstown festival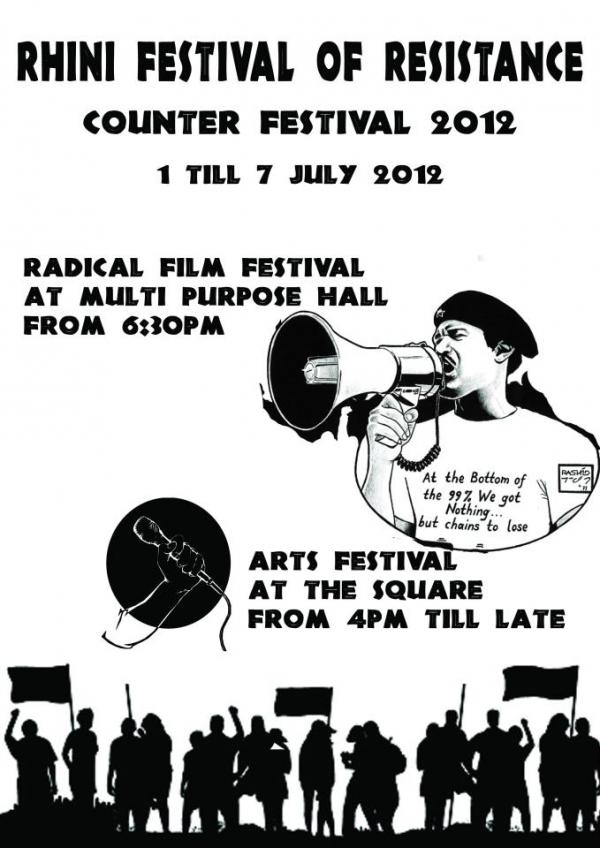 The Grahamstown Arts Festival is world famous for its many plays and music performances. But there's a lesser known alternative festival which takes place along side it, called the Rhini Festival of Resistance.
Sound of the South (SOS) together with Unemployed People's Movement (UPM) and Uhuru network, hosted a festival alongside the Grahamstown Arts Festival from 1 to 7 July. One of its aims was to raise awareness of about the problems artists face when applying to participate in the main festival.
Mkhululi Sijora of SOS told GroundUp, "The Grahamstown festival excludes a lot of artists and a lot of community members, especially those who are poor. Many young people that are coming up do not get a chance to be exposed because of the money that artists have to pay to perform. Instead of making money they spend more money that never comes back. This is what we call slavery and exploitation."
Dodgy people are suing us. Please support us by contributing to our legal costs and helping us to publish news that matters.
© 2016 GroundUp.
This article is licensed under a
Creative Commons Attribution-NoDerivatives 4.0 International License
.