After the grape season ended, my landlord cast me out
Homeless seasonal grape pickers continue to occupy Kraaifontein land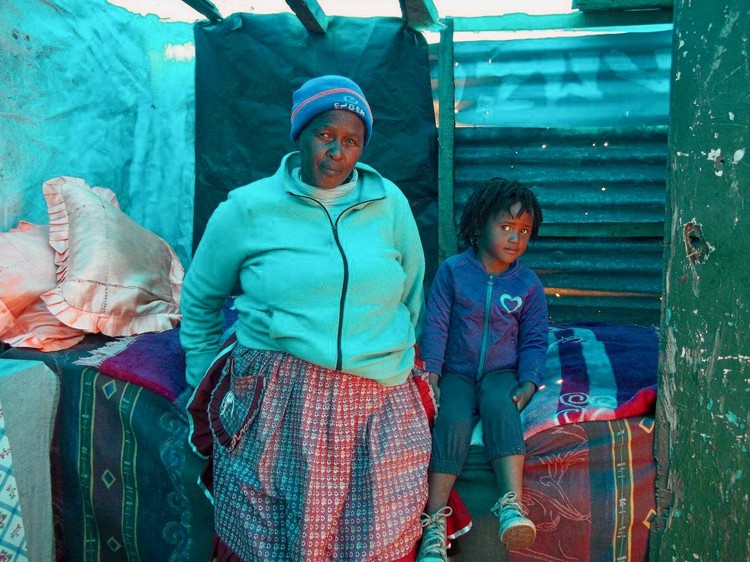 "My boss kept on laying me off because grape produce was not good [this season] … My landlord got tired of my recurring failure to pay rent," says Zukiswa Mbidlana. Rendered homeless, she moved to Nkandla informal settlement, Kraaifontein in February.
About 240 people, many of them grape pickers, have occupied the City of Cape Town land on Nomasi Street, Bloekombos. The City has conducted numerous shack demolitions since February, but the land occupiers keep rebuilding.
Community leader Sihle Dube says the land has been standing vacant for more than 20 years. Councillor Xanthea Limberg says the City plans to use the land for future housing projects.
The are no toilets and the land occupiers say they relieve themselves in bushes near Kraaifontein Industrial, a 40-minute walk away.
There are also no communal taps nearby and Mbidlana begs owners of formal houses to give her water. Each of her children uses two plastic jugs of water to bathe before going to school.
Mbidlana says she will only be able to buy food again when the grape season starts in October. Meanwhile she has been asking for food from sympathetic house owners and other shack dwellers.
Her children have gone hungry since the schools closed for the holidays. "My kids used to eat food from government nutrition program at school. Now they starve because schools are still closed," she says.
Mbidlana has two children, in Grade 6 and 11, at Bloekombos Primary School.
"After the grape season ended, my landlord cast me out because I could not pay rent," says Mzikayise Makana, 50. He stays with his wife. He has left his two children in the care of his sister in Wallacedene. He fears for their safety because of the chaos that erupts when law enforcement demolishes the shacks in Nkandla.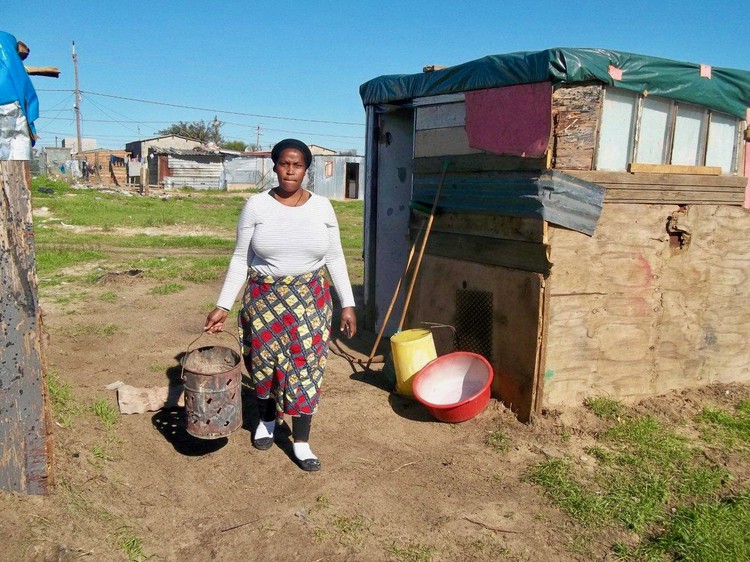 Nobongile Tshutsha, 63, also a seasonal grape picker in Paarl, says, "We are waiting for the grape season to come so that we can buy food to eat and building materials to make our shacks warm."
"Even when the grape season comes around, we won't earn enough money to support our families and pay rent," she says.
She lives with her seven-year-old grandchild in a shack roofed with plastic sheets. She has an old sofa, a makeshift table, a single bed and a dressing table without a mirror.
"We don't sleep at all when the rain beats down," says Tshutsha. "Because we have little water, we don't rinse our clothes after washing them. We just hang them on the fence of the nearby church … When I sit too close to other passengers on a taxi, I worry that they will sniff my bad smell. I don't even raise my arm in case they pick up my armpit stench."
"When the law enforcement officials come to destroy our shacks, we cry aloud. We plead with them to leave them alone, but they just order us to stand aside and say they are here to work," says Tshutsha.