Abuse of sex workers by police rife
Women's Legal Centre details hundreds of cases of rape, assault, harassment and unlawful arrest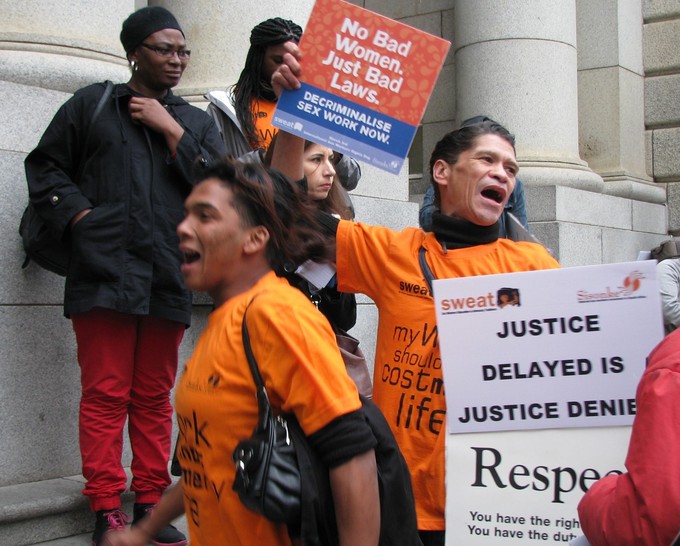 Over 400 sex workers reported cases of abuse at the hands of the police between 2011 and 2015.
This is according to the Women's Legal Centre's (WLC) latest report detailing cases of physical assault, rape, harassment and unlawful arrest that were reported to the centre.
"The police officer pretended to arrest me and then raped me. After being raped I went to lodge a complaint at the police station. The police just made as if they were taking a statement by pretending to write in a book, but nothing came of it," said a sex worker from the Western Cape in the report.
There were 682 instances of abuse, mostly harassment and verbal abuse at the hands of the police, reported to WLC by 414 sex workers. Almost 20% of the sex workers reporting police abuse said they had been physically assaulted and 3% had been sexually assaulted.
A sex worker describing a physical assault by an officer said: "He beat me, grabbed me by the arm and hit me with a brick. He kicked me in my face; my eyes were black and red and both swollen."
The report notes that while sex work is criminalised in South Africa, sex workers are usually arrested under municipal by-laws and that often the police do not follow proper procedures when they arrest or fine sex workers.
WLC states that 725 sex workers approached their organisation between 2011 and 2015 after having come into conflict with the police.
Over a third of these sex workers had been arrested and nearly 15% had to appear in court.
The report details how police will take photographs of sex workers when they are arrested so that other police officers can identify them, a practice that WLC says is illegal. The removing of name tags identifying police officers is another violation reported.
"They took my photo and my fingerprints, making funny comments about being a transgender female and me being raped in Pretoria … saying how could I be raped, I'm a man," said a sex worker in the report.
"Sex workers are often told to pay a fine or a bribe to be released, but this is most often done outside of the correct procedures and is extortion. They also often forced to perform sexual acts on the corrupt policemen as a condition for release," WLC states.
The majority of those who were arrested experienced violations once in detention, with 70% saying that they were not allowed to make a phone call and nearly half claiming that they received no food and/or water.
Furthermore, police officers stealing their property and demanding bribes were also reported.
The attitude towards sex workers is exemplified in the words of one police officer in Limpopo who told a sex worker, "You don't have any rights because you are makgosha (sex worker)."
"Many sex workers are on the front line of gender-based violence in that perpetrators know that they are unlikely to report it, and that they are vulnerable and unprotected," the report states. "Police could play a role in enhancing sex workers' access to their rights, and police cooperation with sex workers enhances security, which is in the interests of both sex workers and law enforcement."
These kinds of violations impact directly on the health of sex workers, says WLC. Threats of violence often force sex workers into condom-free sex. Police also use condoms as "evidence" of engaging in sex work, which makes sex workers afraid to carry them. The confiscation of condoms by the police is another tactic that increases the risk of contracting HIV.
The report calls for the decriminalisation of sex work, saying that this is the way to "most effectively address the gross human rights violations that sex workers suffer".
"The current legal framework forces sex workers to the margins of society where they are easy targets for abuse. Unsurprisingly, most sex workers are reluctant to approach the police to report crimes committed against them," said Stacey-Leigh Manoek, one of the authors of the report.
The organisation wants the laws that prohibit selling and buying sex to be repealed and requests the long-awaited Law Reform Commission report on sex work to be released.
In 2009, the commission published a discussion paper on "adult prostitution", and then in 2012, the commission said that they were in the process of compiling the actual report. It has yet to be released.
WLC also calls for directives to be issued to police officers whereby they are prohibited from harassing and arresting sex workers for "ulterior purposes".
"We want the police to first see the human in us, not just makgosha (sex worker)," said a sex worker from KwaZulu-Natal.
Dodgy people are suing us. Please support us by contributing to our legal costs and helping us to publish news that matters.
© 2016 GroundUp.

This article is licensed under a Creative Commons Attribution-NoDerivatives 4.0 International License.
You may republish this article, so long as you credit the authors and GroundUp, and do not change the text. Please include a link back to the original article.