About 7.5 million people receive the R350 grant
Social Development Minister Lindiwe Zulu also announces top-up grant for relatives caring for orphans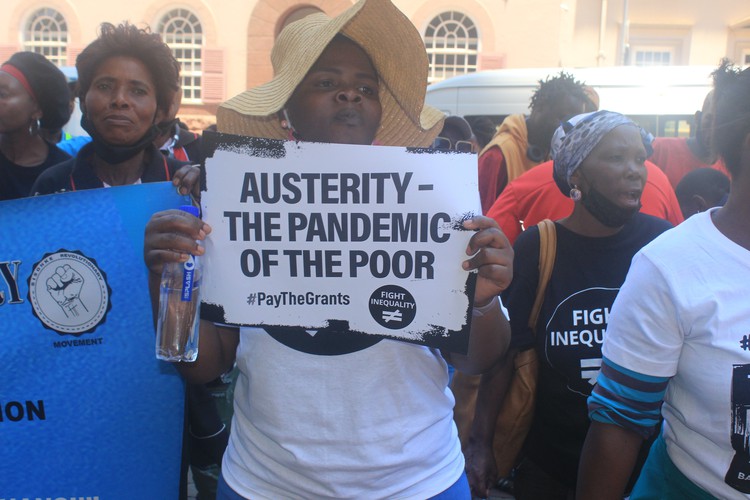 Social Development Minister Lindiwe Zulu says 7.5 million people are receiving the R350 Social Relief of Distress Grant on a monthly basis.
Zulu said that the income threshold has been increased to R624 per month. Previously, any person who received or earned more than R350 in their bank accounts would have been disqualified. With the new threshold, more people will now qualify.
Zulu also announced a top-up grant for relatives caring for orphaned children. They will receive an additional R240 on top of the standard R480 grant.
Social Development Minister Lindiwe Zulu says the department "regrets the pain and hardships" caused by ongoing challenges and payment delays to beneficiaries of the Social Relief of Distress (SRD) grant.
Zulu was briefing the media on Monday on progress with the SRD grant as well as plans to top-up the Child Support Grant.
She said nearly 7.5 million people have been receiving the R350 grant monthly. She highlighted the challenges experienced by applicants and those approved for the grant "whom this intervention is the difference between, on the one hand, hunger and indignity, and on another, leading a dignified life".
She said some challenges highlighted design and implementation difficulties in the early stages of government programmes.
The SRD grant was introduced in May 2020 and was due to end in March 2022 to meet the end of the national state of disaster. The grant was, however, extended in February this year until March 2023.
One of the challenges mentioned by Zulu was the period when the government had to amend the R350 grant regulations from the Disaster Management Act to the Social Assistance Act. Consequently, no new R350 grant applications were processed for about a month.
The grant was shifted to the Social Assistance Act from the Disaster Management Act's regulations. Therefore all beneficiaries, even those who had been approved for the grant, needed to reapply. All applicants were also required to undergo a means test through their bank accounts.
Zulu said the means test had to be introduced so that the department could keep within its budget of R44-billion to pay a total of about 10.5 million people.
She said another challenge was that the South African Social Security Agency (SASSA) first had to procure banking services in order for it to run the monthly means test for all applicants. The department previously explained that Finance Minister Enoch Godongwana had approved the contract with the banks in April, but the banks' legal services were still working through the contract.
"Consequently, in the first three months of implementing this benefit, we experienced very serious challenges," said Zulu.
In May, the Post Office also announced that it will no longer pay the R350 grant in cash in a bid to reduce long queues at its branches where other beneficiaries collect their grants.
In August, Zulu gazetted changes to the grant regulations. The income threshold for the means test has been increased to R624 per month, and the bank verification, which was used to test an applicant's eligibility, was removed. Previously, any person who received or earned more than R350 in their bank accounts would have been disqualified. With the new threshold, more people will now qualify.
Zulu urged applicants who are yet to be paid, to check the status of their bank verification and to ensure that the details are correct as this could cause more delays.
Grant for carers of orphaned children
Meanwhile, Zulu has announced that relatives, who are taking care of orphaned children, can now apply for a Child Support Grant (CSG) Top-Up at SASSA offices. There are currently about 13 million children currently benefiting from the CSG.
"The department just completed a review of child poverty … which has revealed that as the CSG was expanded to reach more children between 2003 and 2013, child food poverty decreased from 53% to 33% over the same period. This recent review and numerous previous empirical studies have proven that increased government investment in children's grants has resulted in improved outcomes for children in the areas of poverty, health, nutrition, and education," said Zulu in an earlier statement.
She said the 'top-up' is an additional R240 that is being added to the standard CSG of R480. This means that only people caring for orphaned children will receive R720 per month.
"No social worker's report or court order are needed to access the top-up," said Zulu.
The same eligibility criteria for the CSG will apply. The only additional proof that the child is an orphan is for the caregivers to submit death certificates of the child's parents. If the caregiver only has one death certificate, they can complete an affidavit at a SASSA office with a detailed explanation.
She added that only children under 18, who are looking after their orphaned siblings in child-headed households, are required to go through a social worker before approaching SASSA for the grant.
Zulu said it should take a month to process, verify and pay the top-up grant.
© 2022 GroundUp. This article is licensed under a Creative Commons Attribution-NoDerivatives 4.0 International License.
You may republish this article, so long as you credit the authors and GroundUp, and do not change the text. Please include a link back to the original article.
We put an invisible pixel in the article so that we can count traffic to republishers. All analytics tools are solely on our servers. We do not give our logs to any third party. Logs are deleted after two weeks. We do not use any IP address identifying information except to count regional traffic. We are solely interested in counting hits, not tracking users. If you republish, please do not delete the invisible pixel.