87-year-old man walks three kilometres to fetch water
Smiling Valley has waited for basic services since 1992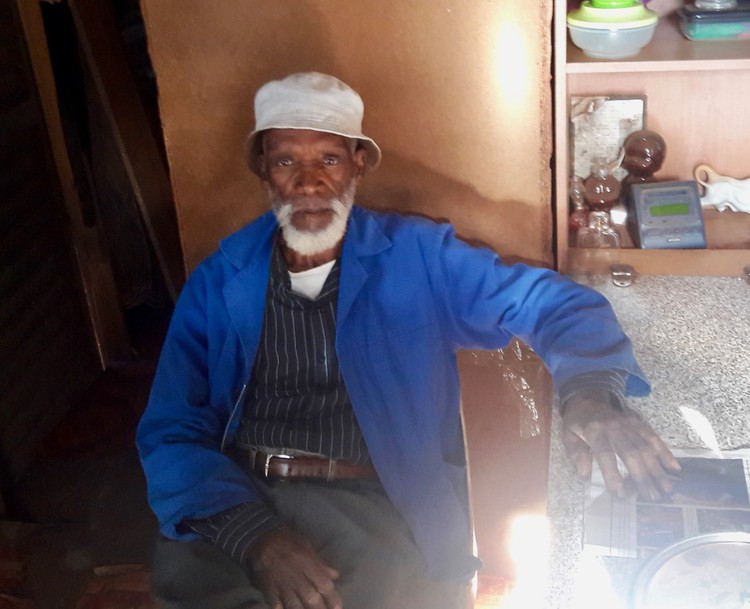 At the age of 87, Thamsanqa Makhumese has to walk three kilometres every time he needs to fetch water. "You can imagine an old man like me, walking over three kilometres every day to fetch water at the nearest water tank," said the resident of Smiling Valley, Nxaruni, East London.
Established in 1992, the settlement still has no electricity. People use pit latrines. There are no tarred roads. Residents walk many kilometres before they can catch transport to the city. The nearest clinic is miles away in Nontyatyambo, Mdantsane.
Resident Wineka Peti says children leave at 6:30am to walk to school in Mdantsane. "We have been crying out for scholar transport. Nothing has been done about it," said Peti. There are nine communal taps, but the water ran out in May. The municipality then installed tanks. "Even the water tanks have run dry now. It's been two weeks."
Makhumese moved to Smiling Valley in 2001. "I am scared that I might die in this shack and without electricity," he said. "I wake up around 6am, just to make sure I am able to get water before it runs out in the tanks provided by the municipality."
"The municipality has fooled us for a long time, because at some stage they say they will provide RDP houses for us, but that has not happened," said Makhumese. "We are tired of pleading with our leaders as people of Smiling Valley. They are good liars who come here to scout votes and good at chasing money … I do not see anyone here voting in the elections next year. We have nothing to vote for."
"What must we do? Should we burn roads for them to hear us?" asked resident Nompumelelo Jubisa.
In August 2017, residents closed the N1 to King Williams Town and clashed with police. A number of Smiling Valley residents were arrested.
Smiling Valley was originally an illegal occupation of several private properties. The resulting disputes were eventually resolved by the municipality taking ownership of the land.
"This was the main issue," said Samkelo Ngwenya, spokesperson for the Buffalo City Metropolitan Municipality. "Mayor Xola Pakati has already started engaging with relevant government departments, to ensure that services will be rendered properly to the area."
He said recently conducted surveys of the area will help the municipality provide electricity. "We will follow up as the municipality and make sure that the people supplying water go there frequently [to fill tanks]," said Ngwenya.
Ward councillor Ward councillor Gwebile Gosani said, "People must understand that this whole thing is a process. It will take time but it will happen. I understand their frustration."