R12 million flower festival for Parys
Controversy over how the benefits will be spread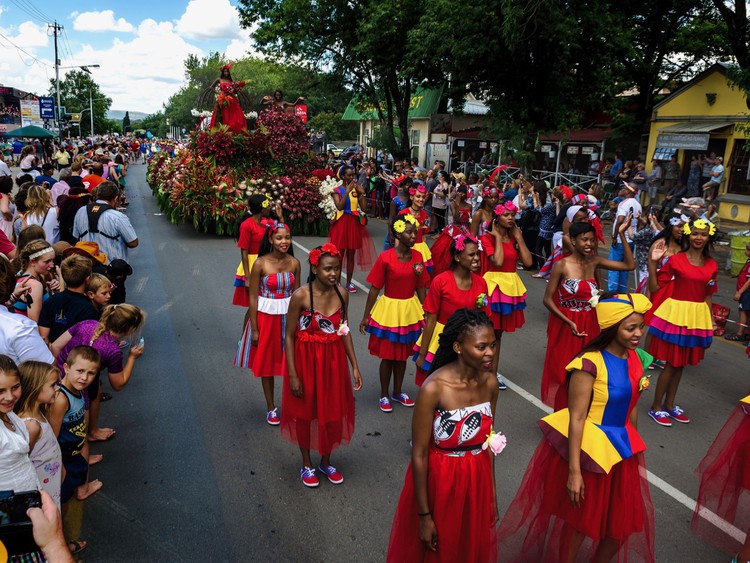 This weekend, tourists are expected to flock to Parys for the second Free State Madeira Flower Festival. The Free State Gambling Liquor and Tourism Authority was allocated R12 million for the extravaganza.
The festival is based on the annual Madeira Flower Festival. The Portuguese island has provided expertise and training for the South African event. President of the regional government of Madeira Miguel Albuquerque was in Parys for last year's event and is attending the festival on Saturday.
The flower festival was to take place on the first weekend of December. It was rescheduled to accommodate Albuquerque and his business delegation. Businesses only heard about the change of date a month ago.
A one kilometre parade with hundreds of dancers will be held on Saturday and there will be a music concert. Locals are supportive of the event, but Rantoloko Molokoane, co-founder of the arts market in Tumahole, a township four kilometres from the centre of Parys where the parade is held, wonders if enough is being done to spread the benefits.
Tumahole is significantly poorer than the rest of the town. Census data from 2011 shows average household income in central Parys was R57,300 but only R14,600 in Tumahole.
Last year's festival did feature dancers and performers from Tumahole and some Tumahole businesses had access to stalls. There was a shuttle service to the township as well. Stalls have been allocated to businesses from Tumahole this year.
"It would be great for the festival to take place both in Tumahole and Parys. To have activities spread throughout both," says Molokoane. "If you have 50,000 people [estimates of last year attendance ranged from 30,000 to 60,000] coming to a festival that takes place only in Parys, when they leave, their minds will be only exposed to the existence of Parys and not to the fact that there is also a township that could gain a lot."
Maurice Britten, a local business owner, was sceptical at first. He wrote to a local newspaper that it was a waste of "taxpayer money", especially since according to the municipality's 2015/16 Financial Statements it owed Eskom R544 million.
"I am still concerned with how much money is being spent on the festival and whether it is sustainable for government to continue spending that money in the long term," he says. "If it is going to be a fixture on the calendar then we should make it pay for itself."
Dhilosen Pillay, chairperson of the Free State Gambling Liquor and Tourism Authority, sees the festival as an opportunity to encourage Free State farmers to start producing flowers not only for the festival, but also for export to Europe.
The Free State Department of Agriculture has paid for the construction of two flower tunnels on the edge of Parys. Seven women from Tumahole were chosen to manage the facility. Their understanding was that government would buy flowers from them in return.
The women had never grown roses for sale before and were not given training nor wages initially. They have all worked since August on the tunnels and only recently received a small stipend. Covering the cost of travelling to the tunnels daily from Tumahole had become difficult for them. Three of the women were to begin training in Welkom just before the festival.
Schalk Burger from the civil engineering branch of the Free State Department of Agriculture and Rural Development told GroundUp "houses and a cooling room" were also meant to have been built. He had been called out due to a problem with sprayers and greenfly found on the roses.
The Free State Department of Agriculture has not responded to requests for comment regarding the missing facilities and has not provided information relating to the tender for the flower tunnel development.
© 2017 GroundUp.

This article is licensed under a Creative Commons Attribution-NoDerivatives 4.0 International License.
You may republish this article, so long as you credit the authors and GroundUp, and do not change the text. Please include a link back to the original article.