Zimbabweans introduce South Africans to new greens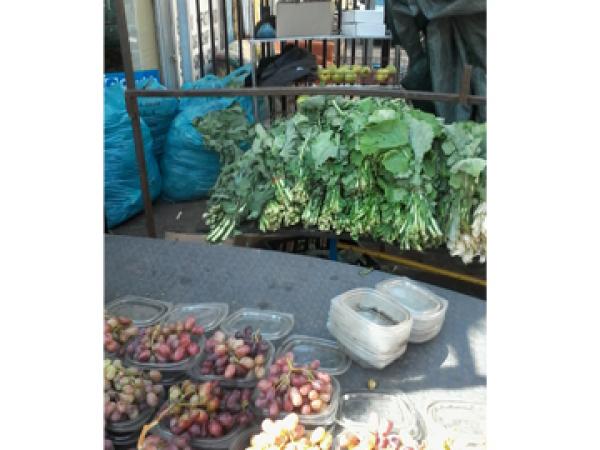 A novelty to South Africans, various green leaf vegetables have over the past few years come to dominate immigrant green market stalls all over the city of Cape Town. The veggies, shunned by many locals, are favoured by many refugees from northern and central African countries.
Found at taxi ranks, interchange train stations, and on many corners dotted about the City, market stalls mostly manned by Zimbabwean men and women and some Malawians offer a range of green leaf vegetables.
The common varieties, as pronounced by Zimbabweans, are covo, tsunga, muboora (pumpkin leaves), chembere dzagumhana, rape and spinach.
In some instances, the vegetables are found in dried form or 'mufushwa' in Shona. These are usually imports from the foreigner's home countries. Most of these dried vegetables are cooked with homemade peanut butter, also found as an imported product at the vegetable stalls.
The leaves average 25cm in length and 15cm in width. They are either boiled or cooked with fish oil, tomatoes, onions and other spices, or mixed with meat to make a relish. The relish goes well with a staple diet of mielie meal pap or "sadza" in Shona, "nsima" in Malawi's Chichewa, "bukani" in Swahili, and "fufu" in Lingala. The leaves are said to be rich in vitamins. They can be found for around R5 a bundle, which can serve as a relish for two adult meals with pap.
Selling the leaf vegetables in Cape Town was a business first tackled by nursing foreign African mothers. It allowed them to nurse their infant children while they did business without incurring costs for daycare schools.
Some women run their businesses together with their husbands. Market stalls provide employment for many foreign refugees who are limited in the work they could do by language barriers.
While jumping out of a train station or a taxi rank, it is always a beautiful sight to see a vegetable stall full of these big green and appetizing leaves. They also bring back memories of home, where such green leaf markets are common.
Tonde Chibhagidhi, who runs a vegetable stall in the city CBD, says, he once worked for a man of religion in Athlone during his early years. The man used to pay him a paltry wage and looked down upon him, and as a foreign refugee he could not exercise his rights fully.
Chibhagidhi says every time he tried to ask for an increase, the man would become outraged. It was an Oliver Twist and Mr Bumble scenario, he says jokingly. Eventually, he gave up and started his profitable vegetable business.
Another vendor, who wanted to be identified as Mai Taku, says she travels from Mbekweni, which is around 50km from Cape Town, to purchase vegetables from the plots around Philippi on the Cape Flats.
She said they travel on the first trains of the day, make an interchange at Maitland to get to Wetton, and then they walk for several kilometers to get to the plots.
At the plots, they are expected to harvest for themselves, before paying for their orders. Dozens of men and women scatter into the fields at daybreak. She said, to her, it is a reminder of harvesting time back home in the rural areas. Then, she said, they would share their problems and crack jokes, tearing away the elements of struggle that haunt their day to day lives.
Madumbe (not her real name) is a Zimbabwean vendor based in Bellville who has a stall behind a mall adjacent to the Golden Arrow bus terminus and the taxi rank. She said business is brisk and demand is high, mostly during the twilight hours when people are returning from work.
She used to sell in Cape Town train station before the vendors were chased away in a cleanup operation. Her current position is vulnerable, and she suffers many losses as she battles with law enforcement.
Some South Africans don't like the foreign green vegetables. According to Kelvin Booi, a Xhosa man in his mid-thirties who works for Metrorail in Cape Town, the vegetables give out a peculiar smell. He said he used to live in a house with a Malawian man who would cook them. Booi said South Africans prefer cabbage or spinach for relish.
Chamunorwa Madziya, who lives in Constantia, utilized his employer's one acre piece of arable land. He sells the vegetables fresh from the field. He has even managed to buy a car with part of the proceeds. Some South Africans have come to him to learn his farming techniques.
Madziya is not alone. Many Zimbabweans with their agricultural background who are able to find some piece of land, mostly those working on grape farms, are also now farming the green leaf vegetables.
© 2016 GroundUp.
This article is licensed under a
Creative Commons Attribution-NoDerivatives 4.0 International License
.