Working for food at age 14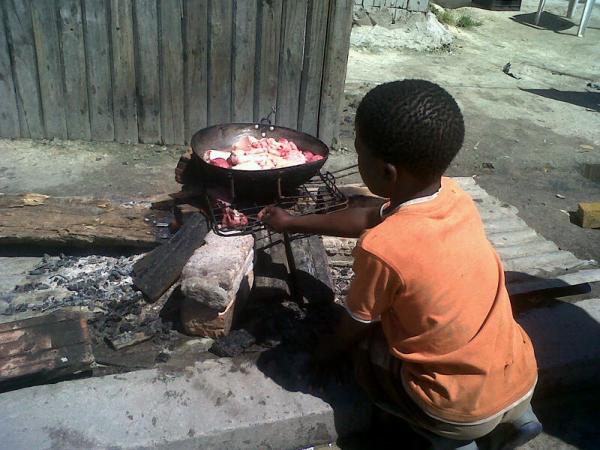 Sbu Jakavula is 14 years old. He lives in Du Noon township. He does not go to school. Instead he sells furniture from an informal stand.
Sbu (name and surname changed) dropped out of school in grade 4. He said his mother and father had an alcohol problem and they both couldn't provide food and other things he needed. He is very reluctant to talk about his family.
He only gets paid R100 to R150 per week. This money helps him to buy food. His job is to take out the furniture in the morning, and put it back in the evening before he goes home. Sbu said he enjoys his job because he gets paid at the end of the week. Sbu could not or would not provide contact details for his boss. He said the boss lost his phone a few weeks ago.
A study published by the Department of Labour in 2010 estimated that 121,000 children in South Africa from the age of 7-17, about 1% of this age group, had been involved in child labour, or to use the language of the report, "had engaged in 'market' economic activities". The report claimed that about 41,000 children worked for a wage, salary, commission or payment in kind, 30, 000 ran a business and about 56, 000 worked in a household business. The rate of child labour increased from 0.4% among the youngest children to 2.0% among children aged 16-17 years. The rate was higher for boys than girls, and higher for Coloured children.
Patricia Fekema of Du Noon, works with children who are living with HIV/AIDS at Zusakhe organisation in the township. She said there were thousands of children out of school in Du Noon. She explained that the township has a high number of young people who have no matric and struggle to find jobs. "You find them in taverns killing themselves with alcohol and drugs. They do not respect their bodies," she said.
According to ward councillor Lubabalo Makeleni, Du Noon has more than 60,000 people and nearly 3,000 households. The area has two primary schools and one high school. Makeleni estimated there were over 1,000 children out of school.
Noxolo Mhaga is a senior citizen in Du Noon. She knows Sbu and describes him as a sweet boy who never troubles anyone in the community.
© 2016 GroundUp.
This article is licensed under a
Creative Commons Attribution-NoDerivatives 4.0 International License
.