Informal miners risk their lives to make R25 from a wheelbarrow of coal
Villagers dig for coal in Newcastle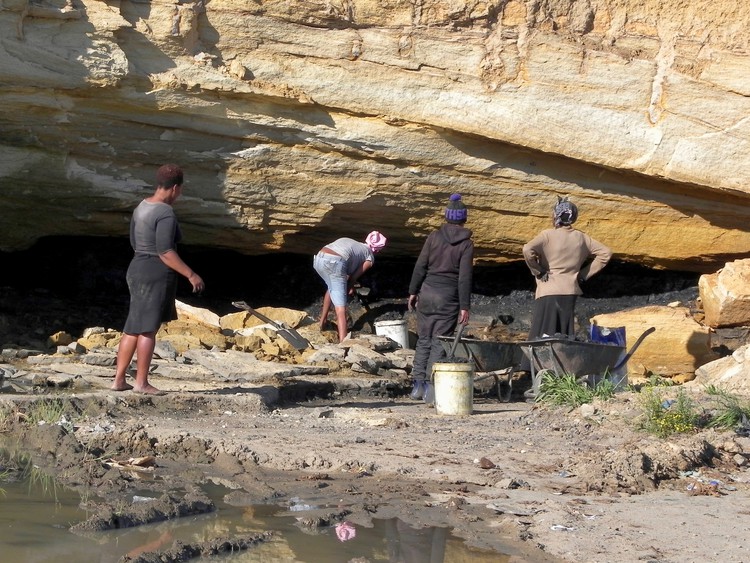 Sibongile Mhlongo is one of a group of women from Mndozo village near Newcastle who have resorted to digging for coal to to eke out a living. They use pickaxes, crowbars and shovels. It is dangerous work, and rock falls are a constant threat.
In May a 78-year-old man from the village died on arrival at hospital after a rock fell on him while he was digging. His death was reported to Osizweni police and an inquest docket was opened.
The site where the women dig was never a coal mine. It was where the villagers dug for sand. Later, they found coal.
Mhlongo says, "I'm a mother of two young sons, age 11 and eight, and I can't stop thinking about them when I go down there digging. But I always pray, and God knows my hardship."
"It's scary down there, most especially for us as women. But one has no choice but to dig because this is our only way of trying to eke out a living. I'm most afraid of a possible rock fall, because some of the local villagers I had known lost their lives while doing what I'm doing," she says.
Mhlongo has been unemployed since 2015. "I have been trying without success to get another job since I lost my job at Shoprite, where I worked as a cashier. It is difficult to get a job here in Newcastle because there are very few firms in our town, and there are many people who are unemployed."
Gugu Mkhize, who also digs for coal, says she completed matric in 2011 but has not managed to find a job. Her older sister is also unemployed.
The women sell coal to local villagers and residents from nearby Osizweni, but mostly to local brick makers who use coal in brick-making. They sell the coal for R25 a wheelbarrow. Together they can make R900 in a week.
Inkosi Sawela Kubheka, the local chief, whose chieftaincy owns the land on which the coal digging is taking place, told GroundUp that he has been warning the villagers about the dangers.
"Lives have been lost in that illegal coal digging hole, but people still continue to dig coal there. I have been warning them now and again, but my warnings and pleas have fallen on deaf ears. But I have communicated with relevant government authorities to have this illegal coal digging hole closed down once and for all as it constantly poses danger to people,'' said Inkosi Kubheka.