Will Wolwerivier improve soon?
Residents frustrated with communication and security problems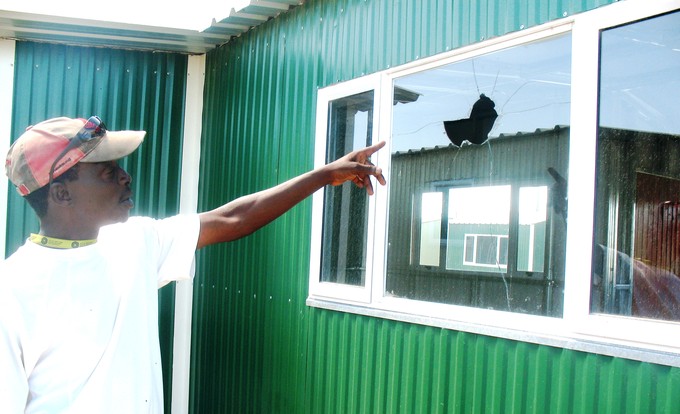 Wolwerivier is a low-cost housing project about 30km from Cape Town centre. People from several informal settlements are being relocated there, but the development has been criticised for being isolated and having few, if any, job opportunities.
The development consists of about 500 green and beige units in rows, enclosed by concrete fencing. They are prefabricated units that become very hot in summer and cold in winter. The units do have running water and toilets. Roads are gravel and there are neither streetlights nor trees. Over 150 houses are standing vacant.
Communication difficulties
Development of Wolwerivier appears to be hampered by communication problems between residents and the City.
Little has been done to improve the basic living conditions for residents since the first group of families were moved into the area in June 2015.
And despite the City hiring four security guards to patrol around the clock, doors and windows, as well as piping, have been stolen from over a dozen homes.
"It's not that we are fighting with the City; we need answers," says resident Mzwadile Mgudlwa, who says the City has been unresponsive to residents' complaints.
On 18 January, the City met with residents to discuss concerns about electricity, overcrowding, vandalised units and setting up a health facility in the area. But there is confusion over what was supposed to happen following the meeting.
Magdalene Minnaar is part of a group of people who live in dilapidated old farm houses neighbouring Wolwerivier. These are families who expect to move into Wolwerivier, though they are not sure when. Minaar is active in the Wolwerivier community and has been articulating the community's interests.
She says, "We were meant to have another meeting with the City at the end of January to elect a committee and then launch it on 15 February." But, she says, the City "didn't pitch up." Residents tried calling the City officials. "We still don't know why no one came," says Minnaar.
She says, "There's no communication from the City … People don't know where they stand."
Benedicta Van Minnen, the Mayco Member for Human Settlements, has a different understanding of what was supposed to happen following the 18 January meeting. "It was not stated that an elective meeting would be held on 31 January 2016. It was stated that the elective process would start from 31 January 2016 and that it would be driven by the sub-council throughout the month of February," she explains.
Van Minnen provided GroundUp with updates on issues concerning the residents:
Electricity: "The City continues to put pressure on Eskom for the electricity installations"
Vandalism: "Cases have been opened against persons who have further vandalised units"
Overcrowding: "The City emphasised that it measures the occupancy against the original occupancy survey and its commitment remains to the original occupants as per the original occupancy survey"
Early Childhood Centre: "The City is looking at the current zoning for such a centre"
Sports field and churches: "The City and sub-council are looking into this"
Need for health facilities: "The City has made progress. A mobile health services container will be erected soon"
© 2016 GroundUp.

This article is licensed under a Creative Commons Attribution-NoDerivatives 4.0 International License.