Winter in the shacks of Khayelitsha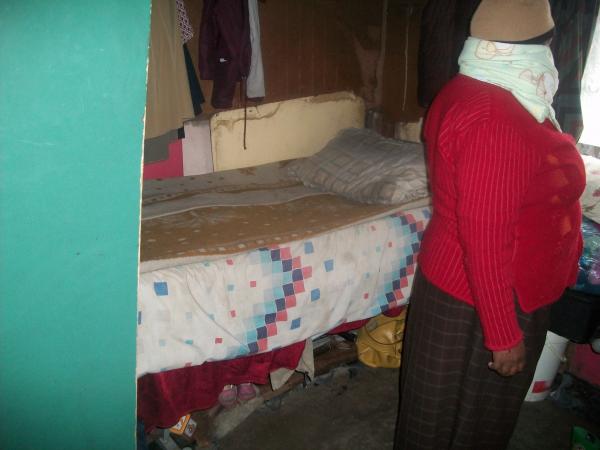 The rain makes life even more difficult for the residents of Taiwan in Khayelitsha.
Nancy Dyosi, 44, has been staying in Site C, Taiwan area, a section of Khayeltisha, for over five years with her three children aged 23, 16 and a one-year-old baby. She spoke with GroundUp and explained her daily struggles every year when the winter season hits Cape Town.
"The water floods the area. It comes from underneath the floor. We put the blankets provided to us by Disaster Management on the floor to suck up the water. We continuously have to throw the water out and lift the doors from the floor, so that they don't soak in the water and become damaged," Dyosi explained.
"My child cannot even play on the floor because it is wet. She has to sit on the bed all the time. Even my health is affected. I now have a fever because I have to walk around the house and prepare food for the child on this wet floor," Dyosi said.
Taiwan residents also don't have toilet facilities and have to relieve themselves on the open field facing the N2 highway, where they are at risk of being robbed or attacked.
Dyosi moved to the Taiwan area in search of a place of her own to stay with her children. Dyosi would like Government to take them to a better place, and give them proper houses to raise their families in.
"Many government officials come and make us fill in papers with promises of being moved to better homes. Nothing ever happens," Dyosi said.
Dyosi is being supported by her 23-year-old who works as a contract worker and is the bread-winner in the house. Dyosi does bead work for the Monkey Beads project. The project sells her products to the Cape Town tourism market, where she makes about R200 every now and then. Bead work is time-consuming, so she is not able to make as many products as she would like because she also has to look after her baby.
Dodgy people are suing us. Please support us by contributing to our legal costs and helping us to publish news that matters.
© 2016 GroundUp.
This article is licensed under a
Creative Commons Attribution-NoDerivatives 4.0 International License
.