Will Metrorail users have to wait 17 years for decent service?
Service is getting worse, but Prasa promises to get it working … by 2034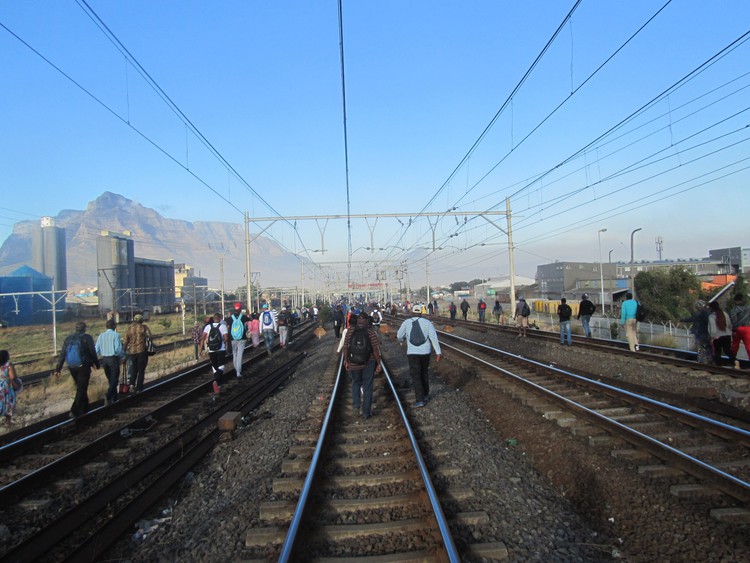 On Saturday, a 7am train from Nyanga Junction to Cape Town stopped between Ndabeni and Maitland train stations. After a quarter of an hour, commuters jumped out and walked to Maitland train station, crisscrossing the railway tracks for about half a kilometre.
On Monday morning, commuters faced at least a 20 minute delay from Fish Hoek. There was no announcement as to whether or not the 8:22am train was cancelled. A Metrorail worker said the train would leave at 8:30am. (There is meant to be an 8:31 train and an 8:49 train as well).
A few minutes after leaving Fish Hoek, the train stood for a further three minutes just outside the station. It stopped again three more times before reaching Rondebosch station, 15 minutes late, before continuing to Cape Town.
These are everyday experiences on the trains. It just so happens that the authors of this article experienced these particular ones first-hand. Cancellations, delays, overcrowding and criminal activity are a daily problem faced by Metrorail commuters. On particularly bad days, delays can be as long as four hours. (There are also much more severe events like the collision of two trains that injured over 200 people in Johannesburg on Monday.)
Metrorail has explanations for this. In March 2014, the Western Cape Metrorail regional manager at the time, Mthuthuzeli Swartz, said that the National Station Upgrade Projects in 2015/2016, would include the upgrade of Nolungile station, Lentegeur, Philippi, Bonteheuwel and Mandalay. Since that time, Lucky Montana, the CEO of the Passenger Rail Association of South Africa (Prasa), the parastatal of which Metrorail is a division, has been fired. His successor, Collins Letsoalo, denied that Metrorail was in distress, and promised to implement a turnaround strategy by October 2016.
In an interview published in February 2016, Metrorail spokesperson Riana Scott told GroundUp:
By 2034 Metrorail aimed to have everything "operating smoothly".
The infrastructure and the trains had reached the end of their design life span and Metrorail was expecting the arrival of five new trains between 2017 and 2018. "We don't have a short term solution for peak hour demand and overcrowding in trains."
A new station in Philippi was nearly completed and only final touch-ups were being done.
On Tuesday, a year later, Scott told GroundUp:
The Western Cape could expect its first modern trains by 2019/2020. "The latest trains acquired was for our highest density corridor (the Khayelitsha/Chris Hani line) in 1986."
Metrorail would revamp stations as well as the Salt River depot in preparation for the new trains.
Meanwhile, construction of the Philippi station is still at a standstill. Temporary containers are being used as the station in the meanwhile.
"The journey of putting the Prasa turn-around strategy is well in place," Prasa's Senior Marketing and Communication Manager Lillian Mofokeng said on Tuesday when asked for an update on the 2034 plan.
Dodgy people are suing us. Please support us by contributing to our legal costs and helping us to publish news that matters.
Letters
Dear Editor
Trains from Mamelodi to Pretoria and Pretoria to Mamelodi come late almost every day. I call customer service (012 743 0030) and always get a bad attitude from the staff. Sometimes they even pick up the phone and put it aside.
I reported issues several times last year: Ref numbers 55502, 55595, 55942, 58573. As I type there is no train from Mamelodi to Pretoria, no announcements either.
Workers arrive late at work, they start production on their jobs late because of Metrorail. Can someone do something about this? Mostly black people are suffering. People are losing their jobs.
Dear Editor
The lack of service between stations south of Retreat is supposedly because a truck destroyed the signaling equipment. That was weeks ago and it is going to take months to fix according took the railways. Why?
It is not only because of the damage that it is going to take so long. According to an employee there are far too few people on the job. They are not working weekends; no doubt because no-one will get overtime pay.
I greatly admire the staff of the railways. As the person said, the problem lies with management and the politicians behind them.
In the meantime congestion for cars is also up since frustrated commuters have given up on the trains.
Where is the political will to fire the cronies and get the resources to deal with this problem in the few weeks it ought to take to fix it?
© 2017 GroundUp.

This article is licensed under a Creative Commons Attribution-NoDerivatives 4.0 International License.
You may republish this article, so long as you credit the authors and GroundUp, and do not change the text. Please include a link back to the original article.