Why we woke up Brett Herron at 5am with koesiesters
People evicted from their homes cannot be dumped in Blikkiesdorp or Wolwerivier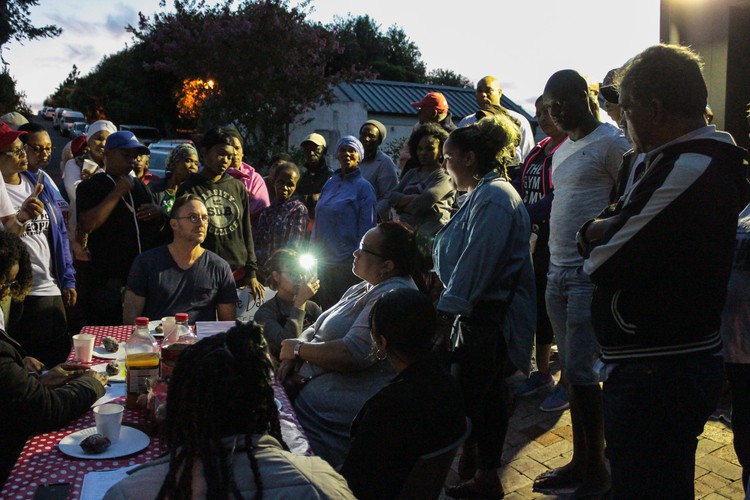 About 70 Reclaim the City activists from Cape Town's inner city visited Councillor Brett Herron, who is responsible for Transport and Urban Development, at his home at 5am on Tuesday. We offered him koesiesters and juice and asked him to join us at our breakfast table.
In our movement, we call this an escraché – a political demonstration holding politicians and government officials personally accountable for what they say and the decisions they make.
Evictions and displacement have become part of the reality of poor and working-class people in Cape Town's inner city. Every day poor and working-class people are evicted, either lawfully or unlawfully, rendered homeless and forced into poverty.
Last year Herron said that "Where people live matters" and made promises to accommodate evictees in Transitional Housing, with the first project due to be completed in November 2018. But we've heard that there are no plans to expand this for all evictees, and that there will be very little space in these projects. Our leaders met Herron a few times to discuss this. We wanted to invite him to a public meeting to hear the struggles of tenants and answer their questions. We invited him in December but he said he was on leave. We invited him again in January but he never responded.
A group of Reclaim the City activists have been monitoring the Cape Town Magistrates Court and the High Court. We wanted to find out how many eviction applications are brought before the courts, whether or not the respondents have legal representation, in how many applications the City of Cape Town is joined as a respondent, and what is in the reports the City's legal department files. So far, in what we have observed, in most of the eviction applications the respondents do not have legal representation and the City of Cape Town is seldom joined to an application.
We are tired of comrades, friends, family and neighbours being sent to live in relocation camps. But there is no long term plan or an acceptable short term solution.
According to the South African Constitution, cities have the obligation to provide emergency alternative accommodation if someone will be rendered homeless by an eviction.
At present, the only emergency alternative accommodation the City of Cape Town is offering is in relocation camps in Blikkiesdorp in Delft and Wolwerivier close to the Cape Town Ostrich Farm on the N7. So, no matter where you are evicted, anywhere from Somerset West to Simonstown, you are obliged to move there.
By law, the City of Cape Town should be cited as a respondent in all eviction applications, regardless of whether tenants or occupiers will be made homeless, because the City furnishes the court with a report detailing the emergency alternative accommodation to be offered, based on the personal circumstances of the individual or family.
However, the City submits a standard report, in which it makes Blikkiesdorp and Wolwerivier sound like wonderful places of opportunities, facilities, access to health care and other services, close to transport, schools and within police precincts. This couldn't be further from the truth. I have been there. I know.
Recently, I visited activists in Blikkiesdorp and while we were meeting, a fire broke out in one of the shacks. Community members managed to enter the blaze and carry out most of the family's belongings. But within five minutes, the fire had spread to the adjacent shacks and started travelling up the electricity pole. Within 10 minutes, the shack where the fire first broke out was burnt to the ground.
We called the fire brigade and the firefighters got lost. They didn't know where Blikkiesdorp was. When they eventually arrived at the scene, members of the community had managed to get the blaze under control, using buckets and hoses. The fire brigade might as well not have shown up. If the City of Cape Town calls this access to services, it is appalling. It lucky that no lives were lost that day.
Wolwerivier is no better. It is situated in the middle of nothing. The isolation is overwhelming. There are rows and rows of government-built shacks and not a single tree to provide shade.
But when the City writes about these places in reports to the court, the court unfortunately doesn't know any better. Partly this is because it is not the role of the courts to do an investigation, and partly because attorneys don't have enough knowledge about the relocation camps.
To hear the City describe these places in a court of law that is supposed to be a beacon of justice and hope for people is devastating. It is disingenuous and humiliating to the people currently housed in these camps and to those who will be displaced to these desolate relocation camps. This cannot be just and equitable. It is unacceptable and we cannot, especially those of us who have the means to access security of tenure, accept it.
When politicians like Brett Herron say that "where people live matters", and this is not translated into the City's practice at the courts, we have a problem.
On the one hand, we have the City's legal department talking hogwash, and on the other hand, we have Transport and Urban Development making promises to poor and working-class people, and somewhere in the middle, the Department of Water, Sanitation and Informal Settlements continues to build relocation camps. It's a mess.
This is why I ask: do the City's departments and directorates know what is happening in our court system, who is being relocated and displaced to these camps, under what conditions this is happening and the effect that relocation has on their livelihoods?
Evictions are violent. They are modern-day forced removals. There is nothing nice about this. We need a plan for evictees in our city and we need it now. The courts, private owners and the government are sending already vulnerable people deeper into poverty.
Today, our call was for a solution for the evictees being made homeless right now. We don't believe that the City has plans to expand transitional housing. If it did, a policy would have been developed already. We cannot accept people being forcibly relocated to isolated relocation camps. We will not accept it. We know that the City of Cape Town can and should do more.
© 2018 GroundUp.


This article is licensed under a Creative Commons Attribution-NoDerivatives 4.0 International License.
You may republish this article, so long as you credit the authors and GroundUp, and do not change the text. Please include a link back to the original article.