Why protesters have been blocking Vanguard Drive
Residents and employees of toilet cleaning company Silver Solution are angry that their complaints have not been resolved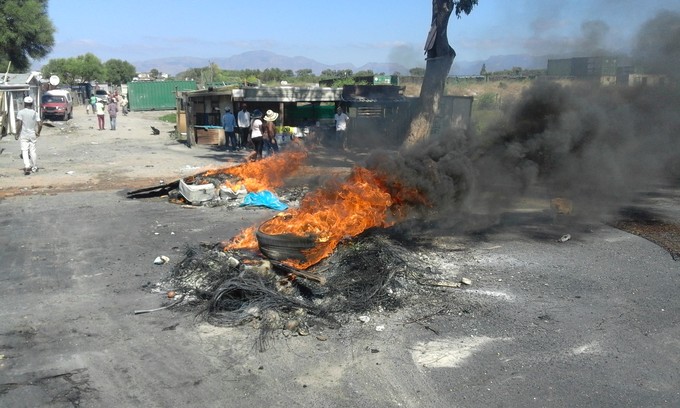 Residents of Siqalo responded to a series of disputes with the company responsible for cleaning the informal settlement's toilets by blocking Vanguard Drive with portable toilets and burning tyres. The protesters also damaged traffic lights.
The protests started on Tuesday afternoon and ended yesterday evening.
Siqalo is an especially poor informal settlement near Mitchell's Plain.
Some of the residents who are also employees of a company called Silver Solution, which is a subcontractor to the City of Cape Town's main portable toilets contractor, Sannicare Services, explained the problems they are facing.
Buyiseka Mdabuka has been an employee at Silver Solution for three years. "As workers and as residents we have a lot of complaints but the owner of the company refuses to talk to us. I have been working there for three years and we do not get paid for sick leave, even when you come with a doctor's certificate."
"Another thing is she [the owner] pays us for three days. Those are the days that we go with the toilets to clean them at the airport depot. But she does not count the days that we collect them from the community," said Mdabuka.
The workers go to the Airport Industria depot on Monday, Wednesday and Friday. On Tuesdays, Thursdays and Sundays they collect the portable toilets from the houses to have them ready for the next day. The toilet collectors and cleaners earn R125 to R130 per day. Supervisors earn R170 a day.
Work conditions are however not the only issue. Residents told GroundUp they called the owner to a meeting on Tuesday, but were not happy with her answers. "She was rude to us and was not willing to work on a solution that we can all be happy with. We told her that as community we do not want these [portable toilets] because since 2013 we have been using the same. They are old and leaking," said Lizeka Siphengu
Another worker and resident Nolusindiso Somwaba complained about the process of travelling with the portable toilets from Isiqalo to the depot. "We have one truck in which we transport the portable toilets. We also have to be in the same truck with the toilets. The transport picks us up any time. Some days they fetch us at 5am and we come back at 1am the next morning. We still do not get paid for overtime even on those days," said Somwaba.
She said the truck is faulty. Workers fear for their lives when they have to come back home at night as it does not have working lights.
Silver Solutions owner Nothemba Ncoliwe told GroundUp that she was told by the main contractor Sannicare Services not to comment to the media on the issues at hand. Despite numerous attempts we have not been able to contact Sannicare.
Dodgy people are suing us. Please support us by contributing to our legal costs and helping us to publish news that matters.
© 2016 GroundUp.

This article is licensed under a Creative Commons Attribution-NoDerivatives 4.0 International License.