What it's like when Metrorail fails
Which happens almost daily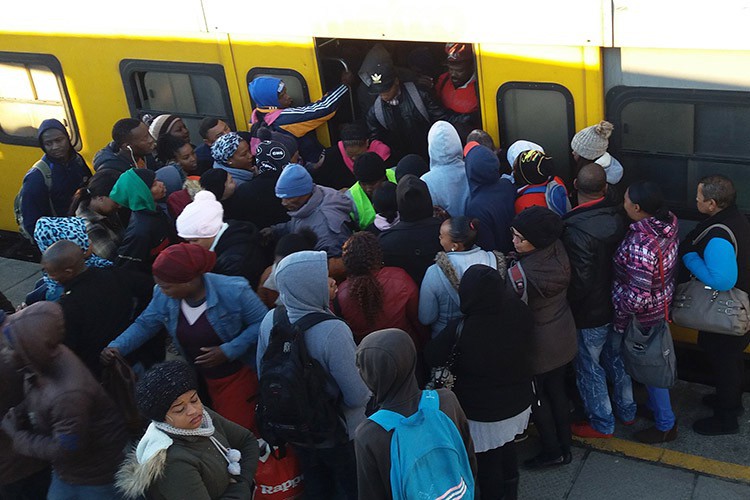 I use the train daily. This past month, I have arrived late at the work almost every day with few exceptions because of delays and cancellations on Metrorail.
Today, was the worst day. Along with many other commuters I was stranded at Parow station on the Northern Line for two hours, from 6:30 to 8:30am.
Some commuters went to the taxi rank, but they found it was full and returned to the station.
I spoke to another commuter who said he had been waiting since 6am. He had luggage and he'd wanted to take an early train to avoid the crowds. He and other church members were going on a camp for the week.
I travel from Parow to Rondebosch with a change at Salt River. When I arrived at Salt River, an unusually large crowd was waiting for the next train. There were delays and cancellations on the Southern Line as well.
The board showed that train number 0143 scheduled for 8:47am was now arriving at 9:16am. The 0147 scheduled for 9:18am was cancelled.
I overheard a woman on her phone speaking to her employer. Afterwards, she told me she is a caregiver in Rondebosch. She was supposed to take her employer to the hospital for a 9am appointment at Groote Schuur. But 9am passed and she was still waiting for the train at Salt River station. She was worried about her employer missing the hospital appointment.
Another woman, who was from Blackheath, said she waited for a train at BlackHeath from 6am, only to get one at 8am. "My employer understands my situation because he also read in the media about the train problems. But I am uncomfortable about being late for work every time. I am afraid of losing my job. I am a single parent."
The journey home is no better. I normally try to leave at 4pm. What should be a 45-minute trip, often ends up taking two hours. That can be four hours of my day waiting or sitting on trains just to get from Parow to Rondebosch and back.
According to Metrorail today's problem was caused by "snagged overhead electrical wires at Eerste River and a broken rail at Kuils River".
I can confidently say, that from when I started this commute back in 2012 the service has deteriorated.
Letters
Dear Editor
I am worried because there seems to be no light at the end of Metrorail tunnel. It's clear that Metrorail Management in general and Cape Town in particular does not care about its commuters.
Management has abdicated their responsibility to ensure that there is at least a safe controlled environment, albeit late trains. Metroplus is being overtaken/hijack by metro commuters because there is no plan, no vision, no strategy.
The question is, doesn't Metrorail have business continuity plans in place? Clearly not. If there is a plan it's catching dust somewhere.
You're about to witness a revolution, where Metroplus will start to purchase metro tickets. Your metro commuters will totally not worry to purchase any ticket.
Improve or else.
Dear Editor
We are paying customers. I think it is time for us to start making use of alternative transport for the coming months since it is clear Metrorail is doing nothing about their in-house problems.
We the customers are allowing Metrorail to treat us this way. All customers must just for one month start using alternative transport. Would you go to a shop and buy rotten meat or old bread? No you will not. So why are we paying for a rotten service?
We as the working class must start making use of alternative transport. As Metrorail always tell us, if we stand together we can accomplish a lot.
Dear Editor
It is quite visible that Metrorail has lost many commuters. Trains 197 and 199 on the Cape Town Southern Line were full to their capacity 6 years ago. Now, if they cancel train 197, the 199 train holds as many passengers as the 197 and 199 trains together 6 years ago. There are now only a few cars parked at the train station for the 'Park and Ride' scheme.

Metrorail staff are visibly demoralised. There are far fewer ticket and security checks on trains. Some staff at check out points let customers through without showing a ticket. Railway Police have basically given up riding on trains.
The most annoying factor is the lack of communication with commuters and the nonsense communication at times. One distinctively gets the impression that their internal communications are like the broken telephone game.
Reliable, safe and inexpensive public transport is critical in a city where half the population does not own a car. The problems with Metrorail have gone on for many years and elected political representatives don't seem to be concerned. The only explanation for this can be that economically they have moved away from income groups who rely on public transport. The City of Cape Town has shown concern, but PRASA/Metrorail is a State Owned Enterprise under the control of National Government.
© 2017 GroundUp.

This article is licensed under a Creative Commons Attribution-NoDerivatives 4.0 International License.
You may republish this article, so long as you credit the authors and GroundUp, and do not change the text. Please include a link back to the original article.