We've been forgotten, say people with disabilities in Musina
People are living in houses that don't cater for their needs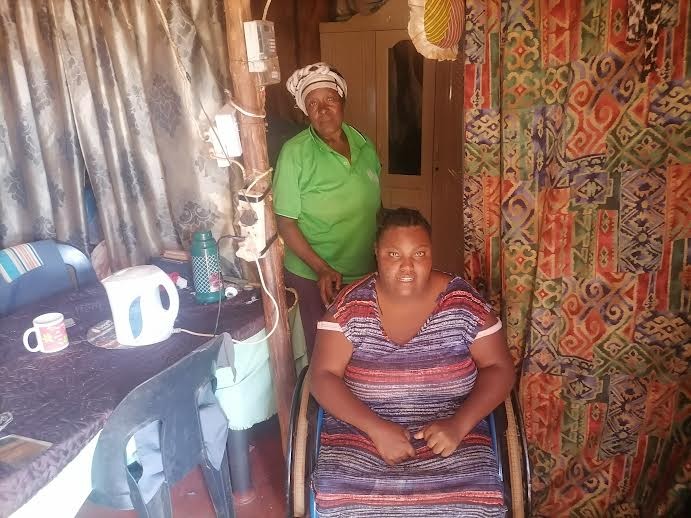 Associations representing disabled people in Musina, Limpopo, say there are not enough houses adapted to their needs.
The provincial Department of Human Settlements says RDP houses are adapted to take into account the needs of disabled people.
But the Association for Persons with Disability in Limpopo, says none of the more than 500 people with disabilities on their database live in appropriate houses.
Lucia Ndou and her daughter Takalani Munakisi, who is disabled, are lucky to be alive. The shack where they lived in Matswale in Musina caught fire in 2017. Neighbours carried Munakisi to safety and saved her wheelchair, but not much else, from the flames. After the escape, the family moved to another shack. But the rooms are small and the only place which can accommodate Takalani and her wheelchair is next to a plastic table and a pole with electric wires.
Ndou is afraid of another fire. She and her daughter use an outside toilet and Ndou has to push the wheelchair to the toilet and then lift Munakisi. "I have to carry her to the toilet seat and it is too heavy for me," said Ndou.
She wishes the municipality would build houses that cater for the needs of a disabled person in a wheelchair.
According to Lehlohonolo Raphono from the Association for Persons with Disability in Limpopo, none of the more than 500 people with disabilities on the association's database live in appropriate houses.
Raphono said people in wheelchairs found it difficult to move inside the shacks or RDP houses. "The government should build these people special houses."
In 2016, according to Yunsa Mbewe, director of the Musina Disability Forum, the Musina municipality promised to build special houses for disabled people. Nothing has been done, says Mbewe, who is also disabled.
Wilson Dzebu, Musina municipality spokesperson said it is not the municipality's responsibility to build houses. "It is the responsibility of the Co-operative Governance, Human Settlements and Traditional Affairs (COGHSTA)," said Dzebu.
Hitekani Magwedze, of Limpopo COGHSTA, told GroundUp that Musina had been allocated 445 houses for the current financial year. He said modified houses were supplied to disabled people who applied. "The department builds the same house plan for everyone, however, where there is a disability noted, for example a person using a wheelchair for mobility, we erect a ramp and a special toilet."
But Mbewe said they have members who all live with disabilities in shacks, back rooms or RDP houses, and none of the RDP houses have been modified to cater for their needs. "The rooms are small in such a way that it becomes very difficult for the disabled to move around with a wheelchair," said Mbewe.
In Mushongo Ville, also in Musina, GroundUp spoke to Albert Netshianda who was busy washing dishes in his RDP house. Netshianda, 67, was in a car accident and lost both legs below the knee. He was allocated the house in 2016 but the rooms are too small for his wheelchair. Inside the house he walks on his knees, which is very painful, he says.
"I plead with the municipality to redesign the house so that the rooms are bigger so that I can move around in my wheelchair," says Netshianda.
© 2023 GroundUp. This article is licensed under a Creative Commons Attribution-NoDerivatives 4.0 International License.
You may republish this article, so long as you credit the authors and GroundUp, and do not change the text. Please include a link back to the original article.
We put an invisible pixel in the article so that we can count traffic to republishers. All analytics tools are solely on our servers. We do not give our logs to any third party. Logs are deleted after two weeks. We do not use any IP address identifying information except to count regional traffic. We are solely interested in counting hits, not tracking users. If you republish, please do not delete the invisible pixel.