Westlake residents demand better policing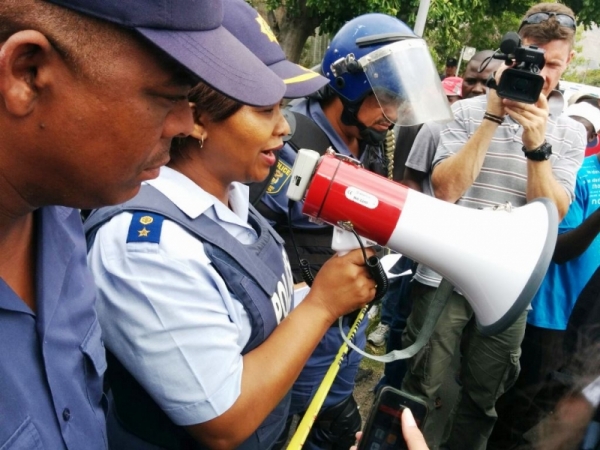 Around 150 residents of Westlake township protested outside Kirstenhof police station today. They said the police were 'turning a blind eye' to crime in their community. They demanded the Kirstenhof station commander be removed for being unresponsive and that a satellite police station be established in the township. The community pledged their total co-operation with the police.
Among the ten points in the memorandum was a plea for 'the murder of our Malawian brother' to be 'thoroughly investigated and the culprits brought to book'. This was a reference to Alfred Fonde, a Malawian immigrant, who was murdered in Westlake township earlier this year.
The memorandum also stated: 'We want the racist police who call our people with derogatory apartheid names be fully investigated and removed from our SAPS'.
Community leader Vusumzi Nelani read out the memorandum, which was received by station commander June Cilliers. She told the protesters she will send the memo to the cluster commander in Wynberg, where it will then be handed to the SAPS provincial office. She thanked the protesters.
Somewhat perplexed by the reason for the protest, Cilliers told GroundUp that the township's crime is the lowest in the Constantia Valley.
But Penny East, councillor for ward 71, told GroundUp: "The demands are legitimate. There's been a spike in crime" in the township. She welcomed the disciplined way the protesters had engaged with SAPS and other institutions. She said that Kirsternhof SAPS was "under-resourced, under-staffed and inexperienced."
Nelani, co-ordinator for People of Westlake Against Crime, said there will be a meeting at 6pm with the community and church leaders, the police forum and SAPS. He said they wanted a community friendly police station which people could feel free to approach.
Westlake is a poor township in the midst of one of the country's most upmarket residential areas. Several hundred meters away one can find a Virgin Active gym and Reddam House school.

Penny East, councillor for ward 71, and Vusumzi Nelani, a leader of the Westlake community, share a warm moment after the protest.
© 2016 GroundUp.
This article is licensed under a
Creative Commons Attribution-NoDerivatives 4.0 International License
.