Week in political activism
|
Compiled by Brent Meersman
News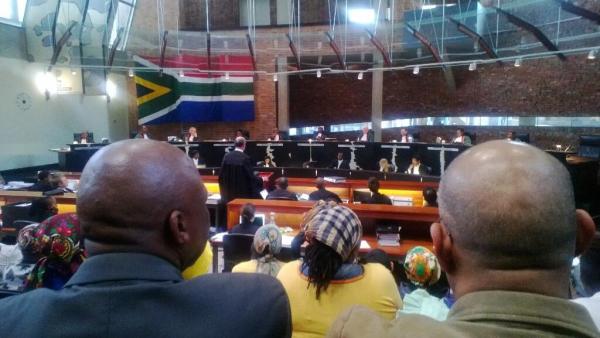 This week we have reports from Lawyers for Human Rights about refugees being prevented from informal trading, and SERI who successfully represented Johannesburg's informal traders at the Constitutional Court.
Refugees and asylum-seekers prevented from informal trading
In September, Lawyers for Human Rights (LHR), representing the Somali Association of South Africa and the Ethiopian Community of South Africa, brought an application against the Limpopo provincial government, the police and several other departments. LHR was aghast when the case was dismissed by the North Gauteng High Court.
According to LHR, in a crackdown on businesses perceived to be operating illegally, known as "Operation Hardstick", the SAPS clearly targeted businesses owned by asylum-seekers and recognised refugees, mostly small tuckshops and spaza shops operating in remote areas in Limpopo. They have been left destitute and in some cases homeless, in what LHR describes as "the most naked form of xenophobic discrimination and utter desperation".
LHR's attorney Anjuli Maistry said, "Police have seized stock and equipment, which collectively values thousands of rand, without providing any account of the confiscated stock or any opportunity to recover this stock or its value."
To find out more about LHR and the case go to www.lhr.org.za
Informal traders battle to survive in Gauteng
The Johannesburg Metropolitan Police Department has disregarded a Constitutional Court order, and assaulted and arrested the lawyer acting for informal traders.
On 5 December, the Constitutional Court ruled in favour of the South African Informal Traders Forum and the South African National Traders Retail Association, giving them the right to appeal directly to the Constitutional Court and ordering that they stop being interfered with by metro police.
The Socio-Economic Rights Institute of South Africa (SERI) has been battling for the rights of 1,200 informal traders who were forcibly removed from their trading sites as part of the 'Mayoral Clean Sweep Initiative', undertaken by the City of Johannesburg in October.
The traders are in a desperate situation, have no income and are in fear of losing their homes.
Hours after the Constitutional Court ruling, Nomzamo Zondo, an attorney from SERI, was arrested and assaulted when she tried to explain to JMPD officials the Constitutional Court order. Zondo, who has a five-month-old baby was denied police bail and only released at 11:30pm. The next morning all charges were dropped.
Two SERI staff members and an advocate spent the day walking around the inner city trying to get the traders to feel comfortable (and safe) enough to return to trading. By 7 December, it seemed as if the majority of traders had successfully returned to trading.
To find out more about the case and SERI, a non-profit organisation providing dedicated professional socio-economic rights assistance to individuals, communities and social movements, go to www.seri-sa.org
© 2016 GroundUp.
This article is licensed under a
Creative Commons Attribution-NoDerivatives 4.0 International License
.