300 toilets without houses after five years
Uitenhage housing beneficiaries were moved to the toilets a year ago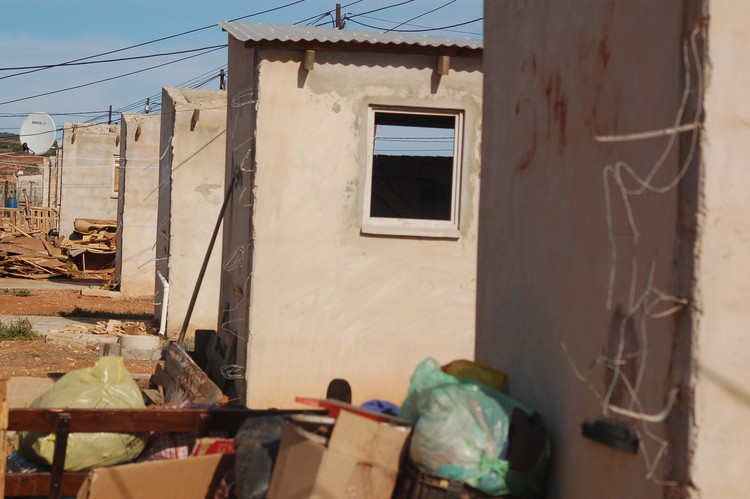 In July 2017 GroundUp was told that the construction of nearly 300 RDP homes on land in Gunguluza, Uitenhage, was a "top priority" for Nelson Mandela Bay Municipality. A year later nothing has happened and the housing beneficiaries say they feel "neglected and dumped" by the municipality.
In 2013 the ANC-led municipality built 300 toilets but no houses. In April 2017, the DA-led municipality moved a 100 people to live next to the 300 toilets as part of a "bucket system eradication programme". It was also intended that residents could stop further damage to the already badly vandalised toilets, which were missing doors, roofs, toilet seats and windows. A dozen families began erecting shacks next to the toilets.
Resident Luvuyo Ntombazana, who built his shack next to one of the toilets, said, "There is no water, no sanitation and no electricity in this place." He said there was no difference between staying at Gunguluza and Joe Modise informal settlement, where he had come from.
Community leader Zwelakhe Meleni said all the people living next to the toilets are registered as future RDP housing beneficiaries. "They are waiting for their houses whilst the municipality is busy tarring streets next to these toilets," said Meleni.
On Wednesday, mayoral committee member for human settlements Nqaba Bhanga blamed protest action for the failure to build the houses. "There are 296 houses that were supposed to be built last year in March in Gunguluza but the project was put on hold due to a number of protests."
Bhanga said fixing vandalised toilets was a serious problem for the municipality. "People destroyed the same toilets that were meant to eradicate the bucket system."
Dodgy people are suing us. Please support us by contributing to our legal costs and helping us to publish news that matters.
Letters
Dear Editor
You must understand that before there was a change in the Nelson Mandela Municipality, all building of houses was moved to the Housing Development Agency for a 3 year period.
It is the HDA who has not built these houses. In fact in this area 800 odd houses have been built since they took over with 0 being built last year as the money earmarked for NMM area was redirected elsewhere in the province. Not 1 house built last year and remember NMM need around 90 000 houses to catch up.