We asked Metrorail what it is doing to improve service
The answers leave little room for optimism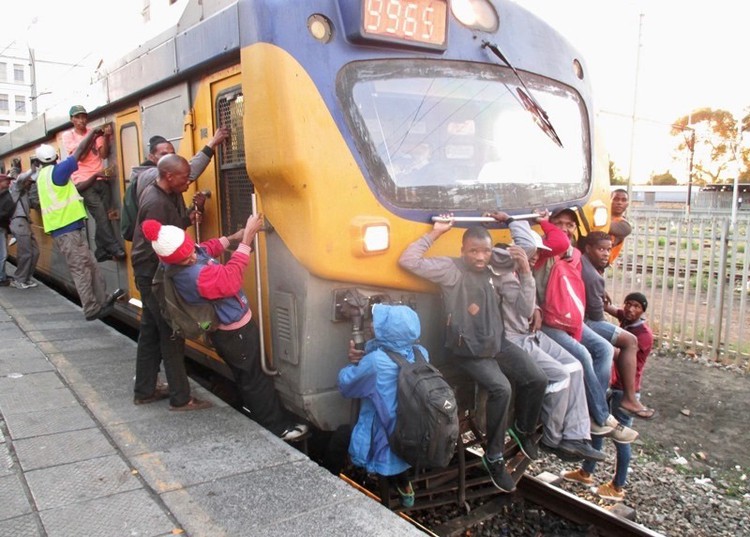 GroundUp regularly reports on the frustration caused by train delays which many Cape Town commuters experience on an almost daily basis. After recent violence that erupted after extended delays, GroundUp contacted Metrorail to understand what is causing the delays and how commuters can deal with them.
Riana Scott, Head of Marketing and Communication at Metrorail Western Cape Region, said, "The primary reasons for delays are old and obsolete technology as a result of decades of disinvestment in rail and perpetual vandalism."
By Metrorail's own measurements, only 22% of delays last year were caused by vandalism or cable theft.
We asked Scott what it meant when Metrorail announced that trains are delayed, for example by 40 minutes – that trains will arrive and leave their platform later or if it meant that trains will arrive at their destination later with various delays at the stations on that line. She said it could be either.
She said that with platforms 15 and 16 currently out of commission due to trains being torched "all trains arriving/departing from there have to be slotted into alternative platforms affecting all those trains arrival/departure times."
Asked if when a delay is announced in the morning, does it mean that the delay will run throughout the day or for a limited time, she said, "depending on what the issue is and how long it would take technicians to repair [it]".
Asked to advise commuters on what to do if they hear there is a delay, Scott said, "given that [Metrorail] operate[s] 622 trains per day, it is impossible to provide the exact delay of every train although we attempt to do that per service corridor (south, north, central, Cape Flats) in our social media channels during peak hours."
It seems that the best way for commuters to get accurate and live updates on train delays is through Metrorail's Twitter account. However, commuters who don't have access to the internet or Twitter will only find out about delays either on the radio or when they arrive at the station.
Stations have public address systems and some stations have electronic notice boards. In response to complaints by commuters that they can't hear the announcements, Scott said, "The public address systems are part of the aged and outdated infrastructure. Public address systems are tested daily and defective ones reported. Alternatives are loudhailers."
Customers also complain that the electronic notice boards give incorrect information. Scott said, "The display boards are coupled to a trains scheduling system which cannot be immediately altered in cases of train removals – these withdrawals [of a service] will not immediately reflect on the electronic timetables at Cape Town Station and customers are advised to listen to station announcements to ensure they board the correct trains."
This doesn't help commuters if they have poor hearing or announcements are inaudible.
She said, in addition to vandalism and cable theft, delays are often caused by external factors such as "trespasser incidents, self-harm incidents, illegal electrical connections underneath/across our tracks, disposal of wet waste on tracks by adjoining unserviced settlements and being targeted in frustration during service-related protest action unrelated to the train service."
According to Metrorail, last year the main contributors to train delays were rolling stock (old trains) at 16%, vandalism and theft at 22%, and signals (obsolete infrastructure) at 24%.
Scott said all incidents are recorded in a log book. Petty theft isn't reported to police, but significant vandalism and theft is.
She said the Western Cape Metrorail spent R50 to R60 million per year on repairs and maintenance. Asked what Metrorail is doing to combat cable theft, Scott said that security resources amount to R12 million per month. This includes "contract security, Protection Service Officials, electronic surveillance, a bike squad and motorised patrols."
Metrorail has also put in CCTV surveillance cameras in 16 stations. Each station has about 30 cameras. It has also secured five kilometers of operational tunnel between Nyanga and the Lansdowne bridge by having in-section camera surveillance at 2km intervals between Netreg and Bontheuwel and by working with the City's Copperheads Unit who combat metal theft.
Comment by GroundUp Editor
Riana Scott's inadequate answers to our questions are barely her fault; she is not the person responsible for Metrorail's dilapidation.
Metrorail exemplifies how corruption coupled with incompetence makes life harder for working people. Corruption at Prasa, the parastatal that owns Metrorail, is beyond the ordinary, and takes place at the highest level. Here are just a few examples:
Lousy train transport is not new: Metrorail has never provided a fair, safe and competent service. The division of carriages into Metro and MetroPlus (what used to be 1st class for whites and 3rd class for blacks) is a daily reminder of how the trains worked under apartheid. That the train classes still exist, just with new names and no longer racially segregated, is a reminder of how little this service has improved since 1994.
In 2004, the Rail Commuters Action Group, supported by COSATU, won a Constitutional Court case that ordered Metrorail to take reasonable measures to provide for the security of rail commuters. Yet the trains have remained a place where passengers are regularly preyed on by criminals. There is no golden period of train travel to look back upon.
But in the past few years, as nearly every train commuter in Cape Town can attest, the service has become particularly awful. A train arriving on time seems the exception. A clean carriage devoid of bigoted graffiti is rare. Passengers have to stand in contorted positions during the rush-hour crush. Many hang onto the outside of carriages, putting their lives in danger. Breakdowns in the middle of nowhere that force people to walk along the tracks to the next platform are common. 
This deterioration shows what misrule at the top causes. The consequences are terrible at times, such as when violence erupted  on 13 June at Cape Town station.
The problem goes beyond corruption. Running the trains safely and on time isn't easy, but many developing country cities, such as Mexico City and Buenos Aires, provide much better service than Cape Town (we can't speak from personal experience about Metrorail in other South African cities). To run the trains properly you need bosses who know what they're doing. A Rapport journalist exposed how Prasa bought locomotives too high for the local railway system, a multi-billion rand blunder. (In response, Lucky Montana allegedly threw a brick at the reporter.) The recent history of CEOs at Prasa suggests they were appointed for political reasons, not because of their expertise in the logistics of train travel.
Capetonians need a train service that is safe, runs on time, and integrated with the rest of the transport system. But there is no political will in Prasa or the national government to achieve that.
Here's a list of stories on GroundUp covering the failures of Metrorail. See also: When will the trains run on time? 
Letters
Dear Editor
Ever Since Prasa was awarded a tender in 2008 to deliver quality transportation to the marginalized commuters (workers,students) from Cape Town to Chris Hani and Kapteinsklip, there had been numerous challenges with huge impact on poor communities.
Chris Hani and Kapteinsklip lines generate a lot of profit for Prasa/Metrorail and this line is the most the poorly serviced. The Central Line is crippled with several delays and/or cancellations. Many people are knocked by the trains on this line, which also affect the safety of people using it. This is exacerbated by the poor signaling system which creates a lot of confusion.
Furthermore, other problems of vandalism or cable theft are never dealt with properly which is often the case for the delays. There is never a consistent and clear communication to the commuters inside and outside the train, that Chris Hani and Kapteinsklip that make it impossible for them to plan what time they will arrive at work or at important destinations.
These delays and cancellations are the root causes of trains being packed and overcrowded. The result is that commuters end up being pushed off the train while the train is in motion. On their way home, the fact train delays results in commuters arriving late when it is dark already and sometimes it is after 10 pm or after when they reach their destination.
Another problem is that our stations have become playing grounds of criminals and gangsters. Even while you are on the train, you are exposed to nyaope boys who are robbing commuters of their goods and their hard earned money.
Our parents and workers are especially negatively affected as they use trains regularly on this line. They often get written warnings by their employers, because of being late and some even get fired as employers do not care and some do not believe their employees when they site the train delays and cancellations as a reason for pitching to work late.
Most workers are having a Metrorail Prasa monthly ticket to make their travel to and from work more affordable.
Dear Editor
This is indeed the trickle-down effect of corruption at the highest levels. Unfortunately, better management will make little difference. The problem with urban commuter rail in South Africa is structural: we have a national SOE running our urban rail networks. Virtually no other country does this. It simply doesn't work.
PRASA must be relieved of its responsibility for urban rail. In the case of Cape Town, that means handing Metrorail's operations over to TCT.
The good news is that the current (draft) National Rail Policy calls for exactly this.
So, we should forget PRASA and its antics, and put pressure on local government to expedite the process of taking over. Given the trend, it's likely that they'll be doing most of the work in any case.
© 2017 GroundUp.

This article is licensed under a Creative Commons Attribution-NoDerivatives 4.0 International License.
You may republish this article, so long as you credit the authors and GroundUp, and do not change the text. Please include a link back to the original article.