Ward committee members protest outside PE council meeting
Protesters demand higher stipends and better equipment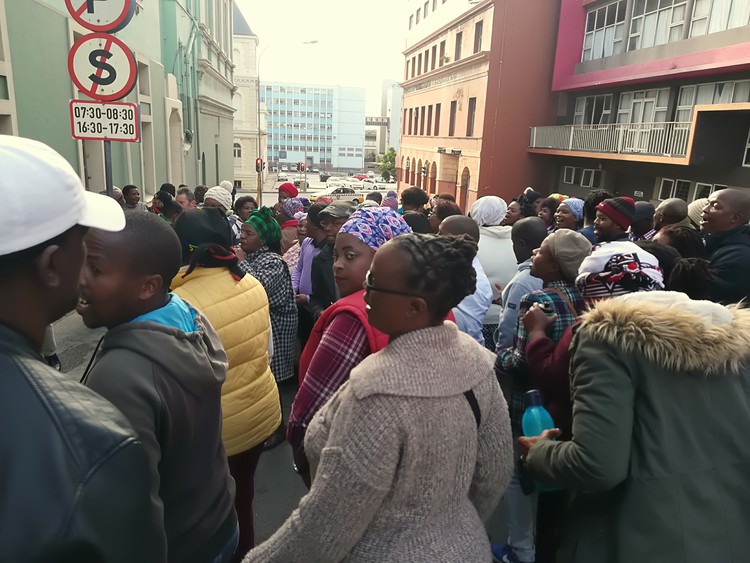 Ward committee members in Nelson Mandela Bay protested on Wednesday outside a council meeting in Port Elizabeth, demanding an increase in their monthly stipends of R1,000 and more equipment.
The protesters blew whistles and sang freedom songs in front of a wall of Metro Police officers, as the city council prepared to meet inside to discuss the 2018-2019 budget.
Councillors who arrived late had to squeeze through the crowd of protesters, who shouted "you sell-outs".
The Port Elizabeth metro has 60 wards, each of which elects ten ward committee members. Committee members receive a stipend.
Committee member Xolile Vingqi, of ward 27, said the 600 ward committee members across the city were being taken for a ride.
"We can't get jobs because the system deems us municipal employees. The truth is we earn R1,000 a month and it is a stipend."
He said committee members could not benefit from subsidies for municipal services "because they say we earn salaries".
Before the council meeting started, councillor Marlon Daniels told protesters the issue would have to be discussed in council.
"There is a budget that must be passed to give you tools of trade. We understand that you don't have pens and diaries. However we cannot use money that has not been passed by the council. We are talking about this budget to make sure that by 1 July, the broader community in the metro is serviced, including yourselves."
"In the absence of the budget, we cannot do anything."
Before he finished, a protester shouted at the councillor. "We cannot even tender because they say we are working for the municipality!"
"The answers you are giving us are so little".
Ward committee member from ward 38 Lungile Sokani said: "You are talking about pens and papers. You are not mentioning laptops and cellphones. You are not even mentioning stipends."
Late in the afternoon ward committee members fidgeted outside the city hall waiting for mayoral committee members who were in a council meeting.
One ward committee member said some of the mayoral team had come to address them after protesters had burned some papers outside the city hall.
"But at about 3:10pm they left us here saying they needed to be in the chambers again to vote. We are still waiting and know that … they will go home and ignore us."