Cape Flats community keeps children safe from gang violence
Schools in Wesbank report increased attendance since the Walking Bus project began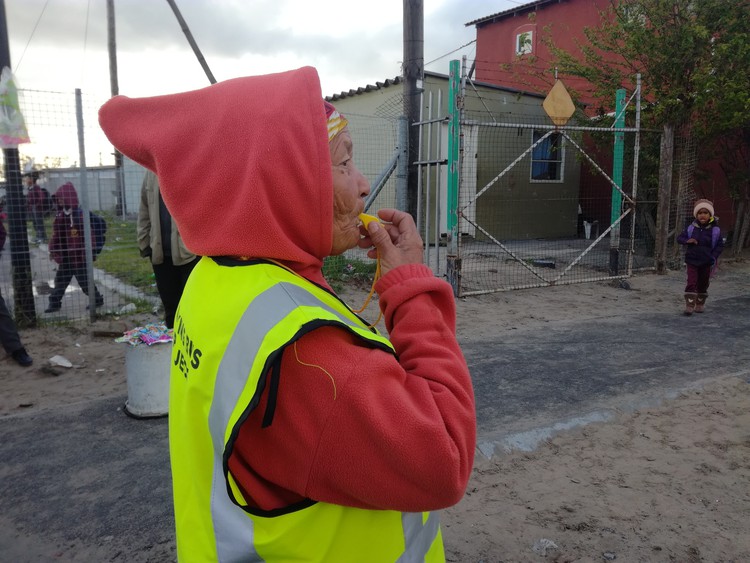 It's just after 7:30am on a Thursday and the streets of Wesbank in Blue Downs are abuzz with people heading to work and children of all ages walking to school. Among some of the children walking to Hoofweg Primary School are volunteers wearing green reflective bibs with the words Walking Bus Project across the back.
One of the volunteers is 59-year-old Wesbank resident Janetta September. She is one of 34 volunteers who walk learners to and from Hoofweg Primary every day. "I started walking with the children years ago already so I thought this project was very good. I'm not scared to walk at all because I know I'm keeping them safe," she says after walking a learner across a busy road.
So far there are five children in September's walking bus. She sternly reprimands two learners who have decided to run ahead of the group to the school which she points out is "right around the corner". "You can't take chances, so I tell them always to stay together," she says.
September and the other volunteers at Hoofweg also serve as monitors on the school's grounds during break times to prevent any gang members from entering. They also walk the learners home in the afternoons.
The walking bus project was piloted in May 2016 at four schools in the Wesbank area, including Hoofweg, where gang violence and crime are common occurrences. The project, funded by the Western Cape Department of Community Safety, has since expanded to include over 50 walking buses at 180 schools mostly on the Cape Flats. The project also won the Gold Award for Best Implemented Programme or Project at the Provincial Service Excellence Awards on 28 August.
By 8am, 80-year-old Magdalena van Neel, the group's oldest member, stands at the school's gate and starts blowing her whistle. Three other green-bibbed volunteers join her, and this they explain signals the learners to hurry into school.
Volunteer Shireen Valentyn said, "We often stand between the kids because the gangsters like to take chances. We know our children and where they live. Ever since we started the project, we get more respect from the children and the community."
Valentyn says during dangerous incidents, such as a recent one when alleged gang members were throwing stones near the school, they alert the neighbourhood watch team as well as the school's principal on a WhatsApp group.
"The funny thing is that the gangsters usually start going on at the time when schools dismiss in the afternoons. When we hear that one of the children like a grade 7 pupil has a knife or something, instead of causing a commotion, we take the child aside and take them to the office. If it's very serious then we let our neighbourhood watch know as well," she says.
Valentyn is a full-time volunteer with the project, but some members volunteer part-time. She says their role often goes beyond just providing safety for the learners. "We also encourage the children and tell them that they can have a brighter future. We talk and play with them. The main thing is that our kids are safe," she says.
Hoofweg principal Allystair Sauer says they have seen a significant increase in their attendance register since the initiative was started. "For years we had problems where parents would leave home early for work and some children would bunk school. We would tell parents during our meetings to ask neighbours to keep an eye out and to make sure their children do go to school. Then we came up with the idea of parents and grannies who are at home bringing those children to school," he says.
"Our school is very close to the taxi rank where they usually shoot. The walking bus members will inform me not to ring the bell if they see something is happening or about to happen. We keep the children inside and as soon as there's a green light, we'll dismiss the school, class by class," he says.
Ward councillor Ricardo Saralina says that since the walking bus was launched, school attendance in the area is up to 98% with the average matric pass increasing from as low as 60% before the walking bus started to 96% (GroundUp hasn't verified these statistics).
The volunteer programme isn't only for children. "They also walk seniors across the bridge between Wesbank and Delft. Our seniors uses to get robbed on this foot bridge," Saralina says.
Dodgy people are suing us. Please support us by contributing to our legal costs and helping us to publish news that matters.
© 2017 GroundUp.

This article is licensed under a Creative Commons Attribution-NoDerivatives 4.0 International License.
You may republish this article, so long as you credit the authors and GroundUp, and do not change the text. Please include a link back to the original article.