Villagers battle princess over land
Ward councillor condemns actions of Princess Nomaxhosa Jongilanga after shacks demolished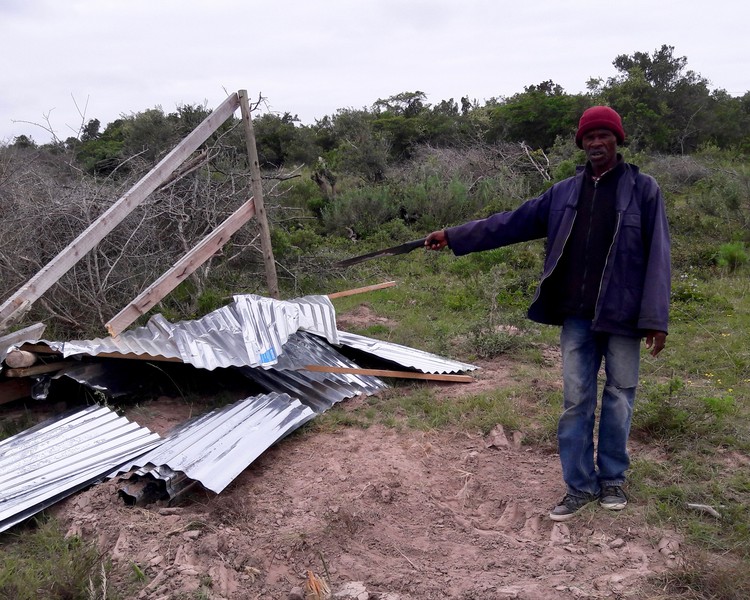 The Eastern Cape High Court has halted shack demolitions ordered by the leader of the Imidushane Traditional Council, Princess Nomaxhosa Jongilanga, in Ncera Village 5.
Last year, the princess, who claims the land of Ncera Village 1 to 8, accused the residents of Village 5 of erecting shacks illegally on her land. The village is home to over 1,000 people.
The Imidushane obtained a court order in October 2017 to demolish the shacks unless the occupiers could show cause before 7 November 2017 why they should not be removed.
Last week, nine shacks were demolished. A further 21 were set to be demolished, but the court intervened on Tuesday. Judge Bantubonke Tokota granted an interim order preventing further demolitions. The opposing parties — the residents of Village 5 and the Imidushane Tribe (which is in effect the princess) — will have to come back to court to argue whether the interim order should be made final.
Attorney for the residents, Loyiso Godongwana, told GroundUp, "In 2015, there was an agreement between the Princess and Ncera residents that no more structures will be built on the land … The new [interim] court order says land must be made available elsewhere, for the people whose nine shacks were demolished last week. It also states that no more destroying of structures or evictions will take place, until the princess sits with residents and resolves this issue."
The judge ordered the opposing parties to meet before 9 November 2018 to "determine which structures were erected" after the granting of last year's order "as opposed to the arbitrary demolition of structures currently taking place at Mpintsho village".
Villagers expressed relief over the court's intervention. Ngubengcuka Mkhuthukana said, "We are happy with the court's decision to stop the demolition. This whole experience dragged down our dignity. It was very painful – being chased out of our homes like dogs … The police actually beat me up, tore my clothes and burnt my hat in front of me. But I hope it is all over now."
East London police spokesperson Warrant Officer Hazel Mqala said, "I am not aware of anyone who was hurt during the process of the evictions. The police were there to maintain order. The Kidd's Beach police station was supervising the evictions. So I have no comment on the incident."
Village chairperson and ward committee member Bulelwa Tshabeni said, "After this, the princess will no longer live in peace with her people. She has declared herself our enemy. She didn't display any leadership with this. From last year, she has been quiet about this and now suddenly we are inhumanely treated."
Madolo Gorha said, "I was finishing up building, which started earlier this year. I have asked for a place to sleep in the village a few kilometers away from here. This is so painful. I was at work when my shack was demolished. I was called and told that my home has been ruined. On arrival I found my yard and zinc sheets in shreds," he said.
Princess Nomaxhosa Jongilanga said she cannot comment on the matter at all, "since the law is involved".
Ward 32 councillor Vuyani Peter (ANC) said he knew nothing of the demolitions and the princess never engaged him. "This whole land issue just came to my attention in November last year. I was not aware of its dangers or anything. I was just surprised when I was called a week ago and told that people are being evicted. I even tried to intervene, but the guys who were sent to demolish didn't listen to any reason. I condemn the way the princess acted, because this will cause friction between her and the people of Ncera. I just think things could have been handled better," said Peter.
Letters
Dear Editor
As a chairperson of Mpintsho known as Village 5, the matter of accusation that was laid by other villages to the Princess is surprising because we don't know about it. Akso it is shock of ward 31 came and claim this land that belongs to ward 32 which has its leadership, and we get service from Vuyani Peter who is the councillor of ward 32.
I was appointed as ward committee in 2016 and I am serving under the supervision of this councillor and chieftainess Nongenile Phato.