Vigilante killing in Mfuleni: Two leading SJC members arrested but deny involvement
|
Mary-Jane Matsolo and GroundUp Staff
News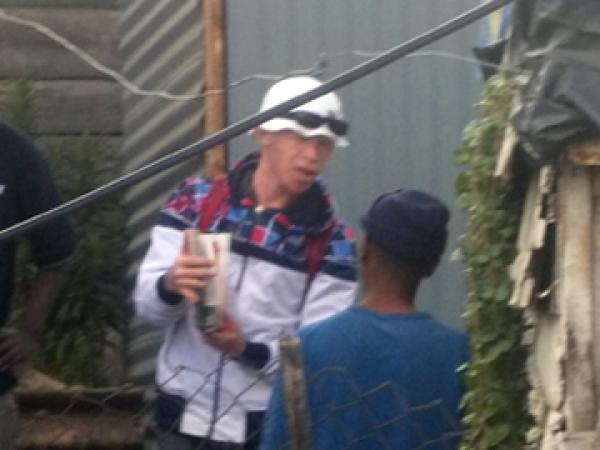 On Sunday 14 October, two Social Justice Coalition (SJC) activists Angy Peter and Isaac Mbadu were arrested along with two other Mfuleni residents for the kidnap and murder of Siphiwo "Rowan" Mbevu.
Multiple sources GroundUp spoke to allege Mbevu was linked to several crimes in Mfuleni, including the murder of a Somali shopkeeper and the mugging of an old lady.1 They also allege he carried out his crimes with the assistance of a police officer. Mbevu was found burnt and beaten on Sunday morning in the township in an apparent vigilante killing.
Police have not yet revealed details of how the suspects are implicated in Mbevu's murder. Peter and Mbadu have denied any involvement and say they were at home watching television on the night of the murder. Both have campaigned against vigilantism. However, police spokesperson Lieutenant Colonel Andrè Traut told GroundUp by email, "Leads were followed and statements were obtained from witnesses that positively link the two to the case."
Chairperson of the SJC Mfuleni branch, Nolubabalo Zongola, said, "It pains me that Angy was arrested and had to leave her four children alone. It's just not fair because Angy would never kill Mbevu. Angy was the only person that would call the police when the community wanted to kill him. She would say 'No person is going to take the law into their own hands!'"
According to Gavin Silber, SJC coordinator, Peter was trying to rehabilitate Mbevu. Several community members had told Peter they wanted to "get rid" of Mbevu because he was committing crimes and getting away with it. Peter had tried to dissuade them. She also convinced Mbevu to join an SJC branch.
In August Mbevu broke into the home of Peter and Mbadu, who are partners, and stole their television. Mbevu was later confronted by Peter and other members of the Mfuleni community after Peter was tipped off that Mbevu stole the television. Mbevu allegedly admitted to stealing the TV and claimed to have been working with a senior police officer, Andile Mtshiceka, at the Blue Downs Police Station (which serves Mfuleni) who was buying stolen goods from him. Community members wanted to beat up Mbevu, but Peter claims she dissuaded them. With community members present Mbevu made a phone call to the police officer and claimed that he had "new stuff to sell". A while later the police officer came to collect Mbevu and allegedly drove him to Blue Downs Police Station via the back entrance.
GroundUp attempted to contact Mtshiceka by phoning Blue Downs Police Station. At first the person who answered denied that Mtshiceka worked at the police station. But upon being pressed he admitted that Mtshiceka was on night duty and not at the police station presently. GroundUp also attempted to contact the commanding officer of the Blue Downs Police Station but we were told he was in a meeting.
When Peter and Mbadu went to open up a case against Mbevu and the police officer, a statement was taken from them but Peter claims they were refused a copy for their reference and also refused permission to speak to the station commander. In response, Lieutenant Colonel Traut confirmed to GroundUp that should a person request a copy of their statement, the police should give it to them. Traut assured GroundUp that this will be followed up.
Soon after that Peter and Mbadu received a threatening phone call from a known criminal in the area who said that the officer they had opened a case against was very dangerous and that their families were unsafe. The two fled to a safe house for a number of days but moved back to Mfuleni when it emerged the community was once again angered by what had occurred and wanted to kill Mbevu. Our sources claim that Peter and Mbadu again prevented the community members from taking matters into their own hands.
Peter with the SJC's assistance sought assistance from the Independent Police Investigative Directorate (IPID). She was advised to lodge a complaint at a different police station to Blue Downs. She and Mbadu therefore lodged a complaint at Site B police station. GroundUp understands that there were two legs to the complaint. The first was against Mbevu for the theft of the television. The second was against Mtshiceka. Peter followed up her complaint about week later. She was told that Mtshiceka worked for Crime Intelligence, that an internal investigation had been started and that the case was no longer in the hands of the Site B police station.2
In response to these allegations Lieutenant Colonel Traut wrote to GroundUp that "the deceased [Mbevu] denied knowledge of the police officer and that he ever disclosed such information to them." Traut further confirmed that an investigation into their complaints against the police officer was still ongoing. He wrote that the "investigation will determine if there is a criminal case or not to go with the departmental hearing."
Peter who is in Pollsmoor Prison has been admitted to the prison's hospital. She is due to appear for her bail hearing on 1 November. In the meanwhile her four children are being looked after by SJC branch members as Peter does not have any family members in Cape Town.
The SJC's Silber said, "People have completely lost faith in the police and that's why community members are resorting to vigilantism. We condemn vigilantism. But at the same time you can understand the frustrations of community members when police do little to protect them. People are afraid of the police because of their connections with known criminals. Not all police are corrupt and bad; it just takes one rotten police officer to get away without investigation for the community to lose confidence."
The SJC released a detailed statement yesterday on this case. It stated, "Vigilante violence can never be condoned and allegations of involvement by SJC members are taken very seriously. We must however not lose sight of the State's complicity in these incidents by failing to address the toxic environment in which people live in fear of each other and are prepared to turn to brutal acts to protect themselves and their families."
GroundUp appeals to anyone with leads or information on this story to please contact us on 021 788 9163.
---
Mbevu was known by several names by the various sources we spoke to. "Rowan" appears to be the name he was most commonly called. We have decided to use Mbevu in this article. ↩

According to the SAPS website The Crime Intelligence Division of the SAPS is responsible for managing information gathering, centralised and integrated intelligence management, coordination and analysis. They also provide a technical intelligence support service to the operational components of Crime Intelligence and where necessary, to other operational divisions of the SAPS. ↩
Dodgy people are suing us. Please support us by contributing to our legal costs and helping us to publish news that matters.
© 2016 GroundUp.
This article is licensed under a
Creative Commons Attribution-NoDerivatives 4.0 International License
.