"This area is used as a dumpsite" says Mandela Park resident
Residents accuse the Buffalo City Metropolitan Municipality of neglecting their informal settlement. They believe politicians only visit the area to garner votes.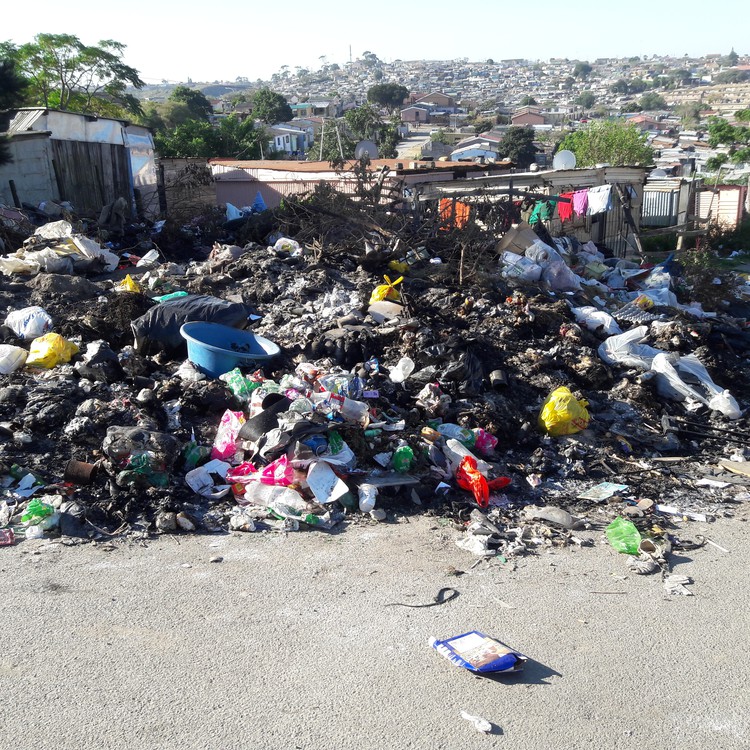 Mandela Park is one of the oldest informal settlements in Duncan Village, East London. Residents living there believe they have been "forgotten" by the municipality.
Residents claim their dirt has not been collected for years. The local ward councillor says previous complaints to the Buffalo City Metropolitan Municipality have gone unanswered.
GroundUp visited the area on 21 June and saw piles of rubbish strewn across the informal settlement. Residents say they have resorted to burning the heaps of dirt in order to reduce its smell and size.
"The municipal refuse truck passes here every week but they have never bothered to take it. We are just idiots who are good enough to vote, otherwise the government does not care about us. Our children must play in this filth," said a resident who asked not to be named.
Vuyiswa Matambo has lived in Mandela Park for just over two decades. He is also a committee member in the area. Matambo said some residents were forced to use toilets in neighbouring townships and informal settlements due to the growing piles of trash.
"This area is used as a dumpsite now. It used to be our toilets. We do not have any toilets in Mandela Park. We need the basic services like a toilet and a tap with running clean water," he said.
"We have no hope of leaving this place or getting RDP houses. No one from this area has received any RDP house. We have invited the councillor, Ntombizandile Mhlola to come and hear our grievances on many occasions but she has never availed herself," said Matambo.
Resident Vukile Ndima said people were waiting for the councillor to make an appearance in the settlement. "She is yet to visit the area," he said.
Joseph Letsie lives in the neighbouring area of Dizamahlebo. Letsie said he has made several attempts to report the uncollected rubbish, but there has been no response.
"I went as far as calling the [municipality] myself, but nothing has happened. We inhale this smell from the morning until sunset. Dog carcasses, rotten food and meat is disposed here, and we are not happy. Even the councillor does not care about us, we are only relevant when it is time to vote," said Letsie.
Ward councillor Ntombizandile Mhlola said she has notified the municipality of the uncollected refuse. When contacted by GroundUp, Mhlola said, "I am also surprised that the refuse has not been collected yet. I reported this with the waste removal department a long time ago. I will have to push them again to make sure that it is attended to as soon as possible."
Mhlola said that because 28 different informal settlements were under her ward, it was difficult for her to "balance them".
"I am unable to attend to all of them at the same time. I will call a meeting very soon with the people of Mandela Park and listen to their grievances," she said.