Uitenhage quick to fix pipes … when the problem is reported in the media
Complaints go unattended for years until reporters get involved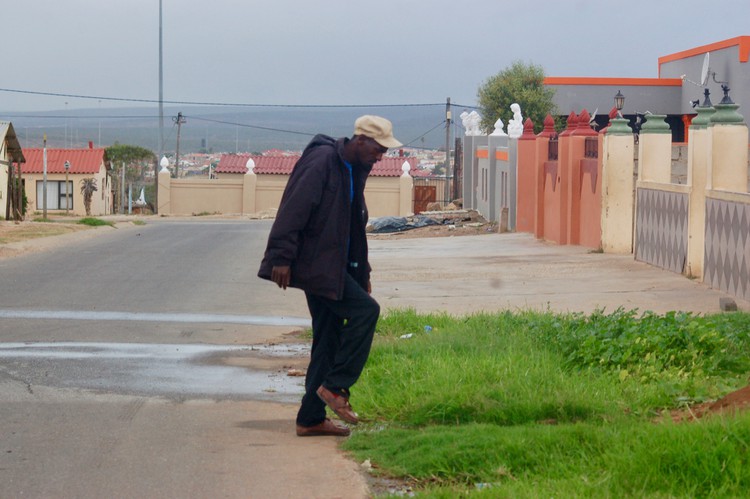 Residents say leaking pipes have wasted thousands of litres of precious water in in KwaNobuhle, Uitenhage.
On Tuesday, resident Vuyelwa Daniels told GroundUp that a pipe had been leaking in her yard for three years. She said municipal workers had come in February to look. "They came and took pictures, promising they'll come back again. However, they never did. They drive past this yard in big trucks and stare at my yard instead … I am still waiting for them."
The rooms in her house are flooded. She uses dishes to scoop the water out. She has had to send her children to live with relatives.
"Green grass and weeds even grow under my stoep. Every day, I have to open windows to let the rooms dry. But the following day I am forced to open them again because water leakage is running non-stop," said Daniels.
Her neighbour, Ntsebenzo Madwara, said water runs down Mthingane Street. He dug trenches to let it flow out of Daniels's yard.
"They must fix this problem once and for all … I mean, we have to tip-toe to and from our houses because of this daily mess. This is wrong," said Madwara.
His elderly neighbour, Xolile Madela, said, "The municipality must wake up."
GroundUp did not receive a reply to its inquiry made on Monday, but at the time of publishing on Wednesday workers were at Daniels's home to fix the pipe.
Last month, GroundUp reported on another leak in the yard of Lungelwa Mbengashe in ward 47 which was flooding a neighbour's house. The leaking pipe belonged to the house owner, but the municipality fixed it within 24 hours.
Last year, we reported how elderly resident Nzimeni Ngqiqi in ward 46 had a leaking pipe for two years despite her complaints. It was fixed within a week of our article being published.
Dodgy people are suing us. Please support us by contributing to our legal costs and helping us to publish news that matters.