Truda Foods workers protest in one city while Labour Court rules against company in another
Judge sends message that courts should not be used to prevent workers organising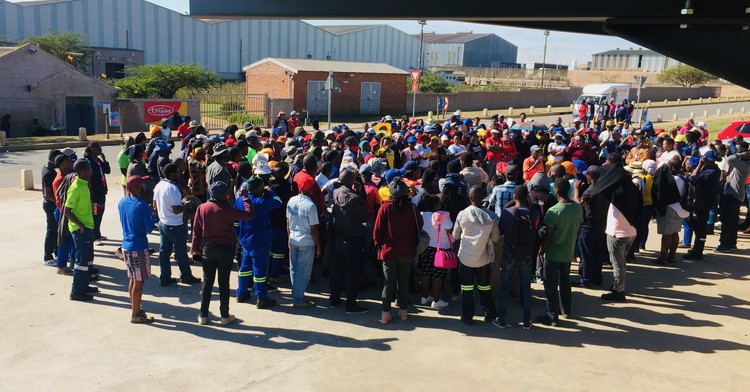 Truda Foods has been involved in labour disputes recently.
A court has dismissed a claim by the company that protesters were in contempt of an earlier court order.
Meanwhile, about 300 Truda Foods employees in Pietermaritzburg downed tools on Tuesday because of safety concerns.
---
The Port Elizabeth Labour Court has dismissed a claim by snack producer Truda Foods that protesters who gathered outside the company's premises in Komani last year were in contempt of an earlier court order.

During a strike last year, Truda Foods was awarded an interdict to stop striking workers and community members from barring other workers from coming to work. On 21 October 2020 the court granted an order against the Komani Residents' Association (KORA), the SA Security and Allied Workers' Union, and several others, barring them from threatening and preventing non-striking employees from attending work, interrupting and interfering with Truda Foods' business operations and spreading untrue and defamatory statements about the company.
The company later approached the court saying a group of workers and community activists had violated the interdict by continuing to protest on its premises.
But Judge Zolashe Lallie in the Labour Court on 14 May said Truda Foods had only cited a group of a few protesters, leaving out others, as captured on CCTV footage and camera photos. This, she said, lent credence to the submission by the workers that "this application is an attempt to punish them for fighting for the rights of the applicant's non-unionised employees." KORA and SASWU acted as representatives of the Truda Foods' non-unionised employees, she said.
Judge Lallie said the community leaders had proved that they were present at the protest to ensure compliance with the court order.
"Contempt proceedings were not designed to be used as weapon to punish employees, community leaders and representatives of unregistered trade unions for attempting to exercise rights reserved for representative trade unions in the Labour Relations Act."
However, Judge Lallie said, arguments that Truda Foods had an obligation to discuss employee issues with representatives of KORA and SASWU were incorrect. "The Labour Relations Act is clear. It provides in unambiguous terms what employees need to do in order to acquire organisations rights at the workplace."
Meanwhile, on Tuesday, about 300 Truda Foods employees in Mkhondeni, Pietermaritzburg, downed tools. They gathered outside the company's office singing.
The protest, which started on Monday, included former Truda Foods employees from various parts of Pietermaritzburg. They were complaining about frequent injuries on duty and also claimed that management was refusing to acknowledge their union, the Professional Transport and Allied Workers Union of South Africa (PTAWU).
Several workers said they had injured fingers in the machines at work.
In January this year the Department of Labour issued a contravention notice against Truda Foods in Komani after an accident in which worker Eugene Jali lost his hand while working on a maize mixing machine.
PTAWU co-ordinator in Pietermaritzburg Dineo Jucwa said management did not want to recognise the union. PTAWU had approached the Commission for Conciliation, Mediation and Arbitration (CCMA), she said.
GroundUp contacted Truda Foods offices for comment. The person who answered the phone said someone from the company would phone back. A follow up phone call by us was not answered.
Dodgy people are suing us. Please support us by contributing to our legal costs and helping us to publish news that matters.
© 2021 GroundUp. This article is licensed under a Creative Commons Attribution-NoDerivatives 4.0 International License.
You may republish this article, so long as you credit the authors and GroundUp, and do not change the text. Please include a link back to the original article.
We put an invisible pixel in the article so that we can count traffic to republishers. All analytics tools are solely on our servers. We do not give our logs to any third party. Logs are deleted after two weeks. We do not use any IP address identifying information except to count regional traffic. We are solely interested in counting hits, not tracking users. If you republish, please do not delete the invisible pixel.