Too few gay men get involved, says Khayelitsha activist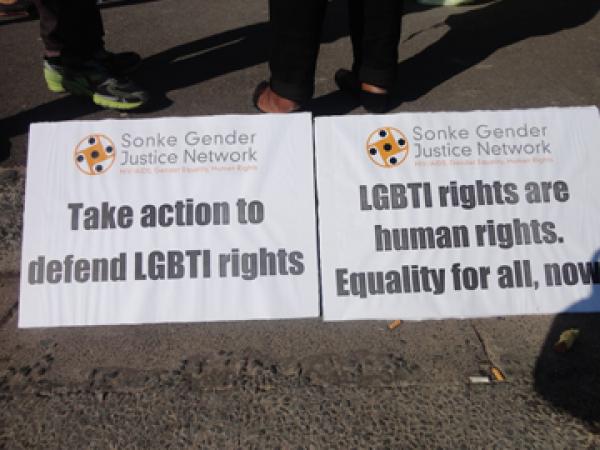 Too few gay men engage in gay issues, gay activist Sibusiso Nquqeka of Khulani Khayelitsha Queer Project told the audience at a memorial service this week for two murdered women.
Speaking at the service in memory of 21-year-old Phumeza Nkolonzi from Nyanga, shot dead in 2012 in her home in front of her grandmother, and 19-year-old Zoliswa Nkonyana who was stabbed and stoned to death on the streets of Gugulethu, and others who have suffered because of their sexual orientation, Nquqeka said most gay men did not attend gay and lesbian events or protests in their communities.
Gay men did not have enough support in their communities, Nquqeka said.
But he also said it was easier to invite a gay man to a party than to a protest.
The memorial was organised at Shawco in Nyanga by several organisations, including Free Gender, Sonke Gender Justice and Khulani Khayelitsha Queer Project.
Funeka Soldaat from Free Gender said that there were fewer gay men than lesbians in her organisation and similar organisations and she was concerned that the community was not united.
Aviwe Mthibe from Sonke Gender Justice said he was disappointed that fewer than five heterosexual men attended the memorial service and only two gay men were among the mourners.
"It is well known that those who kill and rape lesbians are men. It has never come to my attention that a female killed a lesbian because of her sexuality".
He said men needed to be educated about gay and lesbian issues and to attend workshops on acceptance and sexuality.
"Some men believe that if you rape a lesbian then the lesbianism will be erased in the woman's mind. Males need to change that mentality and realise that if a women is a lesbian there is nothing they can do to change that", he said.
Soldaat said it was still difficult for men to engage on homosexuality.
Sonwabiso Ngcowa, the author of a book about two young lesbians who are in love in a homophobic community, said that his book, " In search of Happiness", was directed at heterosexual people and aimed to teach them that gay and lesbian lifestyles were the same as theirs.
Ngcowa said he was not homosexual but he wanted to explore the lives of lesbians and write about how they too could love like any people in a relationship.
"In our community it is hard to accept things we do not understand. And we grow up in a culture that teaches us that a man should be in love with women and there is nothing accepted other than that", he said.
Nquqeka said if more gay men attended events where gay and lesbian issues were discussed, more heterosexual men would attend too. He said men had to see other men getting involved in order to motivate them.
"I think that gay men do not feel protected and few of them are comfortable with their sexuality. Gay men also need a safe space where they discuss issues that affect them", he said.
Dodgy people are suing us. Please support us by contributing to our legal costs and helping us to publish news that matters.
© 2016 GroundUp.
This article is licensed under a
Creative Commons Attribution-NoDerivatives 4.0 International License
.