Cows graze among the dirty nappies on Uitenhage dumpsite
Residents say the only waste disposal site in ward 50 is bursting at the seams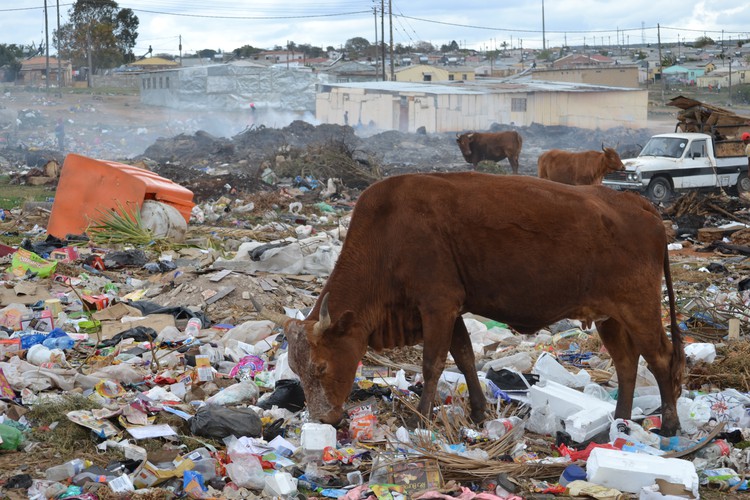 Refuse bins at a waste disposal site have been bursting at the seams for years. This has left many residents in KwaLanga ward 50, Uitenhage, with few options to dispose of their rubbish.
The dump serves four wards. There are no other legal waste disposal sites in KwaLanga.
In recent weeks, vacant land near Lambata Street has become a sea of plastic bags, bottles, discarded diapers and other rubbish. There are sewage and clean water leaks across Greenfields, and several more areas of litter in Phola Park and Mandela Village.
Luvuyolwethu Makedama, ward 50 committee member for the Youth and Education desk, said, "This ward has been dirty long before the current councillor, Lunga Nombexeza, took office in 2016. When I started to serve in 2017, there was already a heap of rubbish in ward 50's legal municipal waste disposal site."
Makedama said the strewn rubbish attracted giant rats and filled the air with a constant stench.
"Cows have become fond of the litter too. Everyday, I pick up Huggies [diapers] in front of my house, as I live across from the dump site. Anyone getting rid of their waste makes use of the KwaLanga site. Even shops in town dump here," he said.
Makedama said municipal officials at the waste management directorate were aware of the issue. Their requests for assistance are often shut down by officials who say "budget constraints" left their hands tied, he said.
Ward 50 Councillor Lunga Nombexeza (ANC) said the situation was concerning, especially for those who lived near the dumping site. "We have been advocating that residents must always throw rubbish inside the provided bins and not outside. I had a meeting with both MMC and Executive Director for Public Health to devise other mechanisms to curb littering," he said.
"When people initiate campaigns to clean up the ward or the dumping site, my office will fully support," he said.
Dodgy people are suing us. Please support us by contributing to our legal costs and helping us to publish news that matters.