Teachers plea with parents: Register your children earlier
But for many students this is easier said than done.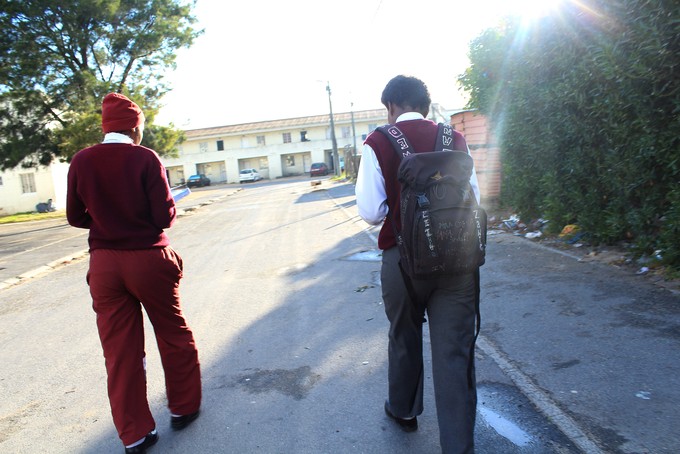 Teachers in schools serving low-income families are frustrated by parents who register their children on the day that schools open.
Nombheko Ndlovu is the acting principal at Langa High School. She says it is frustrating that on the day when schools open there will be hundreds of parents lining up to register their children, and some do not have the required documents.
Ndlovu says that parents who wait until January to register their children disturb the functioning of the school. While teaching is happening new students walk into classes causing disruption.
"Two days after schools open there are still learners coming to the school looking for placement. And when the learner gets accepted that means that they missed out of two days of important work. And also late registration disturbs the planning of the school because when learners increase then we have to add classes. And that means the timetable will also change. That causes a lot of admin work," she said.
Many schools are in chaos for the first week or two of the new year trying to sort out registration, with relatively little teaching taking place.
Ndlovu said that she understands that some students are arriving from other provinces, mainly the Eastern Cape, but she is less understanding of parents in Cape Town who register their children late.
Nkosazana Mabizeni is frustrated that her son was turned down for grade 10 at Thandokhulu High School in Mowbray due the school being full. When asked why she registered him late, she said that she did not have money to pay for school fees at the son's previous school and was only able to pay it in January. "I had to move my son from the school in town because fees are expensive, and I do not want to enrol him in township schools due to gangsterism," she said.
Mabizeni is but one of many frustrated parents who do not know where their children will go to school this year.
Asonele Mbalane who is a 17-year-old girl from Eastern Cape is supposed to be in grade 11. She says that she cannot get into a school because most in Nyanga, where she lives, are full. She says that her aunt whom she is staying with does not have time to help her look for a school because she has to work.
"I came from Eastern Cape to Cape Town in December because of poverty back at home. So since school opened I was looking for a school in Nyanga but got disappointed when all the schools I went to were full for grade 11 enrolment. Until today I could not find a school and I am thinking that my only option is to work and save money to get a good school next year."
Nosiphiwo Kekana who is also looking for a school for her grade one son says that she did not have time to register her child last year because she was always at work. She thought that there would be schools available for him in January. She is surprised that schools are full and she is thinking of taking her son to repeat grade R. She will however continue for this week to look for a school.
A teacher at Thandokhulu who did not want to be named said that the school did not face any late registration problems this year because all their grades were full by the time school opened. New students in grade 8 had applied last year.
"In previous years teaching used to be delayed because of late registration and it was not nice to reject learners. But this year it was different. Parents still come today but are sent away because there is nothing we can do," said the teacher..
Ndlovu highlighted that there are parents who register their children in more than one school because they want to keep their options open. She said this causes problems for schools.
"Learners who register in January do not have places due to such incidents … we reject those who really need to be enrolled," she said.
Teachers GroundUp spoke to suggested that parents should register their children a year before so that they are not disappointed when registering at the last minute. A fundamental problem though is that there are too few places at schools that are highly sought after.
Dodgy people are suing us. Please support us by contributing to our legal costs and helping us to publish news that matters.
© 2016 GroundUp.

This article is licensed under a Creative Commons Attribution-NoDerivatives 4.0 International License.