Blikkiesdorp residents care for their animals despite challenges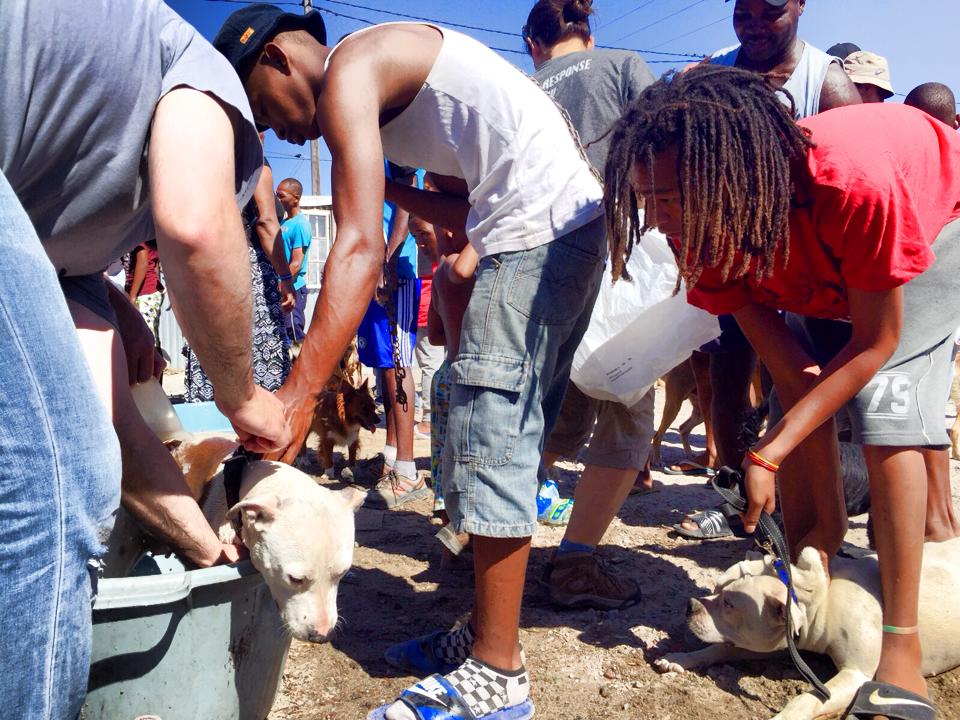 Residents of Blikkiesdorp work hard to give their animals a good life, gathering with their pets to receive basic vet care, food and advice from volunteers at Tin Can Town animal rescue organisation.
Veterinary care is not easily accessible in Blikkiesdorp, and with high levels of poverty and unemployment, food is often scarce for both humans and animals. Tin Can Town animal rescue organisation estimates that there is at least one animal per family. Animals are kept in makeshift yards built around approximately 1700 shacks.
"They are my friends," says 53-year-old Samuel Harker. "I like to go to my dogs when I'm a little bit stressed. The dogs understand me better than humans."
Harker is a resident who attends the meetings with Tin Can Town regularly. He monitors the queues and ensures that both the residents and volunteers are safe. Crime is a big problem in Blikkiesdorp, and dogs are important for the safety of the residents. Faded "Beware of the Dog signs" hang above shack doors. "Security, that's why we have dogs. But you must look after them, and they look after you," says Harker.
Community organiser Rosie Kunneka has witnessed a visible decline in the deadly diseases that affect Blikkiesdorp animals as well as an improvement in their overall health. She says that attitudes are changing as caring for animals becomes more of a priority.
Tin Can Town sees an average of 300 animals every second Sunday. The animals receive vaccinations, deworming tablets, and baths in plastic buckets to get rid of the fleas and ticks that thrive in the sandy settlement. By the end of the morning, volunteers vaccinate 75 animals and distribute more than 180kg of pet food. The food and medical supplies are never enough to meet the demand, and the list for animals needing to be sterilised grows longer.
As she waits in line for vet care with two of her children, Joan Koopman explains the positive impact her three dogs have on her family life. "I can depend on them. They protect my kids and follow them, so I always know where the kids are," says Koopman.
Cecil Kolisi, laughing as his dogs lick his children, says that his dogs are part of the family. "When we eat, the dogs eat. The kids play with them every day," says Kolisi.
"The children and the animals are in the same situation. They are vulnerable, just as the animals are vulnerable," says Rosie Kunneka.
Tin Can Town animal rescue began four years ago, after a group of animal activists visited Blikkiesdorp and became aware of the close relationship between the humans and their pets. They set out to gather donations and educate residents about caring for animals.
The organisation has no fixed abode in Blikkiesdorp. Instead gatherings take place in a small clearing between shacks, close to one of the two entrances to the settlement.
For the volunteers of Tin Can Town, educating the community and building relationships forms an important part of their work. Residents have their phone numbers in case of animal-related emergencies. Their animal ambulance regularly makes trips between Blikkiesdorp and vets.
Farieda Ishmael, 19, is a resident of Blikkiesdorp who has found a passion for animal rescue work within the community. She and her sister have rescued several animals from homelessness and abuse. "I can't handle animals being hurt. I will rather have them than people – they don't stab you in the back. It's like they can feel how much we love them," she says. "If I can help them, I'll be so happy to work with animals every day."
See also:
© 2016 GroundUp.

This article is licensed under a Creative Commons Attribution-NoDerivatives 4.0 International License.