Teachers oppose 20% pass mark for maths
"We are setting these children up for failure"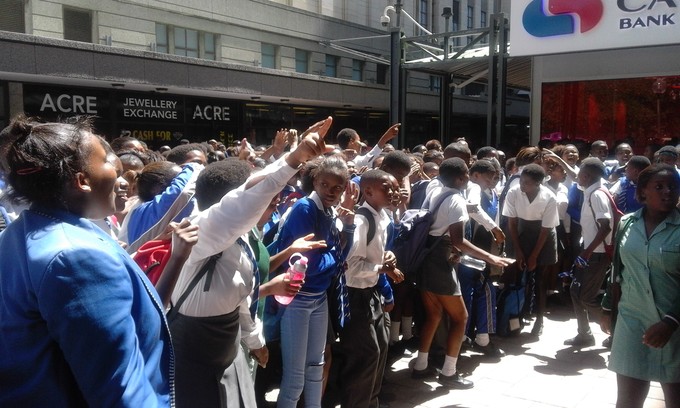 A circular sent out by the Department of Basic Education (DBE) states that learners in Grade 7, 8 or 9 who did not achieve 40% in maths, should have their maths marks "condoned" (accepted) if they achieve 20% or above.
This means these learners will be promoted to the next grade, even though they would have normally failed maths and had to repeat their current grade. Grade 9 learners who pass this way will be not be allowed to take maths in grade 10; they must instead do maths literacy.
"We are setting these children up for failure," a primary school teacher, who spoke on condition of anonymity, told GroundUp. "Now we are sending children to the next grade, who didn't fully grasp the grade they were coming from."
"Some of these children will drop out because they cannot cope with the pressure. It is not nice for a child to fail, but at least they get to grasp what they need before getting to the next grade. They will be condoned till grade 9, then, they will be stuck in grade 10 when they can no longer get condoned".
GroundUp also spoke to two high school principals in Cape Town townships. One said, "It would be better if the department would provide people to help these kids and to work hand in hand with them."
Another said that the instruction would only cause learners to struggle even more in the next grade. Even though he didn't agree with the instruction, because it came from the department, he would have to comply.
He said he also worried that learners would be happy with being promoted to the next grade because to them this would mean that they passed, when in actual fact, they did not.
Both principals felt that the circular came very late and they were already done with determining who passed. They said they heard about the issue only on Monday and found it confusing.
A DBE statement today said that the circular had been issued urgently after reports from across the country of poor results because of the compulsory requirement of learners to achieve 40% in maths.
The DBE said the circular "should only be considered as an interim measure for 2016".
Spokesperson for the Western Cape Education Department Millicent Merton said it was "regrettable" that the DBE's decision was "communicated at such a late stage in the school year".
She said the department would engage with the DBE "on the timing of such decisions".
Equal Education Deputy General Secretary Ntuthuzo Ndzomo said: "The question should be, what is making it difficult for these children to obtain the 40% mark, instead of taking a quick solution which might not help in the long term."
Additional information was added to this article after publication and the first two paragraphs were rewritten.
Dodgy people are suing us. Please support us by contributing to our legal costs and helping us to publish news that matters.
© 2016 GroundUp.

This article is licensed under a Creative Commons Attribution-NoDerivatives 4.0 International License.
You may republish this article, so long as you credit the authors and GroundUp, and do not change the text. Please include a link back to the original article.