TAC march to parliament on world TB day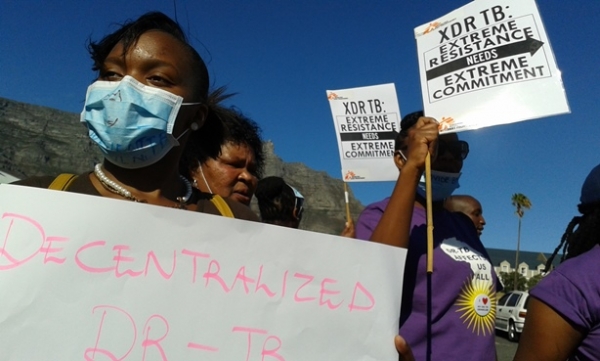 Activists from the Treatment Action Campaign marched on Parliament this morning to call for better leadership in tuberculosis (TB) treatment and prevention in South Africa. Today is World TB day.
Traveling with the marchers was a mobile testing clinic from the Desmond Tutu TB Centre. The TAC's leadership planned to lobby for parliamentarians to get tested there and then.
"It is very important for our leaders to set an example. Through them getting tested it would encourage ordinary citizens to follow in their footsteps," said TAC general secretary Anele Yawa at the start of the march.
"Also on our agenda is the fast tracking of cheap generic drugs to be made available in South Africa for the treatment of multi- and extensively drug resistant strains of TB. We are talking about bedaquiline and linezolid which can save lives but are either too expensive or unavailable to patients in state care. There need to be reforms in the country's patent laws to achieve this much needed roll out."
Last year GroundUp published an explanatory feature on the need for new and better drugs for drug resistant TB in South Africa and globally.
© 2016 GroundUp.
This article is licensed under a
Creative Commons Attribution-NoDerivatives 4.0 International License
.