Systemic "failure in Eastern Cape education"
Thousands march to education department in King William's Town on Freedom Day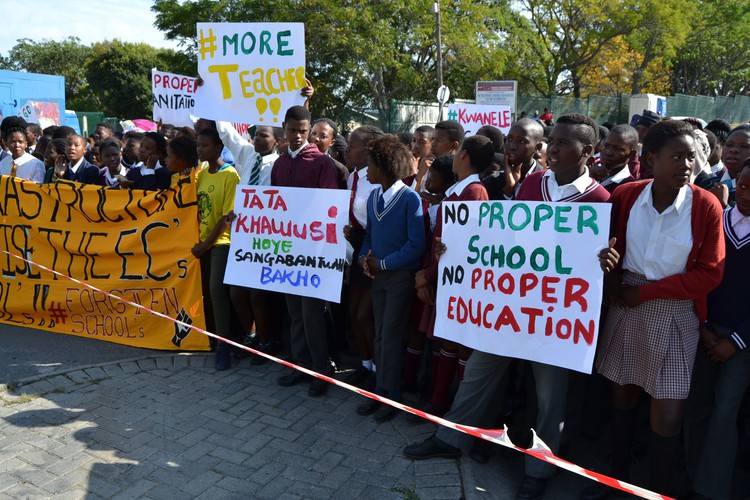 Nearly 2,000 learners from schools in the Eastern Cape marched to the provincial education department in  Zwelitsha, King William's Town on Freedom Day. The protest follows the launch earlier this week of a 100-page report by Equal Education titled Planning to Fail.
The report describes the findings of the organisation's visits to schools in seven districts in the province. It states: "These 60 schools do not just represent individual cases of failure. Rather, they illuminate the depth of systemic failure in Eastern Cape education."
It describes shortages of teachers, inappropriate school buildings, overcrowding, and lack of sanitation, among other issues.
Vukile Tshwete High is located in Keiskammahoek outside King William's Town and has over 300 learners. It is built of wood and obscured by bush. Learners said they are the target of criminals and that they have to deal with snakes on the school grounds. The school has broken ceilings and walls. It does not have sufficient funds to fix the classrooms. GroundUp reported about this school last year. Since then the school's toilets have been fixed but they cannot be used because there is no water.
Thabisa Njamela is on the School Governing Body. "We are doing what we can but conditions at this school are very bad. We also have a shortage of teachers. We have been waiting for the department to send teachers for science and language but they are quiet," she said.
Iqonce High School is in King William's Town. It has only two toilets for 236 learners. Some of the classrooms were shacks and were burnt in a fire in July 2016. School principal Xhasumzi Mrwashu said the department recently delivered two temporary classes to replace the burnt ones. But the classrooms have no electricity or furniture and are not yet useable. "Since we started the school we have survived on donations. We asked other school for old furniture. Sometimes we write letters to companies asking for donations, but the challenge we are facing is vandalism because we do not have fencing," Mrwashu said.
He said that Eastern Cape MEC for Education Mandla Makupula visited the school last year after students protested and was aware of the conditions. "This school is not even on a waiting list, there's no hope that we will ever get a new school, even though parents asked the MEC last year to build us a new school," Mrwashu said.
These are just two examples of a situation that is repeated across schools both GroundUp and Equal Education have visited. Equal Education has stated:
Of the 60 schools we visited, 17 were outright violations of the Norms and Standards law. 13 schools were either entirely or substantially inappropriate, meaning they were inappropriate except for one brick toilet block or administration building. Five schools were found to have no working toilets, four schools had no electricity whatsoever, and 42 schools had access to water through rainwater harvesting alone."
On 29 November 2013, National Minister of Basic Education Angie Motshekga published the Regulations Relating to Minimum Uniform Norms and Standards for Public School Infrastructure, which set several deadlines for improving schools. A key deadline was the replacement of schools made of "inappropriate structures" and the provision of basic levels of water, sanitation and electricity to schools by 29 November 2016. This deadline was missed, by Motshekga's own admission.
At the march on Thursday, Equal Education demanded that Makupula make a plan to replace inappropriate structures and provide "adequate water and temporary sanitation solutions" to schools lacking these. Specific schools were named. The Planning to Fail report and a memorandum were handed over to Monde Sanqu, the department's director of community liaison. The protesters demanded a response to their demands within seven working days.
Department spokesperson Malibongwe Mtima said some of the things raised in the Planning to Fail report were already being handled. He said the department would respond to Equal Education.
Luzuko Sidimba, head of Equal Education in the Eastern Province, confirmed that the organisation is taking Motshekga to court over the issue of minimum norms and standards.
Dodgy people are suing us. Please support us by contributing to our legal costs and helping us to publish news that matters.
Letters
Dear Editor
Ongoing reports on the Eastern Cape's deplorable schooling system are, once again, deeply shocking, disappointing, and worrisome. And it is inexcusable that ordinary, poor children continue to be subjected to such horrendous conditions. What, more precisely, are the reasons for this never-ending national calamity? Why are those tasked with the provision of good quality education not living up to the task? Is it a question of incompetence or corruption or both? Rather than purely exposing crucial aspects of this tragedy could reporters also look into the actual root causes of this shameful situation? Newspaper, online and television editors should be relentless in pursuing the deeper causes wrecking the futures of South Africa 's young. If naming and shaming is called for, then so be it. And neither will officialdom's lowering of standards and pass marks be of any benefit to our already disfavoured children.
© 2017 GroundUp.

This article is licensed under a Creative Commons Attribution-NoDerivatives 4.0 International License.
You may republish this article, so long as you credit the authors and GroundUp, and do not change the text. Please include a link back to the original article.