"Stop looting our shops" demand immigrants
Asylum seekers take their grievances to Parliament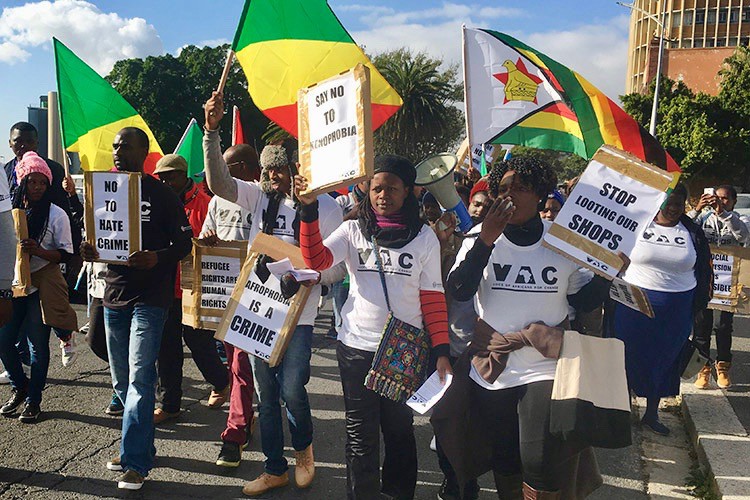 "Afrophobia is a crime" and "Stop looting our shops". These were some of the signs carried by protesters at Parliament on Tuesday, World Refugee Day. The march was organised by Voice of Africans for Change (VAC) to commemorate World Refugee Day. About 60 people marched from Keizersgracht Street to Plein Street to deliver a memorandum of demands.
The memo listed a number of issues affecting the immigrant community, including the difficulty of getting proper documentation, social and workplace discrimination, and police brutality.
The protesters waited outside the gates of Parliament for close to an hour before the Acting Deputy Secretary of Parliament Modibedi Phindela appeared and listened as the memo was read by the director of VAC, Germaine Ntambue. Phindela spoke briefly and promised to see the memo went through the proper channels.
Immigrant communities from a number of African nations were represented, waving flags from the Democratic Republic of the Congo, Zimbabwe, Malawi, and Cameroon.
Ntambue said the aim of the march was to put pressure on the Portfolio Committee on Home Affairs. "The main issue is documentation. People have to stand in long queues [at Refugee Reception Centers] in this weather, to wait and maybe be received. Sometimes they won't be received. They'll be told that … you need to come tomorrow."
"When some of us are called illegal, you need to understand, Home Affairs is the institution that has made us illegal," said Ntambue.
Christian Mampuya, an asylum seeker from the Democratic Republic of Congo, who has been in South Africa for 12 years, said, "We don't get much understanding from the host society." He felt hostility to refugees had grown worse.
Kathy Pemba, also from Congo, said that immigration has been hard on her ten-year-old daughter, who goes to school without papers. Pemba is Congolese, but she carried the flag of Zimbabwe. "For unity," she said.
Vincent Manyozo from Malawi arrived in South Africa two months ago. He said that robbery was the worst issue facing immigrants, when, ironically, immigrants were unfairly pegged as criminals.
"We [asylum seekers] are going to contribute a lot to the nation here. People are working, they're earning, if they had proper documentation they could keep their money in the banks … then the banks are benefitting. We are paying tax," said Manyozo.
Manyozo said to renew documentation he has to travel to Pretoria.
Olivia Manganga from Malawi said that without the proper documentation, informal domestic work was her only option. "We have to survive… We have to pay rent and buy food." She said that often she did not get paid for her work at the end of the day.
"Refugees are not a burden…but an asset to this country," said Ntambue in his address to the acting deputy secretary of Parliament.
Dodgy people are suing us. Please support us by contributing to our legal costs and helping us to publish news that matters.
© 2017 GroundUp.

This article is licensed under a Creative Commons Attribution-NoDerivatives 4.0 International License.
You may republish this article, so long as you credit the authors and GroundUp, and do not change the text. Please include a link back to the original article.