Stop the drought conspiracy theories
Hateful messages by ideologues can harm Jewish-Muslim relations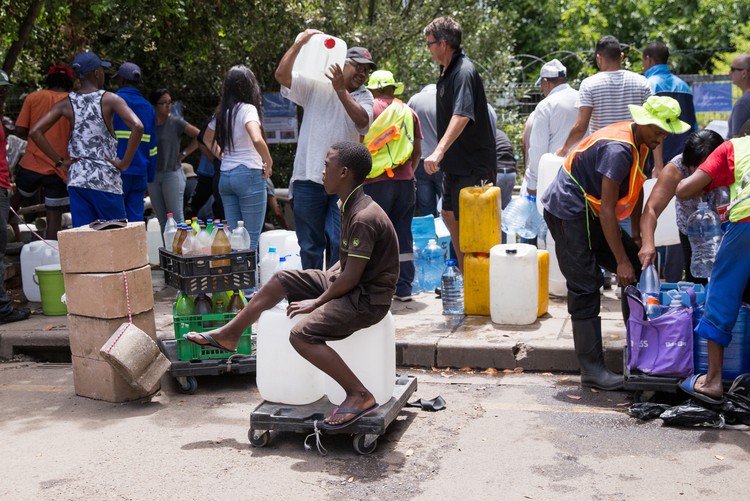 For weeks two opposing conspiracy theories about Cape Town's drought have been circulating. One appears to have traction in the Muslim community, and the other in the Jewish community. In the past few days they've entered the mainstream, one receiving support from an ANC politician and the other from the Wall Street Journal.
News24 reported on Friday that the ANC's Sharon Davids (who has been implicated in corruption) made anti-Semitic remarks in the Western Cape legislature. Davids, according to News24, accused the DA of fabricating the Day Zero water crisis in order to score desalination contract kickbacks from the "Jewish mafia". She followed this up with more racist remarks about Jews, citing as evidence for her theory that former DA leader Tony Leon is involved in City communications, and that DA MP Michael Bagraim is friends with DA leader Mmusi Maimane. Whatever Davids thinks of Leon's or Bagraim's politics, to suggest that they are mafia, or trying to fabricate a massive lie about Cape Town's water crisis, is absurd.
GroundUp has received emails and WhatsApp messages promoting this nonsensical theory. One emailer linked the city's water crisis to the Rothschilds, a Jewish family that is frequently the subject of anti-Semitic conspiracy drivel.
There's no evidence to support Davids's theory. The data showing that the water crisis is real is in the public domain for anyone to see. It is a consequence of the extremely serious and rare three-year drought. The possibility of taps running dry is substantial (although greatly reduced in the past few weeks because of the incredible effort Capetonians and farms have made to reduce water consumption). To suggest otherwise when our dams are at less than 25% with the winter rains months away is irresponsible. To do so in a way that encourages religious or racial hatred is unforgivable.
Davids should be expelled from the ANC. Other officials like ANC Western Cape leader Faiez Jacobs and Minister of Water and Sanitation Nomvula Mokonyane, while not making direct anti-Semitic comments, have also fuelled the lie that Day Zero is a myth.
The other, no less insidious, theory is that "Cape Town May Dry Up Because of an Aversion to Israel". That's the headline of a deceitful article published in the Wall Street Journal and republished on the website of the South African Zionist Federation.
This conspiracy theory is more sophisticated than Davids's one, and requires more space to debunk.
The argument goes that Minister Mokonyane spurned Israeli expertise on desalination in 2016 and this has put Cape Town's water supply at risk. The Wall Street Journal author also criticises Mokonyane for visiting Iran and for "bringing home a memorandum of understanding in which Iran agreed to help develop South Africa's water infrastructure." He expresses outrage at Iran's apparent poor water management and that its government diverts "water to favoured ethnic and political groups". Israel on the other hand, he disingenuously suggests, treats the Palestinians under its control fairly when it comes to water. It does not (read this, for example). But this is all beside the point.
First, Cape Town has been building desalination plants at Monwabisi, Strandfontein and The Waterfront, and bigger plants are planned. But desalination is extremely expensive, requires huge amounts of power, and pumps brine back into the ocean which is an ecological risk. One municipality graph estimates that desalinated water will constitute 17% of our future supply, but it will take several years to build plants capable of providing that amount of water, far too late to make a difference to avoiding Day Zero in 2018 or even 2019, even if Israeli assistance was offered in 2016. Desalination is also only one of the ways the city's water supply will be increased. More on this in an upcoming article.
Second, it is not ministers or other politicians who have the technical expertise or propose technical decisions to deal with the water crisis: it's engineers and scientists. The Department of Water and Sanitation and the municipality have good engineers who know what they're doing. They are ably assisted by scientists at our best universities, who read the scholarly literature, attend conferences, and meet their counterparts in other parts of the world, whether they be Israeli or Iranian. That's how knowledge is shared between experts in scientific fields; not through politicians' cocktail parties. The idea that somehow Israel has a wand that will sort out Cape Town's water supply, that our politicians spurned this magic, and that we don't have local experts is idiotic and arrogant.
Third, nothing stops Israeli, Iranian or other companies (with a few irrelevant exceptions) from bidding for desalination tenders for Cape Town. They may have to compete against competent local firms, one of which was recently awarded a R5 billion desalination contract in Saudi Arabia. If any company loses a bid and believes it to be unfair, it can use the courts to seek redress.
There is much else in the Wall Street Journal article that is misleading. The author does not understand Cape Town's water crisis.
These two conspiracy theories are mirror images of each other. Both mythologise and exaggerate the role of Jews in the world, which is a type of anti-Semitism. It's especially disturbing that one of these theories is being promoted by some Jewish people.
Conspiracy theories arise in any crisis. But poor communication from government — in part caused by DA in-fighting and ANC conspiracy promoting — have added fuel to the fire.
Although Jewish-Muslim relations in Cape Town are sometimes strained, partly as a consequence of the ongoing oppression of Palestinians, many Jews and Muslims in the city work, socialise and even live together. Let's not allow ideological hate mongers, who promote nonsense, to derail that.
Letters
Dear Editor
This article makes a few comments about the water disaster I question. First, I have no time for tiresome Jewish/Israeli "conspiracy theories".
You say "Day Zero is real". The concept is fine per se but the city has shamelessly politicised it (refer DA's and Mmusi Maimane's revival-type Athlone announcement) and have blamed residents for everything. People are becoming sceptical.
Former DWA engineer and Wits professor Mike Muller wrote to an article on The Conversation, "Day Zero is not going to happen unless there is another year of severe drought". Former Western Cape premier Ebrahim Rasool wrote in Daily Maverick, "Day Zero is adjusted back and forth .... Citizens alternate between announcements that induce panic-buying of water and scuffles at water queues, relief when Day Zero is pushed back and, soon, disregard for any warnings and appeals".
The desalination modules being built will be removed after the two year contract. Last year the chief executive of local company GrahamTek, which is a world leader in the technology, said last year they offered the city a 450ML plant within 18 months at "affordable" prices but the city rejected it for "Mickey Mouse" modules. They offered smaller 20MLD plants up to 100MLD within four months, shorter than the contracts the city approved. The city rejected it because they claimed supply chain procedures must be adhered to.
I don't agree the city and its consultant experts know what they're doing. I don't know how Geffen arrived at this conclusion after the city's "monumental failure of vision and planning". Refer Deputy Mayor Ian Neilson who was unable to answer a single question about Day Zero; their "assumptions" and false accusations "over 60%" of people are not saving water; Patricia de Lille's claim the water crisis team misread the situation that it wasn't a crisis and DA gunning for her mismanagement of it.
I get that Geffen wants to refute conspiracy theorists but don't go to the other extreme with alternative facts about the city's management of the disaster.
Dear Editor
Cape Town's water problem is acute. I agree that desalination is problematic, but Cape Town could use practical engineering and manufacturing skills in water minimisation and reclamation right away. Academic research is much slower than direct technology transfer and cooperation, and it isn't a conspiracy theory to say that the political decision to reject Israel's help was misguided.
In contrast, anyone can see that the people denying the drought are denying reality. Blaming water restrictions on a conspiratorial "Jewish Mafia" isn't just antisemitic, it's going to make the crisis worse and make it harder to go away. I'm glad GroundUp has taken a solid stance on the drought, but when the author describes proponents of SA-Israel technology cooperation as a "conspiracy" he's lending support to the very thing he's trying to attack.
Dear Editor
Your article is probably the most balanced article that I have read on our current dilemma, and for that I say, all honour and credit go to you. However I have one negative observation:
It seems that in order to acquire street-cred among large swathes of the South African public journalists and politicians feel compelled to make, at the very least, some sort of passing reference to the Big Bad Israelis and their unending malice towards their neighbours, the Small Downtrodden Palestinians.
I suppose that our own national history affords us a greater right to focus on that potential issue than many other nations but I am at a loss to understand the assumed necessity to make such a reference over and over again - given that the assumption is built upon a lie which is only sustainable by repetition with the regularity of religious dogma. Call it the South African political catechism, if you like: you simply cannot occupy high office here unless you repeat that hoary old lie. Not only is it reflected in the ANC Manifesto, but even Ramaphosa felt compelled to raise it in his SONA.
And now you, dear editor, felt compelled to tuck it into a corner of your otherwise wise and perceptive article, where it lies, however irrelevant it may be to the main thrust of your article, to work as a thorn in the side of Jews who do read and appreciate all other aspects of your work.
I have spent enough real time in Israel, Gaza and the West Bank in my lifetime to know, just as many other people who are hurt by the lie also know, how monstrous and hurtful and counterproductive this lie really is. There are entire businesses - including a large and popular supermarket chain - manned and operated by Palestinians inside Israel. There is a luxury hotel on the Gaza beachfront. If you hail a taxi in Israel, you are as likely to be picked up by a Jew as by an Arab. Or a Russian, come to think of it. Good grief!
Please don't just "go with the flow" for the sake of "street cred". Be proud of your journalistic integrity, and value it above all else.
© 2018 GroundUp.


This article is licensed under a Creative Commons Attribution-NoDerivatives 4.0 International License.
You may republish this article, so long as you credit the authors and GroundUp, and do not change the text. Please include a link back to the original article.