Stephen McGown describes hostage ordeal
"I'm angry … but I need to let this go"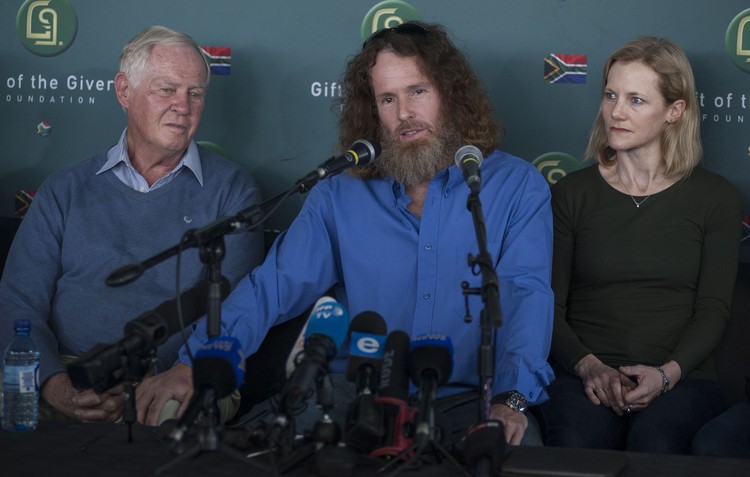 Stephen McGown, the South African, who was recently released from from captivity in Mali, spoke to a large media contingent on Thursday about his ordeal.
Accompanied by his wife and father, McGown was also joined on the podium by Mohamed Yehia Dicko the man who was assigned the responsibility by the organisation Gift of The Givers to negotiate his release. Dicko was praised by Gift of the Givers founder Dr Imtiaz Sooliman for the sacrifices he made in traveling around the world in attempting to secure McGown's release.
Still sporting the long hair and big beard which he had grown during his nearly six years in captivity, McGown appeared calm and spoke softly as he recalled the events leading up to his kidnapping by Al-Qaeda militants in Timbuktu. "We had come back to the hotel after walking around the town. I had my back to the gate and these guys just came in. One was waving a pistol in the air and one with a machine gun at the gate," recalled McGown. At first he was not sure what was happening and thought it was perhaps a police operation. He described how the gunman took Dutch national Sjaak Rijke out of the hotel and then returned for both himself and Swedish citizen Johan Gustafsson. All three men were loaded into a car at gunpoint. A fourth man who was with the touring group was shot dead by the kidnappers outside the hotel.
"I saw him moving backwards and he tripped as they were trying to grab hold of him. I saw them turn their Kalashnikov in his direction and I heard three bangs. And I said to the guys next to me that I think they've killed him," said McGown.
McGown, now 42, said that he had built himself a small hut of grass for protection against the elements in the Sahara desert which he described as extreme especially in the winter. "I did my best to see the best in a bad situation," he said when asked how he managed to stay positive and survive. "My reason for pushing on was that I did not want to come home a mess. I did not want to come home complicated and angry and become a burden for my friends and family. I wanted to come home a better person."
The lack of information about his situation and the well-being of his family in South Africa was one of the most difficult things he had to deal with while in captivity.
While he was being held hostage his mother Beverly McGown's health deteriorated. She died in May, just a few months before the return of her son. McGown said: "Honestly I am angry about my mother. Not being here while she was ill and to miss her death by two months. Yes, I'm angry about this," McGown said as he was comforted by his father. "But I need to let this go. I will forgive and move on. You only get one life so I don't want to carry burdens."
McGown said he was still settling into life and will most likely be helping his father in the family business in the near future. When asked what he missed the most aside from his family McGown simply replied: "My freedom." 
© 2017 GroundUp.

This article is licensed under a Creative Commons Attribution-NoDerivatives 4.0 International License.
You may republish this article, so long as you credit the authors and GroundUp, and do not change the text. Please include a link back to the original article.