Spotlight on social grants: Sassa's bid to stop illegal deductions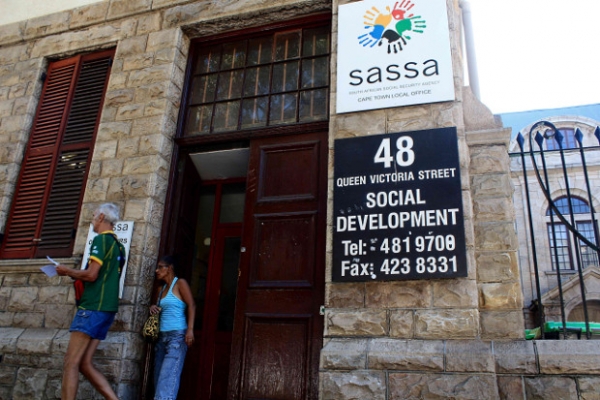 Every month, money is deducted from the accounts of hundreds of beneficiaries of social grants without their permission. The South African Social Security Agency (Sassa) is working to get the money refunded. But according to the Black Sash, the system Sassa has set up does not work.
In August, Sassa received more than 1,000 complaints from social grant beneficiaries about amounts deducted from their accounts. Of these cases, about 350 have been resolved, Sassa officials say.
Spotlight on social grants
A GroundUp series
Sassa's bid to stop illegal deductions
Legally, the only deduction which can be made from a social grant before it is paid to a beneficiary is a single 10% deduction for funeral insurance. But once the money is in the beneficiary's bank account, he or she can authorise other deductions, like any bank account holder.
The payment system is managed by Cash Paymaster Services (CPS), a subsidiary of Net1. All recipients have an account with Grindrod Bank into which their grant is paid. Grindrod has a close partnership with Net1.
The Black Sash, which has been running a "Hands off our grants" campaign, has documented hundreds of cases of unauthorised deductions from beneficiaries' accounts, for airtime, loan repayments, electricity and even water.
Some of the deductions were ordered by members of the beneficiaries' families or by others who fraudulently obtained details of their accounts.
In response to the Black Sash campaign, Minister of Social Development Bathabile Dlamini set up a task team to investigate the problem. The team reported in August 2014 and the minister accepted its recommendations, including the design and implementation of a Sassa system to stop "unlawful and immoral debit deductions" and to make sure the money is refunded to beneficiaries.
Sassa has now set up a Beneficiary Payment Dispute Resolution Mechanism. Social grant beneficiaries fill in a form at Sassa offices and the information is sent to the service provider whose name appears on the beneficiary account statement, says Sassa spokesperson Kgomoco Diseko. An investigation is then conducted to find out whether or not the beneficiary authorised the debit.
But the Black Sash, which has been monitoring the system in the Western Cape since May, says some Sassa officials are not using the complaint forms.
Black Sash Regional manager Colleen Ryan said the system was ineffective.
"We visited [an office in the Cape Town area] and people were still being sent to a phone in the building to call CPS to resolve the problem themselves. That was completely unacceptable," she said.
She said some Sassa staff chose not to use the forms supplied by Sassa because they felt the system did not work.
"The staff we spoke to were passionate about helping the poor. Their concern is that it's out of their hands once they send the papers away. These papers get passed onto the Western Cape office but they never get feedback," he said.
Ryan said that the system did not ensure that the deductions would be stopped and that beneficiaries would be refunded.
She was also concerned about what would happen to the complaints when CPS was replaced with a new manager of the Sassa accounts. The new tender is to be awarded on 15 October and CPS has not bid.
To report unauthorised debits, contact the Western Cape helpline at 021 469 0235 to lodge a complaint or contact the call centre at 080 060 1011.
Read the next article in the series: Our view: The good, the bad and the confusing
Dodgy people are suing us. Please support us by contributing to our legal costs and helping us to publish news that matters.
Letters
Dear Editor
I have not been receiving my kids' grant since 2015. I always do follow ups and am told to wait.
I am jobless with kids who attend school. I am desperate. What am I meant to do?
Dear Editor
My mom gets a disability grant which she has to go and renew it every year. She does not get approved every time.
Last year in December, she went to her local moneylender to borrow some money for the Christmas. She was borrowed a R1,000. In July, her grant was reinstated and they deducted the money which was R250 a month. She went back to the local office and asked them if the loan was done. They told her that she needs to come back a week later for her name to be cleared.
When she went back, her name was still on the loan system. They still deduct money from her. This is now the second month which they deducted almost R400 from her grant. No electricity is being bought and my number was the only number who could access her account.
She went back to stop the electricity and apparently it was the electricity being deducted. It is being stopped now, but they still don't know.
© 2016 GroundUp.
This article is licensed under a
Creative Commons Attribution-NoDerivatives 4.0 International License
.