Spar store closed by protest
Owner says the issues are under arbitration and cannot comment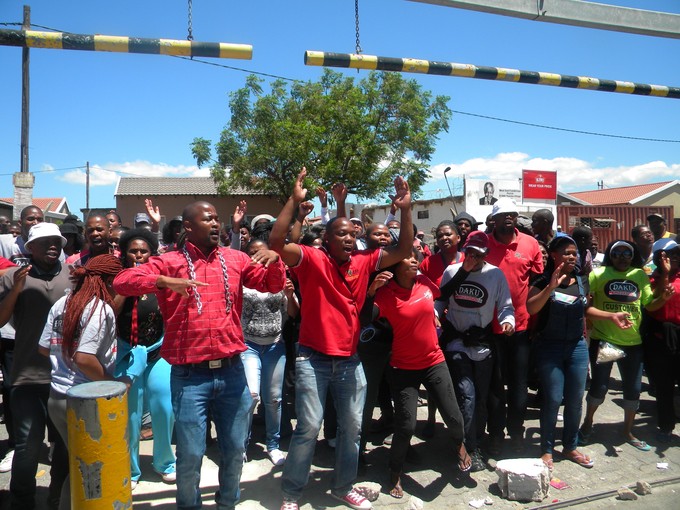 On Monday, 234 workers at a Spar supermarket in Kwazakhele, Port Elizabeth, picketed, demanding better working conditions, overtime compensation, payment from a share scheme, and the abolition of labour brokers.
The workers sang protest songs at the main entrance to the shop. The protest was peaceful and police were present.
The strike started on Friday. Workers have vowed to continue with their protest action until management addressed their grievances. The shop is currently closed.
Workers' representative Siphiwo Nkayi said, "We have a share plan that all Spar's employees contributed to. To our surprise, we were not paid when the shares were being cashed, but our colleagues at other Spar franchises got their share of the money.
"We asked the owner, Billy Boucher, who said the programme is handled by an overseas company. We are also not happy that he charges interest on money that he loans us.
"We close the doors at 7pm, but we are held until 9pm. We are not paid for these extra hours. The same happens with Sundays and public holidays. We are not paid overtime for working during these days.
"We pay for our uniforms and safety shoes, something that the company should be providing at their expense."
Another worker, who did not want her name published, said, "If you complain about the working conditions, they quickly tell you to pack and go. They plainly tell you in your face to resign and leave their premises … We are often told that we are just workers and not part of the company. Their actions really demoralise us."
From discussions with some of the workers it appears they were originally employed through a labour broker. But a few years ago the labour broker contract ended, or so they thought, and they believed they were subsequently employed directly by Spar. However, they have now discovered they are still employed via a labour broker.
The protest was also joined by members of the community who said they were there to give moral support to the striking workers.
Sivuyile Joy is a community member who joined the workers. He said, "We have decided to give our moral support to the workers. These workers are part of this community and it pains us to see them being ill-treated. They work irregular hours and are exposed to criminals because this area has lots of criminals.
"We want Spar to improve working conditions. Spar is helping people in the community by making our shopping easy as we don't have to go to town to do our shopping. This brings development to KwaZakhele and the surrounding areas.
"We are not happy that the shop is closed, but it's for a good cause."
Daku Spar owner Billy Boucher said: "It is an internal matter and of a legal nature. We have taken the issue to the Commission for Conciliation, Mediation and Arbitration (CCMA) for arbitration. As to when we will open, I don't know."
He said he could not comment any further.
© 2016 GroundUp.

This article is licensed under a Creative Commons Attribution-NoDerivatives 4.0 International License.
You may republish this article, so long as you credit the authors and GroundUp, and do not change the text. Please include a link back to the original article.