Only one in four children lives with both parents
Child Gauge report says 65% of children live in poverty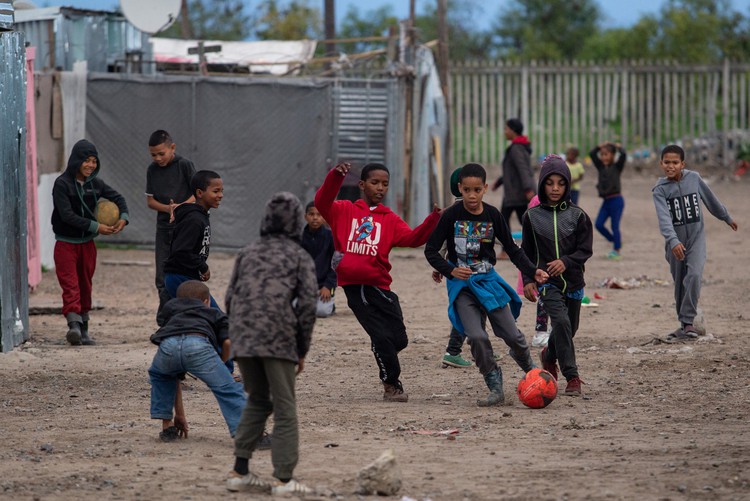 Millions of South Africa's children are hungry. More than 40% have had multiple experiences of violence in their homes, schools and communities, and four million children are not living with either biological parent.
This is according to survey results published in the latest Child Gauge report.
Most alarming from the latest Child Gauge report is the abuse of children, and their mothers, which according to several studies points to the "saturation of violence in the everyday lives of children". The violence is widespread.
The Birth to Twenty Plus study described in the Child Gauge tracks more than 2,000 children born in Soweto in 1990. A recent analysis of the data found that 99% of these children had experienced or witnessed some form of violence, and more than 40% had multiple experiences.
This is similar to the findings of the first national prevalence study which estimated over 355,000 cases of sexual abuse had occurred among 15 to 17-year-olds in 2015.
The 13th Child Gauge published this week is an annual review of the situation of the country's children by the Children's Institute at University of Cape Town, in partnership with the DST-NRF Centre of Excellence in Human Development; University of the Witwatersrand; UNICEF South Africa; and The Standard Bank Tutuwa Community Foundation.
More than a third of women reported being sexually abused and close to half reported emotional and/or economic abuse. It is a circle of connected violence which can follow generations of broken people.
Ayanda (not her real name), a 13-year-old from the Eastern Cape, was sexually abused by a relative starting a few years ago. Her mother is in a violent relationship with an older man who supports her financially, and she uses alcohol and drugs to deal with the pain.
During an interview with a researcher, Ayanda's mother, who was also abused as a child, said:
"Eish, it is hard… (pause) Sometimes I think of killing my children because of what happened to me. Now it is happening to Ayanda… (crying). I did not plan to have her. I lost both my parents and I was then abused. Now they (her children) are abused as well. What did I do to the Lord? (silence, crying) … I even think about killing myself."
This is one of many stories in the Child Gauge.
According to the study, social norms that justify the use of violence against women and children across different settings underpin violence against both women and children. "In South Africa, as elsewhere, the prevailing social and cultural context promotes a gendered hierarchy with men in a superior position to women and children, where men's violence towards women and children is widely tolerated – and used to express masculinity, enforce gender norms and discipline children", say the researchers.
But though there is "growing evidence on the extent, causes, and social and economic costs of violence against women and children," the researchers say, this is not a high political priority. "Despite repeated commitments to end violence against women and children at the highest level there is a lack of genuine political will and the country's response is grossly inadequate. Addressing violence against women and children should be a political priority and we should adopt an approach that recognises that this problem affects every community, every family and every child."
The end of the nuclear family
Only 25% of children live in nuclear families (both parents in the household), while 62% live in extended families and 10% have only one parent. This is often due to circumstances unique to South Africa's hardships and its history of migration to urban centres.
Over seven million children live in households where the household head is their grandparent or great-grandparent, but this does not mean that biological parents are not present, or that those who are absent do not maintain contact with their children. But, a quarter of children whose fathers live elsewhere never see them. In contrast, only 8% of children whose mothers live elsewhere never see them.
"Many absent parents see their children regularly and help to support them financially even when they live elsewhere," said Prof Zitha Mokomane, from in the Department of Sociology at the University of Pretoria, one of the study's researchers.
Policies in South Africa ignore the fact that the nuclear family is not the norm here. The concept of marriage has changed, and most parents don't live together, or never have. The nuclear married couple is still seen as the norm, but is it far from reality. One stumbling block is the registration of births, and some 60% of children do not have the father's name on the birth certificate – which creates a myriad of problems. Birth certificates are necessary to access grants, education and health care services.
Dr. Katharine Hall, senior researcher at the Children's Institute at University of Cape Town and lead editor of the 2018 issue, said 65% children live below the poverty line, and the expanded unemployment rate (which includes discouraged work seekers) is about 37%. Therefore social assistance from the state is essential to help families meet the costs of a child.
Provinces with relatively large numbers of children and high rates of child hunger are KwaZulu-Natal (18%), North West (16%), Free State (15%), Mpumalanga (14%), and the Western Cape (11%). Together these provinces have over 1.6 million children living in households that report having insufficient food for children.
She added that "Women continue to carry the burden of childcare. Poverty and violence may compromise caregivers' mental health and capacity to care for children. Yet the presence of a caring adult can help protect children from the effects of poverty and violence, which is pervasive.
"Witnessing domestic violence and exposure to harsh physical punishment increases the chances of intimate partner violence in adulthood with men more likely to become perpetrators and women victims of violence."
"Therefore the state needs to provide a range of support services for parents and caregivers starting early in pregnancy. This includes income support (for example the child support grant), routine screening during antenatal care to identify and respond to risks such as maternal depression or domestic violence, and access to affordable child care."
South Africa's Children by numbers
Total: 19,6 million people are under 18 years old (35% of the population).

There were about 58,000 children living in a total of 32,000 child-only households across South Africa in 2017. Importantly this number has not increased since 2002.

In 2017, 70% of children had access to drinking water on site, while children's access to adequate toilet facilities rose to 78%.

Among children of school-going age (7 to 17 years), the vast majority (98%, or 11.2 million children) attended some form of educational facility in 2017. But the educational outcomes are poor: In 2017 64% of 16 to 17-year-olds in 20% of the poorest of households completed grade 9 compared to 88% in the richest 20% of households.

The vast majority of children (85%) travel less than 30 minutes to reach school. Two-thirds walk to school.