Social grants will be paid on 1 April, Gordhan promises
Scopa Chairman Themba Godi says there is a "crisis of no confidence" in Social Development Minister Bathabile Dlamini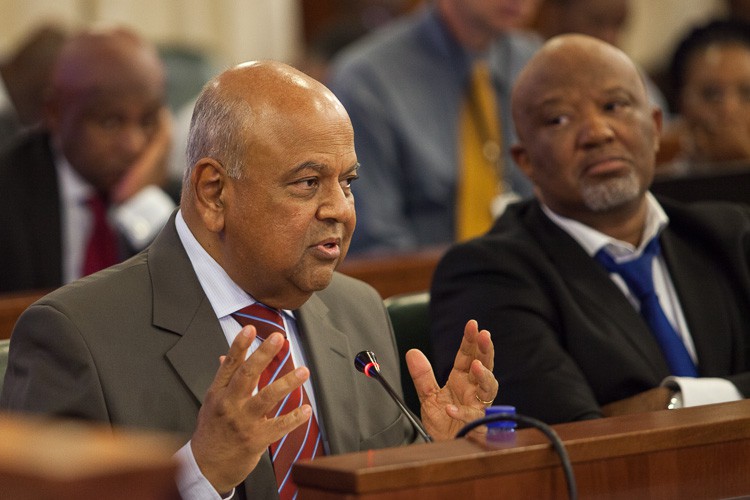 On Tuesday, social grants will be paid on 1 April, Finance Minister Pravin Gordhan promised. Other concerns about the SA Social Security Agency (SASSA) would be dealt with later, he said.
Gordhan was answering questions by Members of Parliament in the Standing Committee on Public Accounts (Scopa).
"We want to as soon as possible remove the sense of uncertainty and crisis and give the assurance to beneficiaries that they will receive their social grants on 1 April," he said.
"It is for this reason that the Ministerial Task Team chaired by Minister Jeff Radebe was set up and a technical task team," said Gordhan.
The seven-person task team, which includes Gordhan and Minister of Social Development Bathabile Dlamini, was set up on 8 March. At its first meeting on 9 March, the team decided the current negotiations between SASSA and contractor Cash Paymaster Services (CPS) should be broken off, and new negotiations should only start if and when the National Treasury gave permission for SASSA to proceed without calling for other bids.
Gordhan said the ministerial team had voided negotiations for a new contract between SASSA and CPS for the payment of the 17 million social grants. "Our objective is to ensure that our higher duty to the South African public is executed in the right way and as far as possible within the current framework of the law and where that framework may be constraining, that we must get the courts to agree with us," he said.
Scopa Chairman Themba Godi said this indicated a "crisis of no confidence" in Dlamini.
He said the concern was that "the payment be done legally and within budget".
The CPS contract with SASSA was declared invalid by the Constitutional Court in 2014, but the ruling was suspended to ensure the continuation of grant payments. The Constitutional Court will on Wednesday hear arguments about a new contract with CPS when the current one comes to an end on 31 March.
Gordhan said there was money in the budget for the payment of grants and the grants would be paid.
"There's no immediate urgency which threatens the payment of grants," he said.
During his presentation, Gordhan said the R11.2 billion monthly social grant budget paid to CPS/Grindrod Bank – which distributes grants – often remained at the bank for an average of five days "possibly incurring interest".
"We are still trying to figure out where it goes and who that interest belongs to," he said.
Gordhan said the budget for social grants for 2017/18 was R151.6 billion and was expected to increase to R175.6 billion in 2019/20.
In response to questions about the "arrogant" statements made by Serge Belamant, the CEO of Net1 (which is the parent company of CPS), in the media and again to his shareholders on 10 February, Gordhan said: "I'm not going to pass political judgement on the gross statements made by the CEO or his behaviour. It is up to the shareholders to ask themselves whether this is the kind of brand and conduct they want to be associated with."
In his presentation to MPs, Gordhan said that deviation from the procurement rules could only be granted if the process for competitive bids was followed, or in case of emergencies. These included natural disasters or "acts of God" and "sole source procurement" where only one supplier could provide the service. He added that Treasury would only agree to this after the Constitutional Court had agreed and only if it was for a short period.
EFF MP Ntombovuyo Mente said, "We are facing a situation which is not an act of God. It is an act of an individual who has been holding an AK47 to our heads."
Mente said that a proposed fee increase from R16,44 to R22 per grant was "daylight robbery".
National Treasury director-general Lungisa Fuzile said an Appropriation Bill was currently before Parliament that will "legally authorise us" to access money from the National Revenue Fund should the need arise. "We are not here as Treasury to talk about the money. There is money to pay grants and the service provider. What doesn't exist is a contract to make sure these things happen," he said.
IFP MP Mkhuleko Hlengwa said: "We are being put into panic mode for a deliberate act, a failure to lead and comply."
MPs also echoed calls for a parliamentary enquiry into SASSA.
Earlier at the briefing, MPs laughed and cheered as Godi acknowledged SASSA CEO Thokozani Magwaza who was also in attendance. Magwaza returned to work on Monday after being booked off sick for high blood pressure for nearly two weeks.
© 2017 GroundUp.

This article is licensed under a Creative Commons Attribution-NoDerivatives 4.0 International License.
You may republish this article, so long as you credit the authors and GroundUp, and do not change the text. Please include a link back to the original article.