We're unfairly treated, says Bathabile Dlamini
Minister tells MPs to stop criticising SASSA officials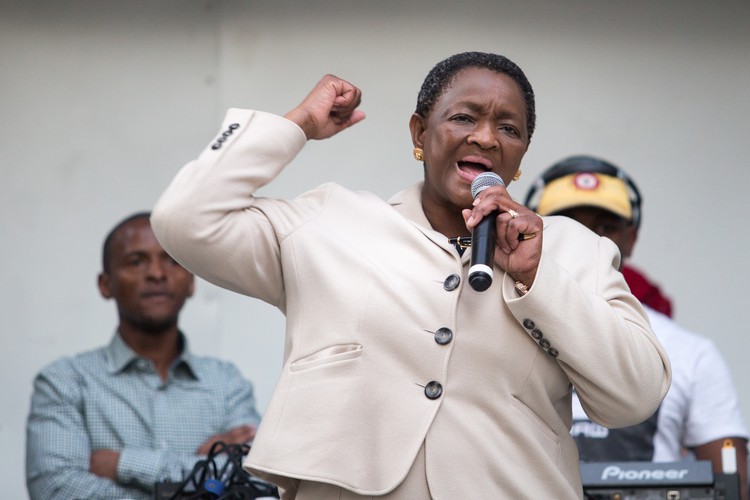 Social Development Minister Bathabile Dlamini has accused MPs of "unfair treatment" and of "criticising" officials over progress in setting up a new social grants payment system.
"We really feel that we are being unfairly treated because we have tried to clean our house and are trying our best," she said.
Dlamini and representatives of the South African Social Security Agency (SASSA) and the Department of Social Development were giving a progress report to Parliament's social development portfolio committee on Wednesday. At the meeting SASSA announced that it could award the SA Post Office (SAPO) a contract to distribute grants from April 2018 by next Wednesday. But it was still not clear what SAPO's exact role would be.
"I should mention that it was the ruling party that decided that the Post Office must be involved in the work of SASSA. We understand the nature of the work we are doing and need to ensure that they really have what is needed to pay grants. It has nothing to do with us not wanting to work with the Post Office," she said.
Dlamini's comments follow a late night meeting with Parliament's Standing Committee on Public Accounts (Scopa) on Tuesday. Scopa MPs have previously raised concerns that SASSA's plan to sign up other contractors as well as the Post Office could result in the current contractor, Cash Paymaster Services (CPS), continuing to provide services.
Before proceedings began on Wednesday, Dlamini told MPs that she was concerned with Scopa's "compromising" questions to officials. "We want whoever thinks grant payment is important to work with us and not create confusion for officials. Yesterday in Scopa we were asked to disclose very confidential information which is unfair. We are being compromised in the name of doing justice," she said.
Several MPs also questioned the oversight roles of the two parliamentary committees. Chairperson Rosemary Capa said that Scopa's briefing should not take priority over that of her committee. She said she would ask for legal advice on the scope of the oversight role of both committees.
Since the Constitutional Court ruling in March which extended SASSA's five-year contract with CPS until March 2018, SASSA has been giving quarterly reports to the Court on its progress towards taking over the payment of social grants.
The Court reinstated its supervisory role after SASSA failed to meet its own deadline to take over the payment of social grants. SASSA plans to "phase out" CPS and have a new contractor by 1 April 2018 and to take over the payments itself by 2021.
Dlamini suggested a meeting next Thursday to update MPs on SAPO's role, before handing in the progress report to Court. "After the due diligence report is done, we should be given the opportunity to come back with SAPO and let them respond to the issues," she said.
In her report, SASSA acting CEO Pearl Bhengu said the panel of experts appointed by the Court to assist the agency was charging R2,700 per hour instead of their offer of R1,500 per hour. Bhengu could not say how many hours the experts had worked so far despite concerns raised by MPs that their appointment could already be "over budget".
Bhengu said the next progress reports to the Constitutional Court were due on 15 September and 15 December. SASSA expected to test the new payment system in January next year, Bhengu said. She assured MPs SASSA was "committed to sticking to the timelines" and 10.2 million new cards would be issued to beneficiaries within the next six months. Bhengu said SASSA was still in talks with the Reserve Bank to create special accounts for beneficiaries. She said no debit deductions would be allowed on the new accounts.
Green Cards
A number of MPs also questioned SASSA on how it would help grant recipients "get out" of their EasyPay Everywhere accounts or "green" cards.
EasyPay is the sister company of CPS, which distributes the 17.3 million social grants. Both companies are owned by Net1. EasyPay issues green cards and funeral policies with another Net1 company, SmartLife, to social grant recipients who apply for loans from Moneyline, also a Net1 company.
"We get complaints by people in townships all the time that are happy to take the loans, but then complain after they have all these deductions," ANC MP Beverley Abrahams said.
In response, Dlamini said she had written to Grindrod Bank, where the EasyPay accounts are held, and to Net1 to "ask them to stop issuing the green cards to beneficiaries". "There was never an agreement with them about these cards or the machines they introduced where people have to withdraw their money," she said.
Dodgy people are suing us. Please support us by contributing to our legal costs and helping us to publish news that matters.
© 2017 GroundUp.

This article is licensed under a Creative Commons Attribution-NoDerivatives 4.0 International License.
You may republish this article, so long as you credit the authors and GroundUp, and do not change the text. Please include a link back to the original article.