Silicosis: Anglo American plays the race card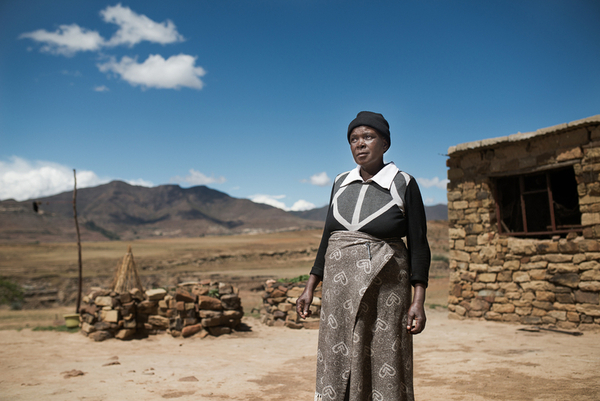 Attempts by lawyers for mining giant Anglo American to play the race card in the silicosis case were rebuffed by the South Gauteng High Court yesterday.
Lawyers for the gold mining companies who are respondents in the case wrapped up their clients' arguments on 21 October. The mining companies are asking the court not to grant an application by former mineworkers affected by silicosis and TB to be allowed to represent other affected mineworkers and the dependents of dead mineworkers in a class action.
Representing Anglo American, advocate Michael Cooper reiterated the argument that the lack of common issues among mineworkers would mean that the class would have to be broken down into so many subclasses that it would no longer be a class action.
He said one reason why the proposed class was not homogeneous was that it contained members of more than one race. Cooper pointed to expert testimony by Dr Jonny Myers of the University of Cape Town, in support of the mineworkers' claim, that under apartheid white mineworkers had benefitted from much better protective measures, occupational health services and compensation for silicosis and TB, than black mineworkers. Cooper said as a result, black and white mineworkers should be in separate classes.
"In addition," said Cooper, "black mineworkers who made depositions to their attorneys about their work histories and conditions of work, criticised white miners as treating them with contempt, and made statements such as 'they ordered us back into the stopes after a blast often after only two hours, even though the waiting time should have been four hours because of the dust after a blast'."
"If we add to that the fact that white miners had much higher levels of compensation for silicosis/TB than black mineworkers, this would cause conflict over any settlement that is reached in the trial."
"Black workers would say they want more than white workers," said Cooper.
Judge Phineas Mojapelo responded: "In this current South Africa, black workers and white workers are entitled to the same treatment. The different treatment meted out to black mineworkers is only part of the claim, and does not create conflict over settlement."
Cooper reiterated his concern that black mineworkers might ask for additional compensation because of previous discrimination.
Judge Mojapelo: "This is my last engagement on this matter. Why should race be an issue here? Black mineworkers' compensation in the past has also been very differentiated."
Cooper also took issue with the proposal by lawyers for the mineworkers that the certified class should be an "opt-out class", so that all potential claimants would be considered part of the action unless they specifically indicated that they did not want to participate. He said the supposed advantage for all concerned of the "opt-out" method was that there would be "one big battle" over compensation for the mineworkers. But this did not apply to his client, said Cooper, since Anglo American was already involved in arbitration over the issue.
Responding to arguments that an "opt-out" system would make it easier to reach a settlement during trial, Cooper said Anglo American would have to know how many mineworkers were in the class before putting forward any sum for settlement. He said the mineworkers' attorneys had estimated that a typical settlement would be R200,000, but estimates of the numbers of claimants involved ranged from 17,000 to 500,000. An "opt-in" class would make it easier to judge the amounts involved accurately and make a settlement more likely.
"Surely your client has its own records from which it could estimate the likely number of claimants?" asked Judge Mojapelo.
Cooper said Anglo American did have records but these were not complete and it would be impossible for the company to say how many workers were affected.
He said lawyers for the mineworkers had expressed concern that an "opt-in" system would exclude many people who could be legitimate members of the class. But, said Cooper, Richard Spoor Inc and the Legal Resources Centre, who are representing the mineworkers, had been working on similar cases for many years.
"They have had plenty of time for active recruitment of class members, who could then opt in. Why are they asking for costly publicity in the form of a widely disseminated notice and another six months to identify the class members? I understand that they have extensive networks in the powerful trade unions. These networks would surely work for an opt-in class as well?".
Cooper said an "opt-out" class would be huge, and would lead to misunderstandings and unexpected problems. It would also lead to a cottage industry of people "bilking people of their damages by giving payment up front and pocketing the actual damages".
On the question of negligence, Cooper took issue with arguments by the mineworkers' lawyers that the mines did not implement a 1970s international standard on silica dust limits until 2002; that they did not use the sampling measures established in the 1970s until 1988; and that there had been a systemic failure in the entire gold mining industry to take sufficient measures to protect miners' health. He said all that mattered was whether or not the mines had adhered to South African laws and regulations, and that Anglo American had done so and more.
He argued that information on average dust levels on 20 mines submitted by the miners' lawyers as evidence of "systemic failure" was not admissible as evidence because it hid differences between mines.
By using data from unnamed mines, he said, the mineworkers' lawyers were importing the notion of "guilt by association" into the "systemic failure" argument, which was not legally admissible.
The miners' own affidavits, Cooper argued, did not indicate any breach attributable to Anglo American, which was not the employer, and so had no day-to-day control over workplace practices. The mines were not subsidiaries of Anglo American because Anglo American never had a controlling share in them, only a stake of between 10% and 30%.
Anglo American had never employed mine managers and its involvement in operations was limited to the provision of medical services to the mines and ventilation design. As a result, he said, there was no case against Anglo American.
Representing African Rainbow Minerals (ARM), advocate Theo Beckerling agreed with lawyers for other mines on the "systemic failure" issue. If that was the main argument for commonality in the class, the certification application should fail, he said.
He pointed out that only four of the class members who had been identified to date had any work experience at ARM. Of these, one had only had one year of service. What would happen, he asked, if a mineworker was diagnosed years after working at ARM? Would ARM have any liability in such a case?
Today, lawyers for the mineworkers will reply to the arguments from the gold mines' lawyers. The court's decision on certification of the class action is expected tomorrow.
© 2016 GroundUp.
This article is licensed under a
Creative Commons Attribution-NoDerivatives 4.0 International License
.