Shacks demolished following miscommunication
|
Mary-Anne Gontsana and Masixole Feni
Brief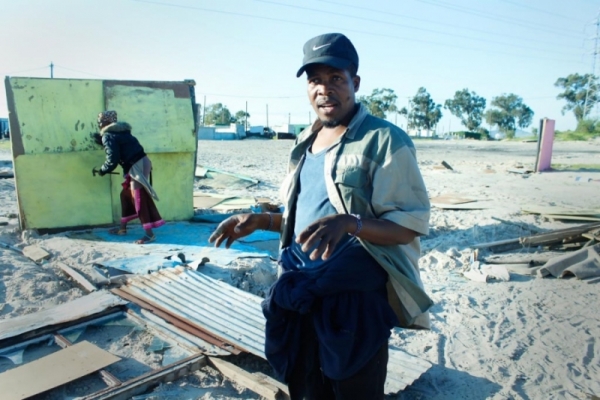 About 20 Mfuleni residents were forced to demolish their shacks that they had erected after occupying open land in the township.
When GroundUp arrived in Bardale at about 2pm Zolani Mekana and his family were the only people left on the land and they were taking down their shack. Mekana said they had moved to the land on Saturday after being told by community leaders that they had to make way for a housing project.
"We are currently waiting for houses so we had to move from our plots to make way for the houses to be built. We were told to occupy the land in Bardale because a permit had been obtained from the City of Cape Town allowing us to be on the land temporarily. When law enforcement came on Saturday to evict us, they said they had not seen or been told about the permit. So we had to demolish our structures and find alternative accommodation. My family and I got a place to sleep for the night from a neighbour and we had to leave most of our belongings, like furniture, outside on the pavement. We were told that it could take a while for the houses to be finished," said Mekana.
Mfuleni community leader, Bongani Tyembile said the residents were recipients of the Masilingane Housing Project. "There has been miscommunication in terms of the permit we applied for which allows the residents to occupy the land behind Bardale High School, because we liaised with the provincial housing department about the permit but clearly this was not communicated to the City. We are currently working this out, and hope that this matter will be resolved by today."
© 2016 GroundUp.
This article is licensed under a
Creative Commons Attribution-NoDerivatives 4.0 International License
.