Shack dwellers protest in support of Nelson Mandela Bay's DA mayor
Mayor delivered over 300 chemical toilets that are cleaned every second day, a protester tells ANC representatives. "All you want to do is loot," says another.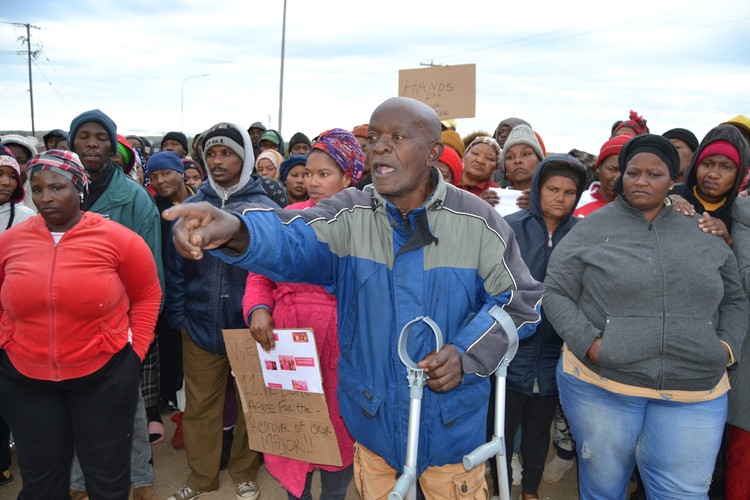 Nelson Mandela Bay's mayor Retief Odendaal is facing a no-confidence vote in the municipality's divided council on Friday.
But, in an extraordinary protest on Thursday, shack dwellers came out in support of the DA mayor. Thousands have signed a petition supporting Odendaal.
The protesters emphasised that Odendaal has delivered while ANC representatives "want to loot".
About 300 shack dwellers from Area 11 informal settlement in ward 45, KwaNobuhle in Kariega, burnt tyres, whistled and sang songs while closing busy R334 Rocklands Road on Thursday.
Protesters demonstrated against the ousting of Nelson Mandela Bay mayor Retief Odendaal. A no-confidence vote against Odendaal is expected to be tabled in council on Friday by the EFF, supported by the ANC and other small parties.
Protesters' placards read: "Hands off our mayor" and "Area 11 stands 100% with Odendaal" and "You touch our mayor, you touch the community" and "To hell with a vote of no confidence against mayor".
The protesters we spoke to emphasised how under Odendaal there was better service delivery. For example, Khosi Brandy shouted to ANC representatives who had come to meet the protesters that the toilets they'd built were still not flushing and that chemical toilets were only cleaned every six months. "However, the mayor arrived in our settlement in January this year and has already delivered 308 chemical toilets that are cleaned every second day. We are sorry - we are against the motion to oust the mayor."
The crowd, which was visibly angry, handed a 13-page petition with over 3,000 signatures to ANC former chief whip of Nelson Mandela Bay Wandisile Jikeka. Jikeka had come with two ANC ward councillors, Sabelo Mabuda and Lungile Langbooi.
Nombasa Toba shouted: "We love Odendaal. And if you want to remove him, then hell will break loose. We are even prepared to fight to the death for Odendaal … because he is delivering services with passion."
Another resident, Nceba Davids, said: "The reason you want to remove him … is that you want to loot."
Thembela Tiyo said: "We are residents and not politicians. Since Odendaal is in a different political party, you now want to appoint someone that you can have control over. To hell with the vote of no confidence – we are the voters."
Protesters then told Jikeka to convene a meeting with all 120 Councillors to tell them to cancel the attempt to remove the mayor.
However, Jikeka told the crowd that he had no power to do that, emphasising that he was no longer chief whip.
A resident from the crowd responded: "Which means we can't give you the petition because you are a junior."
Jikeka left the protest and promised to bring the speaker of council to address them.
After that Mayco Member for Electricity and Energy, Lance Grootboom, arrived and accepted the petition on behalf of the mayor.
He said, "On behalf of the mayor, we are humbled by this petition and are grateful to the community. We will continue to make sure that you guys get the services you deserve in this area. There will always be an open door at the mayor's office to your leaders and your community, always. Anytime contact us when there are challenges, we will assist. Tomorrow [Friday] is obviously a big day for us and we would love you all at the [council meeting]."
© 2023 GroundUp. This article is licensed under a Creative Commons Attribution-NoDerivatives 4.0 International License.
You may republish this article, so long as you credit the authors and GroundUp, and do not change the text. Please include a link back to the original article.
We put an invisible pixel in the article so that we can count traffic to republishers. All analytics tools are solely on our servers. We do not give our logs to any third party. Logs are deleted after two weeks. We do not use any IP address identifying information except to count regional traffic. We are solely interested in counting hits, not tracking users. If you republish, please do not delete the invisible pixel.